Mac EMS overcomes funding roadblocks to bring naloxone to Mac
As part of a local effort to combat the opioid epidemic, Mac Emergency Medical Services (Mac EMS) will offer six trainings on the use of the overdose-reversing drug naloxone throughout the month of April.
The trainings are available to all members of the campus community and will teach pupils to operate a naloxone syringe effectively in an emergency situation.
Naloxone, commonly referred to by the brand name Narcan, has been in circulation for over 40 years and has become a staple of first-aid trainings as opioid overdoses have become more common. According to the Center for Disease Control and Prevention, the number of non-medical personnel in the U.S. trained to use naloxone has increased 187 percent since 2010.
Mac EMS leader Clara Motiño '19 said there has already been an overwhelming amount of campus interest in learning to safely administer the drug.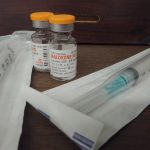 "Over 200 people have responded to that little poll that I sent out asking if people are interested in classes," Motiño said. "It's really encouraging to see that there's a want from the campus to learn more and get trained."
Motiño spearheaded the effort to bring naloxone training to the general campus population. With support from history professor Amy Sullivan and Valhalla Place, a Minnesota-based drug treatment organization that provides naloxone kits, she founded the training program and is distributing the naloxone herself.
"All of these kits are state-funded," Motiño said. "There's huge grants, federal and state level, to distribute these kits free of charge for anybody, and I have access to hundreds of them."
As a result of Motiño and Sullivan's efforts, Valhalla Place recognizes Macalester as the top school for overdose preparedness in the state. Despite this, naloxone trainings are not yet school-sanctioned.
"I'm a little disappointed that the school isn't doing more to fund available Narcan on campus," Motiño said. "One of the main goals of what I've been doing is trying to get these kits into all of the AEDs [Automated External Defibrillators] on campus. I've hit a bit of a brick wall with that.
"The school won't accept any subsidized medication," she continued. "Which is totally fine if I thought that that wasn't a cover-up for, maybe, some optical issues."
Motiño believes that the stigma associated with opioid use may make providing Narcan less appealing to the institution. Both she and Sullivan are working to overcome that stigma on campus. Sullivan's class "Uses and Abuses" deals with the issue head-on.
"One of the biggest goals of my Uses and Abuses class is to pick apart all the ways that stigma holds us hostage and really results in many people dying," Sullivan said. "To me, it's a no-brainer."
"Not talking about it is not helping," Motiño agreed. "To me, it's a matter of public safety, and the fact that we have access to all of this free medication and that we can't distribute it as a permanent thing on campus available to everyone makes no sense to me."
Because the trainings aren't school-sponsored, Motiño has trained most of the Security Office and Health and Wellness Center (HWC) staff, as well as all members of Mac EMS, herself.
"Mac EMS helped [arrange that] the trainer they were using attend one of our quarterly training sessions," Director of Security Bill Collumbien wrote in an email to The Mac Weekly, noting that the training "brings awareness to the opioid problem and provides a tool when responding to suspected opioid related emergencies."
Since the 2019–2020 school year has already been fully budgeted, Macalester would need to wait another year until a department can ask for funding for greater access to Narcan. At that point, it will be up to the HWC to call for additional financial support.
"HWC is a strong advocate for the training and for having the resource widely available on campus," Associate Dean for Student Services Denise Ward wrote in an email to The Mac Weekly. "We initiated a discussion last spring of how to have the drug more readily available across campus."
Motiño hopes the cross-campus support for naloxone training will push the administration to fund its availability, as well as expand future educational efforts.
"I would hope long-term on an academic side that the school would realize that there is a need for education," Motiño said. "I wasn't expecting over 200 people to be interested… and I think that should mean something to the school.
"I don't want it to take someone overdosing and dying on campus for it to be addressed."
Sullivan believes Macalester has a unique opportunity to be a national leader in overdose prevention.
"I think as a progressive educational institution that we could be on the forefront — we could be a leader in getting people trained," Sullivan said. "We have the opportunity to just say 'Hey, we're gonna take this seriously.'"