And we're back! I've been wanting to cover Celine since Hedi Slimane debuted the Spring/Summer 2019 collection—his first collection since being named creative director of the brand in Feb. 2018, replacing Phoebe Philo, who served as artistic head of the brand for ten years.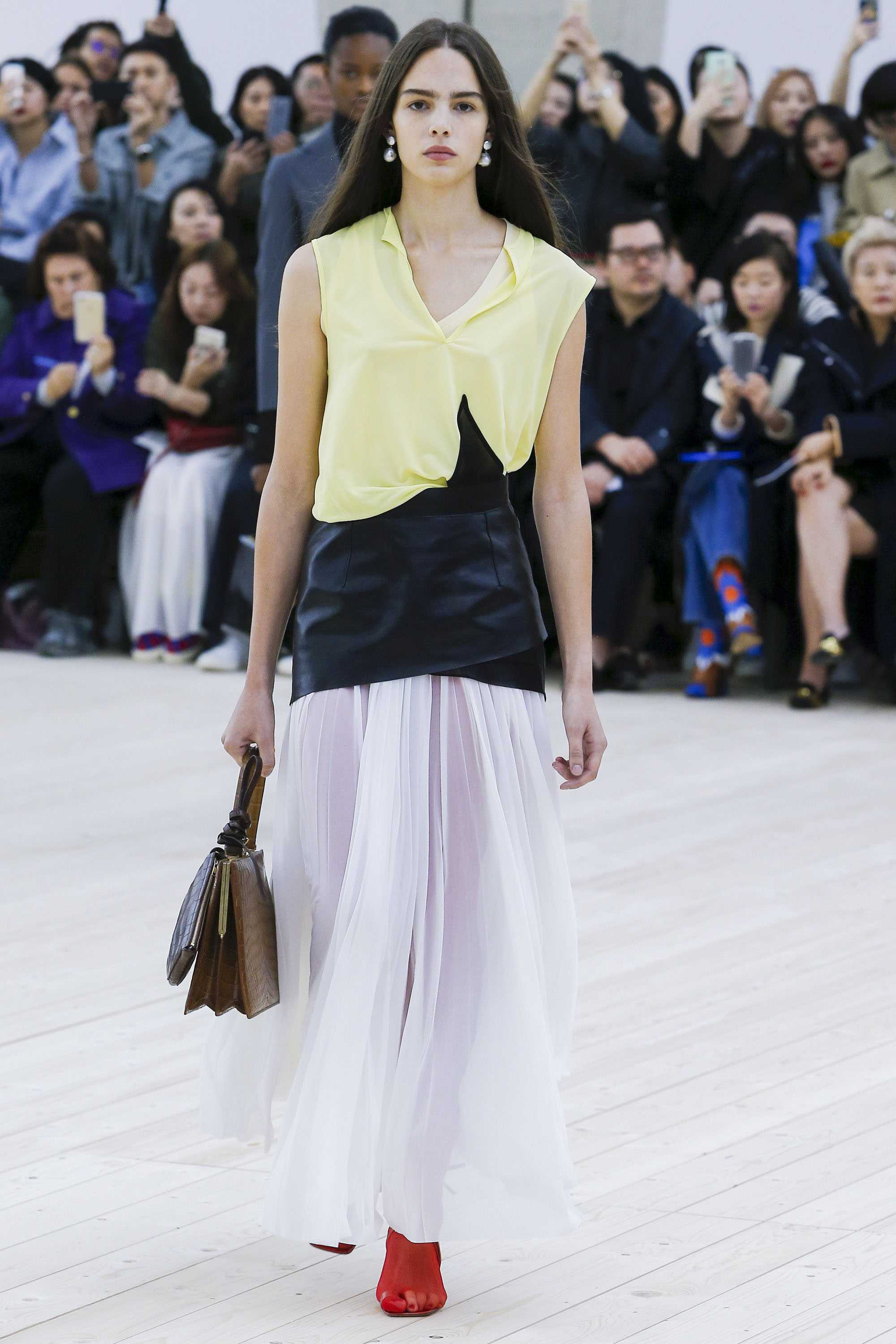 Slimane is no newcomer to stirring up controversy within the fashion community. Slimane was formerly the chief creative director of Saint Laurent, of which he famously dropped the "Yves" from in an effort to "rebrand" the iconic luxury fashion house. Likewise, after Slimane's appointment as the creative director of Celine, he promptly dropped the French accent and changed the brand's name from Céline to Celine.
Upheaval came on the heels of Slimane's unveiling of the Spring/Summer Celine line. Responses were wrought with anger and disgust from Celine loyalists and other constituents of the fashion community. But what exactly was the issue? What is it that makes this man with his somber black-and-white ad campaigns and moody teenage reluctance to honor brand history so damn debatable?
Let's start with the line itself. Celine's Spring/Summer 2019 ready-to-wear collection was an utter smorgasbord — if your definition of smorgasbord is a series of black mini dresses and tight leather ensembles, complete with ill-placed cut-outs and little room for… I don't know… breath?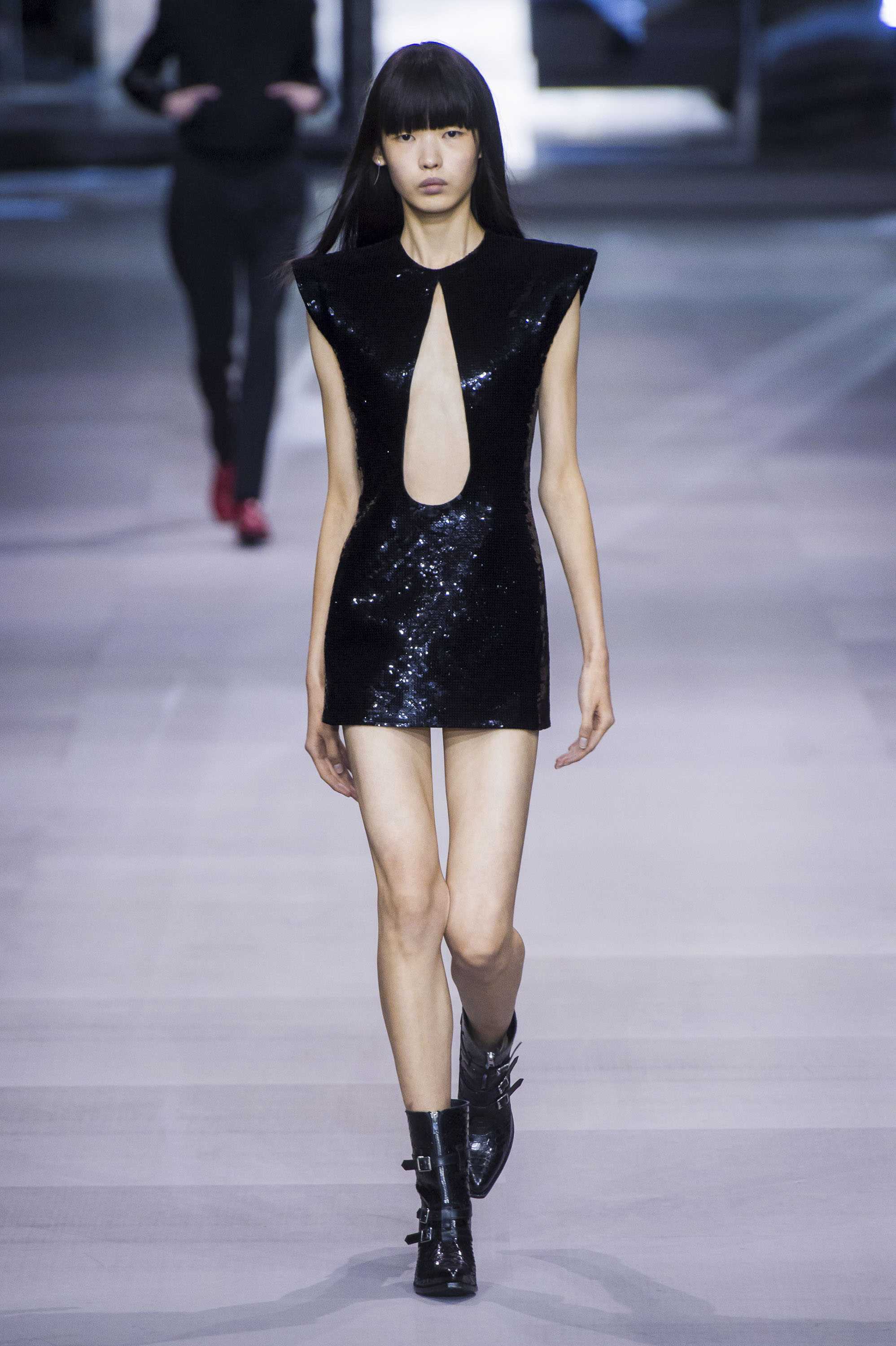 In short, the line demonstrated a narrow range of material and an even narrower grasp on the needs of modern women. The clothes, though sleek, seem fortress-like. It's almost as if they distill silence upon the wearer. It's something out of Saint Laurent, not what we've come to know from Philo's Celine.
Upon first seeing the line I thought to myself: how are there somehow more restrictive boxes confining womenswear rather? Frustrated, I was prepared to scream at the top of my lungs that "this was not a forward movement for women's fashion!" So naturally I did everything I needed to validate this assertion. I read the critiques, scoured the discussion boards and sought out all the style op-eds on the subject that shared in my outrage.
But when the dust settled, I found I was really left with just one feeling: confusion. Confusion about what the rules were when it came to ready-to-wear women's fashion in 2019.
I had reason to believe that the fashion industry was heading in a very new direction. The here and now of the industry represents a much different face—one that is formulated by the internet and social media, the most visible shift being the proliferation of street style in most recent years. Were these assumptions valid?
Did the industry really seem on the track of requiring higher standards of design that encompassed inclusion and showcased individual style holds? Or was I, and many others like me, overly optimistic and potentially naïve that this momentous "trend" of legitimizing and celebrating women as multi-dimensional, unique individuals, as demonstrated under Phoebe Philo's reign, was to be sustained?
Were we experiencing a regression? If anything, Celine Spring/Summer 2019 has forced me to go back and reconsider everything I thought about fashion and the fashion industry. Specifically, I am forced to consider each design, each article of clothing, each runway ensemble, as an entity constructed by—whom? One person? A team of designers?
I am conditioning myself to examine all the 'players' of the fashion industry, each bringing to the table a cornucopia of personal and cultural biases, both good and bad. The issue of gender is of the most visible and most important of all these biases begging to be considered.
I think this is why I and many others found Phoebe Philo's turn at the helm so refreshing. Philo heeded the call early on: women want to be comfortable. We want personalization—pieces that are visual offsets, branches of ourselves that convey a confidence and solidification of our power and place in the world. It takes a Phoebe Philo, a Vera Wang, a Stella McCartney, to flip the power switch and curate collections that are by women and for women. But men still dominate the upper ranks of the industry. Hedi Slimane's debut of Celine's Spring/Summer 2019 reminded us all of that. Celine's subsequent Fall/Winter 2019 gave us a step in the right direction, but not nearly enough. So the question remains: Are we still being told what to wear? Maybe a better question to pose is this: What do we wish our clothes to say about our collective culture 10 years down the line?