Sexual violence-related graffiti found on campus buildings
Please be advised, this story contains discussion of sexual violence and vulgarity.
Graffiti reading "expel rapists," "fuck rapists" and "support survivors" was found on campus early on the morning of Monday, April 1 — the first day of national Sexual Assault Awareness Month. The markings were spray-painted across the exterior walls of the Dewitt Wallace Library, Olin-Rice Hall, the Leonard Center and in front of the Ruth Stricker Dayton Campus Center.
According to Assistant Director of Facilities Matthew Meyer, an individual reported the graffiti before most of the campus was awake.
"The graffiti was noticed around 5:30 this morning," Meyer wrote in an email to The Mac Weekly. "We started working on it first thing this morning at 7. There was [sic] two crews: two grounds employees spent about 2 hours cleaning. Four trades employees spent around 5 hours cleaning."
No student has publicly disclosed that they are responsible for the graffiti.
"Security is looking into it," Security Supervisor Drew Denning said in an email to The Mac Weekly.
Some students were pleased to see the graffiti and agreed with its message. One of these students was Sierra Campbell '21, who saw the graffiti at around 7:00 a.m. on Monday.
"The institution at Macalester and the office of Title IX have failed to make students feel safe. They've failed to create a safe environment, and when that happens, students have to come up with their own alternatives," Campbell said. "It might not be what the school wants, but they haven't made students feel safe, so they have come up with creative ways to bring attention to it. A good way to bring attention to it is doing something that affects the school's public image."
Greta Eherenman '21 saw the graffiti, which read "expel rapists," on the outside of Olin-Rice while walking to her 9:40 a.m. psychology class.
"I thought it was pretty cool, so I took a picture of it and I put it on my [instagram] story because I personally think that… students should be sending Mac messages about what they're doing and what campus is like," Eherenman said.
Nolan Wages '20 saw the graffiti while walking to his job at Information Technology Services (ITS).
"I initially thought — because I was looking from a distance and I didn't see the complete word — 'Oh, I bet it says, 'expel racists,'" Wages said. "Because that's what everyone's been talking about, and that's a more hot topic at Macalester — fighting racism and hate.
"But the new [graffiti], that was something. I hadn't seen anything like that before," he continued.
"I definitely have not seen as much activism around sexual assault on campus as I think there should be," Eherenman said.
Eherenman added that she would like to see the administration respond directly to the incident.
"It would be nice if [President Brian Rosenberg responded]," she said. "I appreciated when he acknowledged when swastikas were posted, and it was a very public letter… I feel like that was a good response to that.
"So if he did another public email and was like, 'We understand that students are feeling like there's not enough being done about sexual assault on campus, and here's what we're going to try to do so that you guys don't feel like you have to spray paint something on buildings to get our attention.'"
Campbell said they are not surprised that no members of the Macalester administration have responded to the graffiti.
"The bottom line is the graffiti and all of these student groups that have been popping up this year demonstrate the failure of Title IX and Macalester to address sexual violence in a way that makes people feel safe and like they're protected," Campbell said.
"I think it's very clear that students are trying to come up with their own ways and it may not be perfect, but… it's necessary," they continued.
At the time of publication, college officials had yet to make any public acknowledgment of the graffiti.
"I don't know for certain about any public statement," Rosenberg wrote in an email to The Mac Weekly on Tuesday. "We would not classify the graffiti as an incident of hate speech, for which there is a clear protocol regarding response.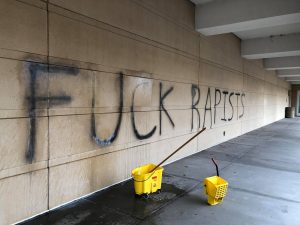 "My own response would be that, whatever the issue or concern, vandalism of this kind is profoundly disrespectful to the staff members who will have to clean it up," Rosenberg continued.
"Members of our facilities staff spent much of the day cleaning up the vandalism rather than doing other things. At an institution that tries to respect all employees, this feels wrong to me. There are ways to express disagreement and even anger that don't enforce labor on others who have done nothing wrong."
Like Rosenberg, Title IX Bias & Harassment Coordinator Timothy Dunn had not made an official public statement of acknowledgment at the time of publication.
"As far as the vandalism is concerned, I believe that every student who has had an experience with sexual violence has the right to their own narrative," Dunn said. "I actively support a student's ability to express and share that narrative. I do not support vandalism to the buildings and that's just because it becomes damage."
Additional reporting done by news editor Hannah Catlin '21.