To celebrate Women's History Month, the Minneapolis Institute of Art (Mia) planned a series of events to celebrate the artistic expression of women. Including special exhibitions, artist visits, lectures and tours, the museum is committed to showcasing female artists within their permanent collection and visiting exhibitions. In celebration of International Women's Day on March 8, Mia offered a free, hour-long tour through the museum to highlight women artists.
Led by docent Ginny Wheeler, the tour's subject matter was diverse in artists, genres, time periods and location. Beginning in the Ancient African wing of the museum, Wheeler showcased a mixture of pottery and beadwork from the ancient Sudanese Dinka culture. The level of intricacy and detail was staggering. The potter who created the vase is unknown but presumably female because women typically had pottery skills that men didn't have. Women constructed pottery for practical uses and added meaning through decorations to praise the Dinkan religion. Anonymity is common in ancient artwork as the pieces were not considered "art" at the time they were made. I like to think that this anonymity creates a story of its own behind the piece, where we can imagine something like a vase representing an entire ancient culture literally built by women.
The Dinka vest on display in the museum, made of blue and red beads that swoop across the chest, was constructed in 1970 in an effort to preserve the Sudanese beading craft and culture in the midst of political turmoil. Vests and wearable decorations were important to the ancient Dinka people as they demonstrated age, social status and marital status. But as the Dinka culture began to modernize, the practice of beadwork started to fade. As a result of a 1970s resurgence campaign, this type of beading has reemerged in popular culture. Dresses seen on the red carpet at the Oscars, for example, are similar to Dinkan beading. The artist behind this vest is unknown.
The only work from a Twin Cities artist on the tour was a painting by Dyani White Hawk. White Hawk comes from Native American Sičangu Lakota and European-American ancestry. She uses the convergence of her cultures as inspiration for her work. Her paintings adopt traditional Lakota practices in combination with modern abstract painting. In "Untitled" (2016), White Hawk utilizes the traditional porcupine quilling practice to weave linear patterns between the layers of the painting. Thousands of vertical lines make up a pattern that changes shape depending on the viewer's distance from the work. This work is grueling and took her over six months to construct. Quill artists, mostly women, have long been respected in Lakotan culture. Through the composition of "Untitled" (2016), White Hawk not only solidifies her presence as a woman of color in the mainly white and male-dominated field of abstract art, but also preserves women's history.
This act of preserving culture is a theme that ran consistently through the first three pieces. For centuries, women have either knowingly or unknowingly served as historians. In modern times, as White Hawk and the creator of the Dinkan vest demonstrate, women have used their roots to inform the artwork in creative ways and in preservation efforts. In many ancient cultures, women took on a role closer to provider, as they worked around the needs, resources and cultural interests of a society.
The latter two pieces on Wheeler's tour began with Japanese artist Yayoi Kusama's painting "Untitled" (1967). Even if you haven't heard of Kusama, chances are you recognize her work. In the last five years, she has catapulted into mainstream pop culture with her trendy and mesmerizing patterns of dots. Due to her documentary released in 2018, entitled "Kusama: Infinity," she is now the top-selling female artist in the world. Her most significant North American exhibition tour took place in five cities across the US and Canada in 2017. Her painting at Mia is placed in a section for female artists who work in fiber art, called "Without Boundaries." Fiber art, work that utilizes fiber products such as sewing or weaving, has long been considered "women's work" by museums and art critics, dismissing the works as easier than traditional abstract art. Mia rejects this notion and features fiber art in conjunction with abstract painting. Yayoi Kusama's "Untitled" is revolutionary because it incorporates both mediums through her signature motif, an "infinity net," in which layered patterns of shapes interlock with one another to create a new pattern. Her other signature, polka dots, are painted over the infinity nets. Kusama has lived a fascinating life (seriously, look her up) and this work was created when she returned to Japan after spending 10 years in New York City. Upon returning, she checked herself into an institution for treatment regarding obsessive thoughts and hallucinations that had plagued her for her entire life. Wheeler said that Kusama's artwork, which ranges from sculpture and installation work to paintings and drawings, is her meditative healing process.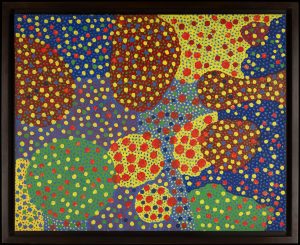 The final painting featured on Wheeler's tour was American artist Alice Neel's portrait painting of Christy White, done in 1958. Neel is widely known as one of the greatest portrait artists of the 20th century; but she didn't receive recognition until late in her career when the Women's Liberation movement of the 1970s took off. She was known to socialize with Andy Warhol's group of abstract artists in New York City. The painting is on loan from the Myron Kunin Collection of American Art, a collection of work dispersed across the country. In this portrait of Christy White, she is seated in a chair in a grey skirt and orange button-up blouse.
Neel's approach to portraits was unique for her time period; she had people sit naturally instead of posing in an attempt to expose attributes of the person through their posture. This approach marked one of the first times an artist aimed to tap into psychological tendencies from the subject by way of art. In her portrait, White looks nervous and tense: her hands seem to be gripping the arms of the chair, her face is pointed downward, her eyes stare up at the viewer and her ankles are crossed almost as if she's about to jump out of the chair. We don't know the context of the portrait, but Neel's focus on vulnerability prompts a wide range of possible explanations.
The works of Yayoi Kusama and Alice Neel could not be more different, but their radical characteristics cemented both women as prominent figures in the abstract art scene and in the progression of female-centered artwork. Both women were considered radical for their time, when in fact their work was far more intricate and impressive than that of male contemporaries.
For the remaining weeks of March, there are many ways to see women's artwork at Mia. Most pieces mentioned this article are in the permanent exhibition of the general admission portion of the museum, which is free. "Without Boundaries: Fiber Sculptures and Paintings by Women Artists" is on display until this July. A selection from photographer Sara VanDerBeek's collection is also at Mia until July. On Thursday, March 21, the museum will host a free event to celebrate women in art and music, with pop-up performances by Monica LaPlante, Nyasia and DJ Rowsheen.Mia's collection of art is impressive for so many reasons, but their commitment to showcasing diverse and minority voices extends an impact far beyond the museum walls.
Head to new.artsmia.org/womens-history-month/ for more information on upcoming events.