Macalester students and faculty gathered in John B. Davis Lecture Hall on Thursday, March 7, for a Women in Politics panel featuring former State Rep. Erin Murphy (DFL). The event was organized by the Political Science Honors Society, Pi Sigma Alpha.
Murphy, who served as the Minnesota House Majority Leader from 2013–2015 and ran in the 2018 DFL gubernatorial primary, spoke about her congressional career and the importance of representation in politics in a discussion facilitated by political science professor Julie Dolan.
State Sen. Patricia Torres Ray (DFL) and Rep. Kaohly Her (DFL) were also slated to speak, but could not make it due to a last minute vote in the state legislature.
"When we're done tonight, I hope you feel inspired by the possibility of participating in a politics that is about us, that is powerful, that we can use for good," Murphy said following Dolan's opening remarks.
"Running for office is one part of that," she continued. "I would urge you … to contemplate running for office someday … for women, it usually takes seven invitations before you'll actually start thinking about it, so if you haven't been asked yet, now you've been asked. And you'll probably be asked at least one more time tonight."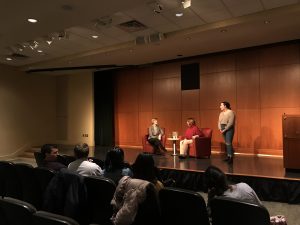 Over the course of the hour, Murphy reflected on her bid for the DFL gubernatorial nomination in 2018. She said her favorite moment of the campaign was dancing on stage at the DFL convention.
"[Pat] Kessler from WCCO News tweeted out a picture and I was airborne [dancing]," Murphy said. "[Kessler] said 'When was the last time you've seen this kind of joy in politics?'… It was the most beautiful moment."
Murphy recalled the months spent traveling on the campaign trail fondly, reflecting on the care Minnesotans have for each other despite political division.
"I think that theme [of feeling left behind] … I think is a result of broken politics and not a lack of care for one another … because if we think about it, those of us who have been in Minnesota for a really long time know that we do have an ethic of care for one another," Murphy said.
Murphy and Dolan also discussed the impact a more representative government can have. She again implored the women in the audience to consider campaigning for office themselves.
"The most important thing… is knowing what you want to accomplish and why. Voters can tell if you are not genuine," Murphy said. "People genuinely want to know if you're going to represent their interests with integrity and know that you're going to fight for them."
Following her speech, Murphy took questions from the audience. One student asked for advice on how to cope with imposter syndrome — the persistent belief that one's accomplishments are undeserved and that one is less competent than others perceive them to be.
"I have a pretty well-identified pool of self-doubt," Murphy said. "But I use it as a push off point to motivate myself… the further we got into the race, the more I thought 'I am the candidate for this job and I'm going to go get it' rather than let the doubts hold me back."
Pi Sigma Alpha member Maggie Mischka '19 was responsible for organizing the event. Her current honors project focuses on women's representation in Latin American government.
"I personally have a lot of academic questions about women's representation… because I primarily study Latin American countries where there is a lot of legislative representation but you could argue that legislative outcomes aren't always favorable to women," Mischka said.
"Even if you are elected to office, the patriarchy still exists and you're still constrained by forces outside your control," she continued.
Dolan, whose research also centers on women in politics, believes that representation always matters.
"It does matter who sits in those chairs because they have different life experiences," Dolan said. "If you're making policy for your constituents then you need to know about their experiences and sometimes you can't just hear what other people's experiences are if you have never been in their shoes."
Political science professor Leslie Lavery brought her two daughters to the event.
"I brought the girls because I think it's really important for them to see women in leadership positions," Lavery wrote in an email to The Mac Weekly. "Murphy is totally right, women need to be assured and reassured that they can do things that men just show up and say they're going to do so I'm trying to nurture that 'can do' attitude in my daughters from an early age."
When the Laverys returned home, eight-year-old Maya wrote a "Speech for Being President." In her opening campaign address, Maya cites Murphy as in inspiration for her presidential aspirations.
"I got my boost of confidence when I was eight," Maya wrote. "We went to a talk where a lady who ran for governor talked about what it was like. She talked about what she had to go through. And I thought 'I could do that.'"