CDC merges with Internship Office
Macalester's Career Development Center (CDC) and Internship Office recently announced their intentions to merge into one department. The move, which has been in the works for the past three years, will be made official in the fall of 2019.
Dean of the CDC Mindy Deardruff credits the change to an evolution in the role that internships play in students' career prospects.
"Internships used to be seen as separate from the job search process, but we're seeing more and more that internships are the first foothold into a long-term career opportunity for students," Deardruff said. "If we as a Career Development Center are not part of that process, then we missed out on some opportunities to connect with students from beginning to end.
"Students saw the Career Development Center as a place to go once they were ready to look for their full-time job," she continued. "Because we know that it starts much earlier than that, we felt our offices being separated didn't allow students to flow easily through our doors."
According to Dean of the Internship Office Mike Porter, the transition will also fulfill a need for increased staff support. The Macalester Internship Office has only two employees: himself and Internship Program Coordinator Kerri Roesner.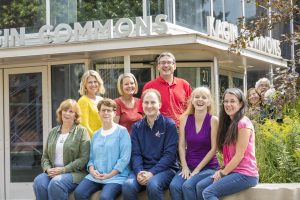 The small internship operation has thrived during Porter's seventeen years at Macalester, but he has found the office lacking resources to expand the efficiency and scope of the operation.
"We don't have the resources to do everything we need to do as an independent, stand-alone entity," Porter said. "We've done that, but it's easier when we can rely on people in the Career Development Center and do work for jobs and internships."
The growing crossover between internships and career development led both Deardruff and Porter to look for ways they could support each other's offices.
"Having one point of entry around career and vocation exploration and development is a louder voice at the institution for the need for funded internships," Deardruff said. "I will be able to speak clearly to the need that we have funded summer opportunities for students, which is not something that [the Internship Office] had time to do."
Porter agreed. He has felt the need for more faculty support in recent years, particularly as internships become more crucial to students' futures.
"Our busiest days at the Internship Office are at the end of the term," Porter said. "We rely heavily on our student workers, but at the end of the term is when most student workers go away because they're focused on finals. Having the CDC will help us handle a lot of that heavy lifting during those stressful points of the term."
Porter and Deardruff also hope that uniting will make both offices more accessible. They've frequently observed students confused while trying to connect with both offices at once.
"Any time you have two systems that are very similar operating side-by-side, you know it can be done better," Porter said. "As one office, we're better situated to help students find their life calling and help students plan their future."
"Career development and internship searches can be scary," Deardruff said. "If we can break down a barrier for students as simple as 'which office do I go to?' then we're going to do that."
While these changes will be new to Macalester, according to Deardruff, they are not new to private liberal arts colleges across the country. She cited a survey of over 30 peer institutions, including Carleton College and St. Olaf College, where Macalester was found as the only school with separate Career Development and Internship offices.
"We realized that we were operating under an old model as the world of work for students changed really quickly around us," Deardruff said. "We [the CDC] didn't want to be the place that students only talked to while they were seniors."
Deardruff cites the lack of staff at the CDC as one of the main reasons the move to combine offices was not pursued until this year. When Deardruff was hired three years ago, there were only three full time employees at the CDC and two at the Internship Office. Since then, the CDC staff has grown to seven employees, with the recent addition of Communications specialist Lisa Ray.
"We were so understaffed as a CDC and an internship program three years ago that nobody had the time to think about the strategic ground in the middle," Deardruff said. "We never had the time to ask [each other] what our shared vision was for bringing students together and serving them well from start to finish."
For Porter, the main obstacles to merging with the CDC were academic.
"The main reason [the move] wasn't done earlier is that internships are seen as academic programs for credit-bearing classes," he said. "We worried that if we stopped being part of Academic Affairs, we would lose some support from faculty."
Over the course of his time at the Internship Office, Porter has noticed an increase in support among faculty and students for the aligning of career development and internship opportunities.
"We realized, over the years, that our change in [reporting to] the CDC will not change our academic relevance," Porter said. "Our primary focus is still to ensure internships are solid and academically relevant."
Though the move will not be official until fall 2019, preparations are already underway. The CDC and Internship Offices recently began combining their operational systems and forming transition committees to plan the renovations. Staff from both offices have reached out to the Macalester community for a new name.
This summer, the new office will launch a website and the physical wall that separates the two offices in Kagin Commons will come down. The new office will be open to students, faculty and staff in fall of 2019.
"I'm excited for the direction that both of our offices are heading for the students at Macalester," Porter said. "I'm upbeat about it because change is good sometimes."