Political science professor Althea Sircar hosted on-campus workshops on Feb. 21 and 22 in an effort to provoke discussion about how colleges and universities can improve their relationships to their surrounding communities and push back against the increasing corporate pressures on institutions of higher education.
Titled "Collaborative research and the Future of Higher Education," the event featured panelists Dr. Mike Strayer, Laura Goldblatt, Christopher Newfield and Sircar—all scholars engaging with the future of higher education in their work.
Strayer is a Salt Lake City-based writer and researcher who studies avant-garde aesthetics and liberation. Goldblatt is a postdoctoral research fellow at the University of Virginia, who studies the role of the university as a site for activist interventions.
A professor of literature and American Studies at the University of California-Santa Barbara, Newfield works in Critical University Studies, an emerging field concerned with how higher education is shaped by social and economic forces.
Thursday afternoon's discussion, "Bringing Critical University Studies to the small liberal arts context," focused on the development of critical university studies, a new scholarly field that examines the role of higher education in contemporary society and its implications on labor, culture and politics.
Friday's session, "Interpretive Research Outside the Institution: grassroots research and collaborative study", attempted to understand how academia can both help and hinder efforts to connect colleges and universities to their communities.
In addition to the two workshops, there was an open panel discussion on Thursday evening. The Institute for Global Citizenship sponsored this event as part of their Equity and Justice at Home and Abroad series.
"Internationally, institutions of higher education bring benefits to their local contexts," Sircar said, "But they also contribute in really significant ways to gentrification, income inequality and to the displacement of communities of color and the working poor.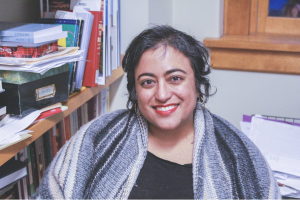 "We're in a political moment where more than ever we need to be bringing the knowledge and insight that we're producing into the public sphere," she continued. "At the same time, there are a lot of questions about how institutions of higher education affect their surroundings."
Sircar pointed to Macalester as an example, both as an urban institution that she believes doesn't interact very much with its neighboring communities and as a college trying to save money for its future.
"One of the problems Macalester has is its startlingly minimal relationship to its urban context," Sircar said. "Academics tend to approach communities as things to study rather than as people that can take the lead on questions of research.
"The motivation is to expand and provide space for a conversation at Macalester about becoming less hierarchical about how we interact on and off campus," she continued. "For the short time I have left here, I would love to facilitate conversations where we rigorously, intellectually and thoughtfully look for common-sense examples of how to integrate our communities and build for the future."
Sircar also noted that curbing the increasing financial pressures faced by students should be a priority of colleges and universities.
However, she acknowledged the conflicting need for colleges to grow their endowments and ensure their long-term survival. Rather than cutting costs, Sircar pointed to a pattern among colleges of increasing tuition in order to supply more financial aid.
"Macalester, like most colleges and universities, is trying to grow its endowment," she continued. "I think the question for every institution with a significant endowment should be: 'Why are we putting all our hope in the future when people are struggling today?'"
Some of Sircar's classes aim to engage Macalester students in this way about the educational community they are a part of. Last semester, Sircar taught a class called "Who Speaks for Whom? Decolonizing Academia" that spent time looking for new ways to ensure equity in learning and teaching practices.
Alya Ansari '19 took the class and was inspired to participate in the workshop as a continuation of her previous work with Sircar. She is fascinated by questions of inclusivity and exclusivity at the level of higher education.
"Since [small liberal arts colleges] propagate themselves by relying on the relative ignorance of students/faculty/staff, events like this are particularly significant because of the dialogue that is stimulated between deliberately separated groups on campus," Ansari wrote in an email to The Mac Weekly.
"It makes you rethink where the relationships of inequality are really mapped on the topography of this college," she continued.
Ansari wants to carry these ideas into her future career.
"I'm currently on a scholarly trajectory that leads me through graduate school and on to a profession in academia," Ansari wrote, "So much of what was at stake in the conversations we had during the workshops is a visceral and immediate reality for me, particularly considering my position as a non-American, non-white, non-male identifying individual."
Sircar walked away from this workshop hopeful that the conversations she helped orchestrate on campus will continue throughout Macalester's halls in the future.
"Sometimes at Mac we talk in the abstract about our values," Sircar said. "This is a good opportunity for everyone to realize that we all have a stake in making this place a force for good. The goal isn't to complain, the goal is to be able to better analyze and transform how we're doing things."