I've been hanging out at Shish for two years now. It's a Macalester institution — my go-to spot when Café Mac is just not cutting it. Sometimes the food has been great, sometimes not, but I've always been loyal. So you can imagine my surprise when I got back to Macalester last fall and Shish looked a little different. When I heard they had hired Iron Chef winner Brandon Randolph as their new head chef, I had to go and check things out.
The first thing I noticed walking through the door of this 'new' Shish was the attention to detail. Along with owner Leo Judeh, Randolph is running a tight ship. The bulky condiment stations and bland décor have been updated with more convenient seating and a stylish, new theme. Its big windows flood the space with light during the day, and at night, the hanging lamps create a nice ambience inside. Walking into Shish is like walking into an art gallery. But not to worry, with a clock in the middle of the restaurant reading "Time to Eat" it still hasn't lost that Shish charm.
Speaking of time to eat, the food at Shish has been on another level since Randolph joined the team. He has been working there for about a month, so, while the changes may be coming slowly, rest-assured they will be well worth the wait. During my interview with Randolph, I got to try the Moroccan beef stew, creamy chipotle chicken soup and the house cauliflower. I was even given the opportunity to try the new homemade red and green hot sauces — which will soon be on every table in the restaurant, replacing the random mismatch of commercial sauces. The red sauce is loaded with flavor and packs a lot of heat in the finish while the milder green sauce, with tomatillos and fresh herbs, really brightens up the dishes. Randolph said it right, "They are going to be great on everything."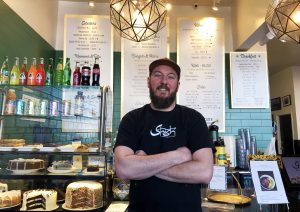 I've watched a lot of cooking shows so hopefully this doesn't sound too cliché, but in each of these dishes you can really taste the individual ingredients. Everything is fresh thanks to Randolph's emphasis on local ingredients. He holds that "[Minnesota] summers and springs and falls are some of the most gorgeous in the U.S. And also, [they] provide and make some of the best tomatoes in the U.S." Moreover, Shish is doubling down on their sustainability efforts with compostable silverware and packages for to-go orders. Such an effort reflects Randolph's willingness to listen to, interact with and adjust to the local community. "When I do make changes, I'm more so adhering to what [members of the community] want … versus just throwing them something that I think should be on the menu," He added. "We've got a lot of hardworking, artistic and creative people here, and it definitely inspires you to want to be part of that."
More than ever before, Shish now seems committed to offering a truly authentic Mediterranean cuisine, while still incorporating the flavors of the Twin Cities. Among the food I tried, the Moroccan beef stew was startlingly good. Made with saffron rice, fried chickpeas, pickled onions and fresh mint, it takes "Middle-Eastern flavors and spices with beef-brisket which is something that is very Minnesotan." The same held true for the creamy chipotle chicken soup, which had a surprising amount of kick. My personal favorite dish, the house cauliflower, consisted of cauliflower florets boiled in turmeric saltwater, tossed in a spice blend of dill and paprika and served with those killer hot sauces. "It's food that warms your soul." I cannot stress enough the obvious care that went into the preparation of each of these dishes. All the ingredients were clearly distinguishable from each other, while creating a distinctive Mediterranean flavor. Speaking on the owner Judeh's Middle Eastern roots, Randolph says "He wants to show people his cuisine — what he grew up with. He wants a breakfast that makes him feel like he's at home."
This leads me to perhaps the most exciting addition to Shish — a completely revamped breakfast menu. Shish has been serving breakfast for years, but most people (myself included) have overlooked it. Now when you think of Shish, think of breakfast. Quick, healthy and delicious breakfast. Some of the items that Randolph seemed most excited about were a version of avocado toast on fried pita, a kefta breakfast burger, grab-and-go overnight oats and a vegan benedict meal with house-made falafel, spinach, sumac, onions, fried eggplant and tahini. Once again, Shish breakfast seeks to maintain an authentic Mediterranean flare with homey Midwestern flavors which Randolph so accurately captures with his cooking. Even their pancakes will now be spiced up with some cardamom, cinnamon, pine nut butter and spiced maple syrup. "It just adds a nice depth of flavor that kind of makes us stand out. They are still pancakes, like they are still really good, but now, they have a little more than your normal pancake," Randolph remarked. With every item Shish is trying to set itself apart.
Shish is best described as unpretentious. In everything they are striving to put the customer and community first — whether it be attention to detail, interaction with local small businesses or one-hundred percent vegan and vegetarian options. Randolph's cooking is some of the best I've had and firmly places Shish as a culinary destination not only for the Macalester community but for the Twin Cities as a whole. The man did win Iron Chef, after all!
Shish is located on 1668 Grand Ave, St. Paul, MN 55105 and is open from 7a.m.-10p.m. on weekdays and 7a.m.-10:30p.m. on Fridays and Saturdays.