"Run As You Are," VoteRunLead advises female candidates
As she addressed the crowd assembled in downtown Minneapolis for the Electing More Women event, Executive Director of FairVote Minnesota Jeanne Massey smiled.
"What a wonderful group of mostly women," she said.
The gathering — which included remarks from Lieutenant Governor Peggy Flanagan, a keynote address from VoteRunLead's founder and CEO Erin Vilardi and a panel of women in office, alumnae of VoteRunLead's training program — took place on Sunday at The Cowles Center for Dance and the Performing Arts. VoteRunLead and FairVote Minnesota hosted the event.
Vilardi founded VoteRunLead in 2014 as an inclusive program that would train women to run for office — and win. With a curriculum written by women currently serving in office, VoteRunLead has trained over 33,000 women in campaigning and governance, including budget management, fundraising and gaining the confidence to lead.
According to Vilardi, the organization has been recognized as the most diverse and inclusive candidate training program in the nation. Alumnae of VoteRunLead include Rep. Ilhan Omar (D-MN) and State Representative Brenda Lopez, the first Latina elected to the Georgia State Assembly.
FairVote Minnesota is a nonprofit and nonpartisan organization that advocates for ranked choice voting, a system in which voters arrange the candidates in order of preference.
Massey opened the event with brief remarks on the importance of ranked choice voting, highlighting the success of last year's election in Maine, the first state to use ranked choice voting state-wide. She also noted some of the accomplishments of FairVote Minnesota, including the adoption of ranked choice voting in the St. Louis Park neighborhood.
"[Ranked choice voting] is the reform of our generation, and we have the power to make it happen here in Minnesota and across the nation," Massey said. "Under ranked choice voting we are seeing higher turnout, less divisive campaigns, more diversity of candidates and, most importantly, leaders elected with a majority, not just a mere plurality."
Minnesota State Senator Patricia Torres Ray (DFL) spoke next. Torres Ray spoke about representation in local and federal governance in the time before VoteRunLead. "Those were very lonely times," Torres Ray said.
An immigrant woman of color herself, Torres Ray said that the creation of VoteRunLead helped ease the loneliness. For Torres Ray, the inclusive vision of the organization was most important.
Flanagan, who spoke next, also addressed the importance of inclusion and representation in politics. She recounted the feeling of working alongside Rep. Deb Haaland (D-NM) and Rep. Sharice Davids (D-KS), the first two Native women elected to Congress. "I remember walking up to Congresswoman Davids' office … suddenly, I felt like I was twelve years old again, walking into this office where there was someone who looked like me."
Flanagan said that being Lieutenant Governor has special significance to her, as someone who benefitted from many of the assistance programs she now helps direct.
"I grew up in the great community of St. Louis Park, but my mom was able to move us there because we had a housing voucher," she said. "We also needed public programs like the child care assistance program, SNAP [Supplemental Nutrition Assistance Program], which back in the day we called food stamps.
"I tell [my] story because those investments in me, in my family, I get to pay that back and pay that forward now in public service," she continued.
Flanagan also spoke about attending the State of the Union as a guest of Senator Tina Smith (D-MN).
"I'll be a typical Minnesotan and say it was interesting," Flanagan said, pausing for laughter.
"The most powerful part of it was walking in and seeing all of these women who looked like the country, sitting on the House floor," she said.
The keynote address, delivered by Vilardi, was full of detail regarding women's leadership and representation in the government. Outfitted in black leather pants and a t-shirt with an American flag lipstick print, Vilardi shared statistics demonstrating VoteRunLead's continued success.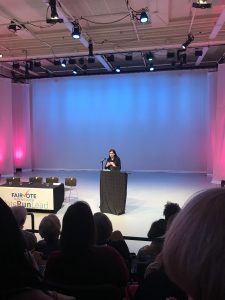 Since the 2016 election, the organization has trained over 14,000 women to run for office. 21 of the 61 women currently in the Minnesota State legislature are alumnae of VoteRunLead.
Vilardi attributes the recent success of VoteRunLead to their new slogan: Run As You Are. The organization encourages women to run as their authentic selves, not what they think a female politician should be.
"It's not only a message that we know works, it's a methodology … If you're running as you are, you're not turning into a political robot that has a very direct way of 'looking' like a female politician," Vilardi said.
Vilardi also pinpointed a three-step plan to increase representation in governance, which begins with training women to run for office.
The second aspect involves changing the popular culture so that it is more reflective of the diversity of the country.
"When women see other women in positions of power and when we see film and television that looks like us and girls have a President Barbie to play with, young girls actually see themselves differently," Vilardi said.
The final aspect of Vilardi's plan consists of structural reforms, including ranked choice voting.
"More women win in a ranked choice voting system. 36 percent of cities with ranked choice voting have women mayors. The national average for large cities is 23 percent."
Vilardi closed her speech with an appeal for intersectional, feminist leadership. "When I talk about women's leadership … I'm talking about an inclusive, equity-based group of women who have a diversity of thought, who come from different countries, who are representative of our communities."
The afternoon concluded with a panel of elected women involved with VoteRunLead, including State Rep. Aisha Gomez (DFL), Hennepin County Commissioner Irene Fernando (DFL), and Minneapolis City Council member Linea Palmisano (DFL), all alumnae of the organization's training programs.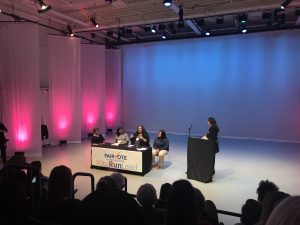 "We are in a very long history of designed exclusion," Fernando said of lack of representation of women, particularly queer women and women of color. "So you elect politicians like me to go in there and redesign it."
For Fernando, who is one of two women of color currently serving as Hennepin County Commissioners, the importance of diverse female representation is clear.
"When we are physically in the room, we are noticing different things and we are asking different questions."