Mac drivers exhausted by snowfall
In the midst of a record-setting month of snowfall, Macalester students have struggled to keep up with frequently shifting snow plow routes and parking regulations. Several students have ended up with tickets for parking in the wrong place at the wrong time around campus.
"I got a ticket during the last Saint Paul snow emergency and had to get my friends to help push my car out of the space so I could move it," Conor McDermott-Mostoy '22 said.
Em Hayward '21 also got a ticket while parked on Summit Avenue.
"[Keeping up with parking rules] was pretty difficult as there isn't a plow sign on Summit," Hayward said.
Students struggle not only to keep up with when to move their cars, but also with figuring out where to move them. Parking lots have hours set aside for snow clearing just as city streets do.
Keeping track of these hours and parking restrictions has been tricky for Macalester students.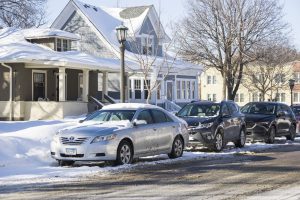 "It's been stressful," McDermott-Mostoy said. "I have to make sure to check whenever snow is expected to make sure I'm not going to get ticketed or snowed in on Summit [Ave.], or towed from a [Macalester] parking lot."
Some students have found ways to avoid dealing with the plow routes altogether.
"I have zero knowledge of the night/day plow routes and rules, so I find it more comfortable to park … in the Jwall lot … where I know it won't be towed overnight as long as I move it every few days," Lidija Namike '21 said.
McDermott-Mostoy mentioned that he has parked at the airport instead of leaving his car on campus when going away for the weekend to avoid accidentally leaving his car in the wrong lot.
Assistant Vice President of Facilities Nathan Lief said the facilities crew has noticed some problems with parking around campus this year.
"We've had some issues with cars not being moved when we need to plow lots and being left overnight in our lots where overnight parking is not allowed," Lief wrote in an email to The Mac Weekly.
According to Lief, though, this isn't a new problem and it isn't unique to snow emergencies.
"[The parking situation is] no worse than any other year," he wrote.
Even though the problem isn't new, the snow does make it slightly more urgent.
"The large amount of snow we've gotten makes it more critical that cars get moved in a timely manner to allow parking lots to be plowed so they can be kept safe," Lief wrote.
Students have a number of options for keeping track of plow routes and parking hours. Signs on Macalester Street and other city streets around campus list the plow route times, and snow emergencies and parking information is often announced in the Mac Daily or by email.
"Facilities or security sent me emails each time they need the lot emptied for plowing," Namike said.
There's also an app — "Saint Paul Winter Snow Parking" — that outlines plow routes and explains where street parking is allowed or prohibited.
With more snow projected for this week and next week, students may need to keep an eye on updates to parking rules to avoid tickets and getting in the way of plows.
Update 3/4
Last weekend, the City of Saint Paul issued a parking ban on the even numbered side of all residential streets. The ban will be in place from March 4 to April 1.
This new rule will apply to small residential streets, including Macalester street, but does not apply to Summit Avenue or other larger streets. Cars on Macalester street will need to be moved from the even-numbered side (the side closest to Wallace and Bigelow residence halls).
The one-sided parking rule will be suspended during snow emergencies, in which case the regularly posted rules will apply.