During the 2016-2017 school-year, Macalester received 79 reports of sexual violence incidents, a significant increase from the 49 incidents reported in the previous year. In response, community members have made efforts to combat sexual violence on campus.
The Sexual Violence Prevention Program Coordinator (SVPPC) role, built into the Office of Title IX & Equity, is designed to focus on programming and support. In addition, the office consists of the Title IX and Bias Harassment Coordinator role currently filled by Timothy Dunn.
"I deal with cases and policies [and] then I deal with faculty [and] staff training around reporting and dealing with students who have been subject to sexual misconduct," Dunn said. January saw the departure of former SVPPC Laura Linder-Scholer. As current plans to fill the position extend into summer break, Dunn has taken over Linder-Scholer's responsibilities with assistance from student worker, Ethan Levin '20.
"A lot has changed about my day to day," Dunn said, "but nothing that's not manageable."
Part of Dunn's workload is searching for Linder-Scholer's replacement and making alterations to the position.
"I'm going to write in a bit more case management, look at how the time was allocated and also be a bit more intentional about the amount of programming I want to see on a weekly and monthly basis," Dunn said.
According to Dunn, these changes are largely influenced by student feedback.
"We have a campus that's a bit of an activist campus," he said. "The students care. They want to know, they want to understand and they are really onboard with making sure the college has a robust Title IX response."
Recently, students have raised questions about various policies and procedures. KP Blake-Leibowitz '19 noted that the office has existed for only four years.
"The Office [of Title IX & Equity] is still in its very baby stages of figuring out what its role is on campus," Blake-Leibowitz said. "It's complicated because Title IX is simultaneously trying to be a support system for survivors, deal with legal cases and accusations, as well as provide different levels of prevention programming — it's a huge, multifaceted task for just two people. It's not possible to do those things in one office, in my opinion."
Alongside the efforts of the Title IX office, the Consent is Mac campaign, SEXY Training and Green Dot serve as Macalester's primary means of prevention and education.
As a member of the Health Promotion team for the Hamrie Center for Health and Wellness, Blake-Leibowitz's work with sexual health and wellbeing has included participating in all of the above, as well as the creation of the new Health and Wellness program: Consent Peer Educators.
Through workshops and facilitated discussions, the educators will define and promote clear, unambiguous, affirmative consent.
"Fundamentally, I believed that there needed to be more programming that really engages people and tries to foster more of a cohesion for sexual violence prevention and sexual assault programming across campus," Blake-Leibowitz said. "Most people on this campus can define consent, but what does that look like in practice?" According to Director of Health Promotion Lisa Broek, the Peer Educators program will run as a pilot throughout the spring semester. Health and Wellness staff are currently in the process of selecting five students to join as peer educators.
With Blake-Leibowitz joining the group as coordinator, the six students will break into pairs to facilitate workshops in residence halls.
"It's modeled after our SEXY education program, where there's an application process, a selection process and curriculum development," Broek said. "It grew out of student voices, specifically student staff, saying that we needed to move beyond the awareness of what consent is – the technical definition – and explore more of the nuances."
The creation of this program was in large part a response to the Consent is Mac campaign. A survey conducted by Health and Wellness last year found that, although 72 percent of the respondents reported a positive opinion of the campaign, anecdotal responses indicate otherwise.
"Some people feel that signing the pledge can be performative or they sign it without really realizing what it is they're signing," Broek said.
"Although not inherently bad or wrong, [Consent is Mac] is just limited in the scope of education and who it reaches," Blake-Leibowitz said. "Overall, Consent is Mac tends to be like a joking slogan… which just further perpetuates the practice of violence and having no care for consent or for survivors on campus."
Many other students have expressed a belief that there are gaps in the college's sexual assault prevention programming. Among them is MCSG Vice President Blair Cha '20.
"I myself am a survivor," Cha shared. "And [this summer], I had a really uncomfortable experience with Title IX. I basically had trouble getting help from the school. It got to the point where I got so tired of reaching out and not getting help that I just said, 'okay, I don't need help, I'll just deal with it with my friends or with someone else.' I was too tired to pursue it anymore."
However, much like Blake-Leibowitz, Cha channelled her frustrations into creating something to help fill the gap.
This fall, Cha reached out to students who had previously attended community gatherings for assault survivors and allies to gauge interest in the creation of a new student group.
"A lot of people from very diverse backgrounds and very diverse areas of study asked to join. And we created a group called Better Sex at Mac. It was created in response to a lot of things that are not happening on campus that need to be," Cha said.
Better Sex at Mac seeks to make the conversation around sexual violence campus-wide. The group meets weekly to plan and organize events that engage students and raise awareness.
"I can't let school employees, who were hired to do their job, get away with not helping students and dehumanizing survivors' experiences," Cha said. "I can't just watch when I know that I can do something."
Omi Strait '20 has also taken steps to address these issues through student action.
As a member of the Sexual Violence Prevention Working Group, Strait worked in tandem with the Title IX office to create a space specifically for students.
"I had some frustrations with the regular group because we didn't meet that often and I didn't feel like there were a lot of solid projects coming out of that group," Strait said. "I was looking for something that was more student-based and more like community organizing."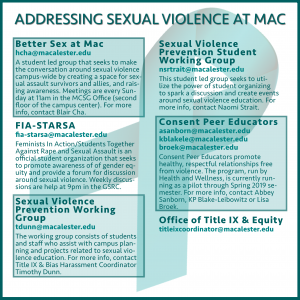 With the help of Linder-Scholer, Strait organized the informal group for discussion-based meetings and event planning.
"I think student organizing is important because there are dynamics that only students are gonna be able to understand and address," Strait said. "As students, we need to push ourselves to be more accountable and try to think of ways to solve these problems because no one else is going to do it for us."
According to Strait, the group has slowed down considerably since the fall semester.
"We are trying to organize," she said. "But I think the interest level has gone down a lot, so I'm not exactly sure what's gonna happen this semester."
A similar issues is reported by Daphne Iskos '21, a member of Feminists In Action/Students Together Against Rape and Sexual Assault (FIA-STARSA). Iskos noted that, of the 170 people on the org mailing list, only two (in addition to three group leaders) consistently attend.
"Throughout my time at Macalester, I feel like I've met a lot of people who are kind of 'fake woke,'" Iskos said. "They want to say 'this is bad, this is bad, I'm so smart and intellectual for realizing these issues,' but then [they don't] actually [do] anything."
FIA-STARSA is an official student org that seeks to promote awareness of gender equity and provide a forum for discussion around sexual violence.
"Maybe people are more inclined to believe that, because [Macalester] is a smaller school, and because we all know each other better and because we don't have frats and because of all these other factors, that sexual assault is less of a problem here," Iskos said.
These students stand alongside many others who have taken action towards bettering the campus culture around sexual violence. In addition, both the Office of Title IX & Equity and the Health and Wellness Center are available for support.
In a Facebook post written two years before the creation of Better Sex at Mac, Cha expressed confidence in Macalester's ability to transform the campus culture and change for the better. "Some say that liberal arts schools do not know how to handle sexual harassment [and] assault because the idea of being 'liberal' leads some people to believe they can do anything," she wrote. "But not at Mac. I know Macalester is much stronger than that. We believe in consent. As I witnessed and experienced, Macalester is a tightly-knit community that supports more love, less hate."