Student athlete Kieran Cuddy discusses "being gay and doing flips"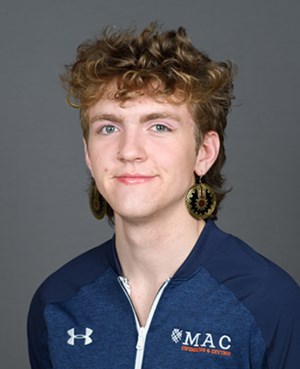 You may know Kieran Cuddy '21 from their success as a diver at Macalester (All-MIAC honors last year). Or maybe you know them from their involvement in MPIRG – Minnesota Public Interest Research Group – and advocacy groups on campus. Or even from their stylish outfits and resistance music (album coming out soon). Cuddy is not only a talented athlete but a wonderful human too.
Cuddy has broken the school record for the one-meter six-dive multiple times over the past two seasons. Last year they qualified for the NCAA Regional Meet at the MIAC Conference Meet, the last chance to qualify, making it a stressful day. Cuddy's main goal this year was to qualify during the regular season. They needed a 275 to qualify, and wound up with a 304.20. Scoring in diving is based on the difficulty of the dive and the technical aspects of the dive, including the take-off, execution, and the final entry into the water.
Breaking 300 was an unexpected milestone, but a welcome one. Cuddy will be competing in the NCAA Regional Meet again this year, taking a road trip down to Indiana with a few other MIAC divers. Some of the divers road-tripped together last year too.
"Diving is a really, really tight-knit community," Cuddy said. "Diving doesn't feel like a sport. It's more like an art form, almost. It doesn't have the air of competition that most organized sports have, because at a dive meet, most of what you're doing is sitting around on the sides and you end up just talking to people around you.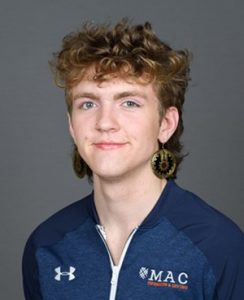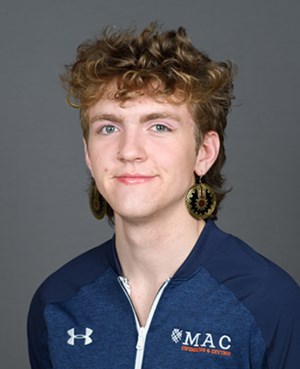 "There's this air of–everyone wants everyone else to succeed," they continued. "Still, you want to do well and succeed, but you also really want the person right after you to do well. It was that way in high school too, but I feel like it's just amplified for whatever reason in the MIAC and it feels like a cute little hangout every weekend. It's really cool."
Cuddy said being on the dive team at Macalester has brought them some of their closest friends.
"I wasn't anticipating being as close to people as I am, but the Macalester dive team really feels like a family, which is so cliché and cheesy, but it's true."
The swim and dive team spends several hours in training everyday, whether that be pool time, dryland workouts, or weight-lifting.
Time spent on diving doesn't keep Cuddy from being involved in other ways on campus. They're an anarchist and participate in organizing work around issues like Line 3.
Line 3 is a corroded pipeline that runs across northern Minnesota and through Native American reservations. It needs replacement, but the company plans to abandon the old line and build a new one. There are many environmental concerns, not to mention the fact that both the old and new lines would cross through Native American treaty territory.
Cuddy does most of their organizing through MPIRG which is a statewide and national organization. Cuddy is involved in Macalester's MPIRG, which doesn't receive funding from the national organization but keeps the name. Line 3 work and the 15 Now at Mac campaign are Cuddy's main projects within MPIRG.
Cuddy's activism against Line 3 doesn't stop at Mac – they're involved in their hometown's organization, Northfield Against Line 3, and they also write protest music.
"I play the banjo," Cuddy said. "And I have had a project called River Rat for the last two years, which is mostly the name I use while I busk on the street–so playing music on the street with a friend from Northfield."
Cuddy is releasing an album of their resistance music soon, and plans to use it as a fundraiser for a camp in northern Minnesota against Line 3. The songs deal with issues like Line 3 and the anti-capitalism movement in general. Both and in and out of the pool, Cuddy's experiences have shaped who they are today. Cuddy recently met with a friend doing their capstone on trans people, trauma and movement.
"I talked a lot about diving, and how diving has been a really weird, contradictory way of expressing and feeling my gender," Cuddy said. "I feel like a lot of the dysphoria I could have had has been alleviated through diving as an art. Because one, I don't really have the option to be really dysphoric about my body, I'm in a speedo in front of a bunch of people every day. It's been really interesting that diving sort of feels like a genderless area for me. It feels, like I said, like an artful experience more than a varsity sport."
Defying the gender binary has empowered Cuddy in competition.
"It's kind of weird being on the Men's Swim and Dive team, and I have certain qualms about that or having my name listed under men's records, but there's really no alternative to that," Cuddy said. "Diving, in the idea of competitiveness, was more in high school. It felt like a very empowering thing to beat a bunch of straight white dudes at a sport. "I don't know why, but I derive a lot of pleasure from being better than men at sports," they continued. "Last year, I was awarded underclassmen athlete of the year for men's athletics and I was like 'damn, I'm not even male, but I just beat every single Macalester student athlete–all these football dudes–and I'm like… sorry.'"