Gun control activists start new SDA chapter at Mac
Just one day before the anniversary of the shooting at Marjory Stoneman Douglas High School in Parkland, Florida last year, Macalester students gathered in Theater 200 to share stories of how gun violence has affected their lives.
The Feb. 13 event was hosted by the founders of a new Macalester chapter of Students Demand Action (SDA), a grass-roots, student-led initiative to advocate for gun control and gun safety legislation.
At the end of the Fall 2018 semester, the Civic Engagement Center brought together the founders of Mac's new SDA chapter, Ryan Perez '20, Alex Young-Williams '20, Pierce Hastings '22 and Joe McMurtrey '22 based on their shared history of gun control activism. For Hastings, that activism began when his family experienced first-hand the trauma of gun violence.
On April 14, 2014, Hastings' aunt, Terri LaManno, was shot to death by a white supremacist in the parking lot of the Jewish nursing home where her mother resided. The shooter, self-proclaimed Neo-Nazi and Grand Dragon of the Ku Klux Klan Frazier Glenn Miller Jr., also shot and killed a fourteen-year-old boy and his grandfather at a Jewish community center earlier that day.
"It really shook my family to the core, and we didn't really know what to do or how to combat this," Hastings said. "It's something you never expect to hear."
Since LaManno's death, Hastings has made it a point to advocate for gun control and against gun violence. Inspired further by the resistance of the Parkland students in 2018, he worked on political campaigns and participated in the March for Our Lives last April.
"People have been passionate [about gun control activism], but this was a whole new type of force. It was the first time where I feel like a youth voice—younger than college-age—was being listened to politically," Hastings said.
While Hastings mobilized with peers in his hometown of St. Louis, Missouri, McMurtrey was fighting his school in Valparaiso, Indiana for the right to walk out in protest of gun violence. McMurtrey approached the school asking to hold a walkout but was met with resistance. The school chose instead to hold a small, organized conversation about the shooting.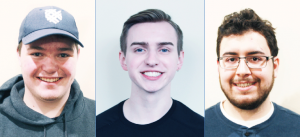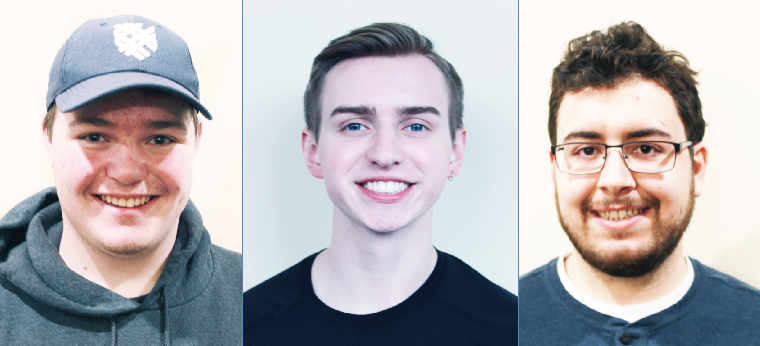 "A nice little place to sit around and do nothing for 20 minutes," McMurtrey said. "We were like 'hell no.' We're going to do this."
McMurtrey and his peers led a walkout one week after the shooting in Parkland, a display for which McMurtrey and the other organizers were disciplined by the school.
"We got written up—we all got detentions for it—which was unique," McMurtrey said. "It was unique to our school district. Most schools did hold similar walkout style events, and we were the only school district within miles that got in trouble for it."
This only motivated him further. He later organized a rally outside Valparaiso City Hall in coordination with a local university followed by a March for Our Lives walkout on April 20, 2018.
Hastings and McMurtrey hoped to continue their activism at Macalester, and, after meeting Perez and Young-Williams, decided to create a chapter of Students Demand Action at Macalester.
The group has three main goals for their chapter.
"One thing is to create an actual space for survivors of gun violence who go to Macalester," Perez said. "Because there are students and oftentimes they're hesitant to share their stories, but we need that space.
"The other thing is to take direct action," Perez said. "We have the Capitol in our backyard and to neglect that opportunity to make change is a waste of your Macalester education, as far as I'm concerned.
"Education is the third thing. The campus actually has to know about the technical aspects of this issue. Who's for certain types of legislation so I can write to my legislator? What does control and regulation actually look like? Who are our allies in this process?"
The SDA chapter is breaking new ground at Macalester–the first group dedicated exclusively to gun control advocacy. Both McMurtrey and Hastings were surprised to find the college didn't already host such an organization.
They hypothesize it might stem from how like-minded most Mac students are.
"I feel like Macalester can become sort of an echo chamber where students agree on the same things," McMurtry said. "But, by nature of everybody agreeing on the same things, that gives them license to not take action."
Hastings expressed a similar sentiment.
"I've found, just in my short time here, that what tends to happen on this campus is that there's an incredible conversation that's started where people are really passionate about something, and then…the conversation stops at [the] conversation, and it doesn't continue onto action," he said.
But the group remains optimistic.
"[This is] a movement of young people," McMurtrey said. "It was organized by young people, it was empowered by young people."
Ultimately, the group wants to stay true to SDA's student-led and community-driven roots.
"We're trying as much as possible to keep to the grassroots organization of how Moms Demand [Action] was founded," Hastings said. "And keeping to that idea—that we're students organizing, that we're 18, 19, 20 year-olds who are doing this.
"We feel like the best way to fight against [corporate interest and the gun lobby] is to have it come from within our own community."