In response to homophobic picketers, Mac says "love wins"
Two traveling evangelical activists held a protest on the sidewalk parallel to Grand Avenue during the late morning and early afternoon of Monday, Feb. 18. The picketers carried signs with homophobic and anti-abortion messages and verbally harassed passersby.
Though technically off campus grounds, the picketers were positioned adjacent to the Campus Center and soon attracted the attention of many Macalester students. A small crowd of counter-protesters, comprised chiefly of students, began congregating around the picketers.
Members of the Macalester football team formed a circle around the pair, joining hands and singing "Kumbaya My Lord."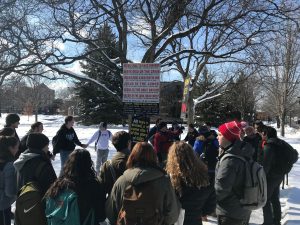 Next to the protest, Jennings Mergenthal '21 and Santiago Padron '21 operated Mergenthal's homemade, three-foot-long, bright orange puppet, Lester, in an attempt to distract students from the hateful signs.
"Everyone is here to see Lester, and Lester doesn't hate people," Mergenthal said. "[He's] a fun time."
Counter-protesters joined in with signs of their own. Isabel Conde '21 carried one reading, "Love Wins."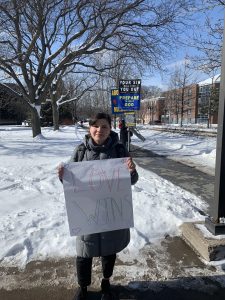 "They're stupid," Conde said. "Not recognizing other people's humanity is ridiculous. I think love wins."
Pierce Hastings '22 and a group of friends made a sign stating "Hetero Sex is Boring" in bright pink lettering.
"There's no reason to attempt to engage in an intellectual discussion because what they're saying is so out-of-bounds," Hastings said. "We decided to make a sign to show how ridiculous it is, and to say 'hetero sex is boring' to illustrate how much of a farce them coming out here to protest is, to make a funny situation out of one that can be hurtful toward a lot of people."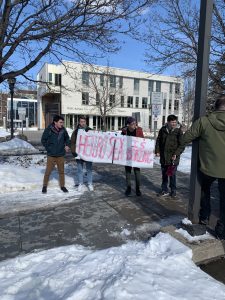 In addition to disrupting the students passing between the north and south sides of campus, the picketers' presence coincided with the Admissions Office's Junior Visit Day, an event which brought more than 250 visitors to campus.
At 1:00 p.m., as the visiting children and their parents walked from their lunch at Kagin Commons to the Campus Center, roughly 100 current Macalester students lined the sidewalk to shield the prospective students from the protesters.
The line of students started cheering as the visitors walked by. After a few moments of contemplation, Hannah Steuer '22 improvised the chant "speak up, fight back, hatred has no place at Mac," which the crowd quickly adopted.
While the picketers didn't knowingly coordinate their presence with Junior Visit Day, they did single out Macalester.
"We chose this campus because there's a lot of sin going on on this campus," said one protester, who declined to give his name. "This is an apostate Presbyterian campus that once stood for the truth. This campus has turned away from the truth of God's word."
Since its founding in 1880, Macalester has maintained a "covenant" with the Presbyterian church. The church provided funding to the endowment during Macalester's earliest years and the college continues to co-host events annually with the Synod of Lakes and Prairies of the Presbyterian Church (U.S.A.).
Presently, however, the college is nonsectarian and employs five chaplains of Presbyterian, Muslim, Jewish, Catholic and Buddhist faith.
Reverend Kelly R. Stone is the College Chaplain and Associate Dean of the Center for Religious and Spiritual Life. As chaplain, Stone tried to engage with the protesters.
"I think that when people show up on campuses with signs like these, they are intentionally trying to be provocative," Stone said. "My personal strategy is to try and make a human connection with them. I shook hands with those who were willing and got to know their names and invited them to reflect on what core messages they were trying to share with our campus community."
Stone approached these interactions from a religious perspective.
"As a Christian pastor, I invited them to consider that a core message of Christianity is actually the loving way that Jesus [is] presented in the world," Stone said. "I invited them to consider what about their tactic today would be loving. It was met with some silence or confusion. Or scrutiny of my identity [as] a woman pastor."
Stone had been planning to meet with Associate Registrar Addy Free when they were both alerted to the protesters' presence through a student's text message.
Free supported students' response.
"There were two women-appearing folks in the median, making out, and then some guys over here making out really close to them earlier. [That's] my kind of antagonism," Free said. "If they're willing to dish it out, they should be willing to take it."
Christian Reece '19 acknowledged the potentially harmful impact of the protesters' presence.
"Politics aside, I am very disappointed in the fact that there are first years that have to walk past here while they're going to class," Reece said. "[The protesters] don't know anything about [student's] personal life. They could be just triggering somebody. If they really wanted to help people, they could just go away."
Throughout the afternoon, Macalester Security monitored the situation from Bateman Plaza. However, the protesters remained off campus on the public sidewalk, so the officers were unable to intervene.
"Basically, we just monitor the situation, make sure that students aren't collecting, gathering around too much and make sure that nothing gets too overheated," said Security Officer Jeff Sullivan.
"[If the picketers were to come on campus] we'd trespass them. They have to leave campus, and if they don't do it willingly, then we have to call the cops," said Security Officer Bonnie Johnson.