In the U.S., 30 to 40 percent of food is wasted or thrown away while it can still be safely consumed. Food that is still safe to eat but is thrown away unnecessarily is food waste. Since its founding in 2014, Macalester's chapter of the Food Recovery Network (FRN) has recovered over 9,481.75 pounds of food from Café Mac that would have been thrown away, composted or fed to the pigs.
Every Wednesday, a cohort of student volunteers gather in the Campus Center and go to work in Bon Appétit. These student volunteers are part of Macalester's FRN chapter, a branch of the Macalester Food Ethics, Advocacy and Sustainable Transition organization (MacFEAST).
Once a week, they go into Café Mac's kitchens and package up the leftover food that Bon Appétit never served. Once packaged, the food is sent to Loaves and Fishes. Loaves and Fishes is a Minnesota-based non-profit organization whose mission is to serve free, nutritious meals to Minnesotans. They offer a variety of food serving programs at schools and small businesses. In addition, they grow produce on their own local farm and rescue leftover food from schools and organizations like Macalester.
"[From Loaves and Fishes] the food actually goes to a lot of different places," Ally Kruper '21, the current president of Food Recovery, said. "We send [the food] to a Loaves and Fishes warehouse, and then Loaves and Fishes has a lot of different places where they serve the food." Last semester, Macalester's FRN volunteered at some of the shelters where the food from Café Mac is served. Hazel Chew '19, the marketing manager of FRN, said that they hope to do more volunteering like that in the coming years.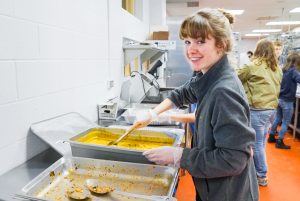 Last semester, Regina Northouse, the executive director of the national Food Recovery Network organization, visited the Twin Cities and spoke to students from local chapters of the FRN. Macalester volunteers spoke to student volunteers from the University of Minnesota, Carleton College, the University of St. Thomas and St. Olaf College about their experiences and ideas. Now, Chew said, students from these local chapters try to get together once a semester to share information and strategies to reduce food waste.
FRN was originally founded in 2011 by four students at the University of Maryland, College Park. Since then, the movement has grown into over 200 chapters throughout the U.S. and 3.4 million pounds of food has been recovered in total. When Macalester alumna Amanda Wareham '15 noticed a similar problem in Café Mac, she founded the Macalester chapter in 2014.
Macalester's FRN chapter meets on Wednesday nights. Volunteers box up the leftover food from Café Mac and put it in the freezer. On Thursdays, volunteers from Loaves and Fishes come to Macalester and pick up the frozen food to be distributed throughout the Twin Cities. Serena Peterson '22 started volunteering last semester. "I'm interested in food pathways and how we can cut down on food waste," she said. "It's maybe my tenth time volunteering with Food Recovery."
However, new student volunteers show up almost every week. One of those new students is Sophie Song '22. "I was looking to learn about the local community and be involved with it. Wednesday nights are the perfect time for me, so I decided to check it out," Song said. "I think I'll come back next week."
Kruper wrote in an email to The Mac Weekly: "We really would not exist as a program without the support and hard work of all of our amazing volunteers," noting that the continued existence of FRN is because of the continued engagement and dedication of students. Many members of FRN at Macalester started as volunteers before moving into more administrative roles.
Macalester's FRN ceased operation in 2017 after the original founders graduated. However, Chew and a friend restarted it last spring, and now it happens once a week. "What [the Macalester chapter founders] wanted to do [was] to get any food left from Café Mac – because there's a lot of food that was getting wasted – and to donate it to food shelters," said Chew. FRN provides a framework for students at Macalester and across the U.S. to do so.
FRN isn't the only food sustainability initiative at Macalester. MacFEAST is Macalester's largest food justice and sustainability organization with a number of smaller groups under its umbrella including FRN, MacSHARE, MULCH and Empty Bowls. All these smaller organizations work to educate students about food sustainability at Macalester and in the Twin Cities. Additionally, Bon Appétit is committed to sustainability and works with students in the Macalester Dining Advisory Committee (MDAC) to create goals that work for students and Bon Appétit. Together, Kruper said, all these groups work towards Macalester's 30 percent Real Food by 2020 and Zero Waste 2020 sustainability goals.
"There's a lot of food waste going on throughout the world, especially in the US, and [food recovery is] something simple that we can do. Just taking the food that would go to waste, essentially in the trash or the compost, and feed it to people who need it," Chew said. "That's why we do what we do."