Bad Weather Brewing Company offers great beer
Just days after the polar vortex, I thought it was only appropriate to visit local micro-brewery Bad Weather. Located just outside of Downtown St. Paul, half a mile off of the Mississippi River, the brewery offers a plethora of amenities that are anything but "bad." I sat down with co-owner Joe Giambruno. Originally from suburban Minneapolis, Joe found his love for brewing in college at Warren Wilson College in Asheville, North Carolina. When talking to Joe, it was of no surprise that he was a biology major. His fascination with distilling, fermentation and experimentation surely is reflected in all of his beers on tap.
Bad Weather opened its current location in 2015 and casts a unique atmosphere compared to the other local St. Paul breweries. Along with his love for science, it is clear that Joe has a love for science fiction. Even though the logo is merely a black cloud with white lightning bolts, the interior of the taproom is overwhelmingly covered with psychedelic and surreal colors, shapes and imagery that seems like it's from a different universe. Names including "Tripel Vortex," "Comet Shower" and "Galactic Tide" are just a testament to the co-owners' fascination with science fiction.
I hate to make this pun, but the beer was honestly out of this world. While many brewers have located their breweries in the Northeast due to the Twin Cities growing status as the center of the microbrewery scene, Bad Weather is a star that could outshine any of those competing breweries. I appreciate the fact that Bad Weather tries to come out with a new beer on tap every week. The micro-brewery is just filled with creativity, and it is exciting that whenever you go back you don't know which flavor will be in store for you.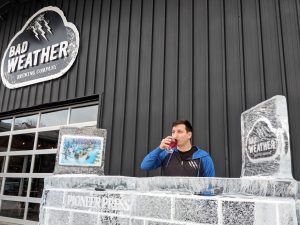 As for the beer, I was utterly impressed by the fact that little to none of the beers had heavy alcoholic tastes. Almost every drink, including the heavy beers, were deceptively drinkable and could be appreciated by those who may not enjoy beer. My favorite beer was most likely the "Tripel Vortex," a Belgian tripel. This beer was incredibly light, with a honey-like flavor mixed with pear, clove, orange and lemon. Joe's drink of choice at the time was the "Anomaly," the kettle sour on tap. This week the flavor was raspberry, and, if you're a fan of ciders or sours, this drink is a must have. The sour was both syrupy and crisp, a combination that is hard to perfect. If you already know different styles of beer, I would recommend the "Hopcromancer," a West Coast IPA (available in Nitro) with a tropical fruit hop aroma and flavor with a light caramel sweetness. The beer is a little heartier than the others, but it is straightforward and easy to drink. I also appreciated the "Galactic Tide," a rye porter with a dry, toasty flavor. There weren't many stouts on tap, but I really loved how this porter wasn't sweet; the flavors really emanated from the toasted grains. Another popular beer is the "Treasure Hunt," a dark cream ale. Despite its high corn percentage, this beer has an incredibly light taste for a dark cream ale. The final beer I recommend is quite unique; the "Windcave," a red IPA, is so sweet and light I initially thought it was a cider. The combination of hops, rye and roasted malt created a flavor that I haven't found anywhere else.
Without a doubt, Bad Weather is one of my favorite breweries that I have visited in the Twin Cities. The brewery is authentically Minnesotan. Bad Weather is located next to the capital, owned by a Minnesotan and an unforgettable ice bar. You must make the trek to Bad Weather, no matter the forecast outside.
Bad Weather Brewing Company is located at 414 7th St W, St Paul, MN 55102.