Frustrated by the lack of work by students of color that gets performed in theater, Gretta Marston-Lari '21 decided to do something about it. What started as a project for a theatre class last spring will become the first production to premiere in Macalester's new black box theatre: currently untitled.
"We came up with the idea that everyone does a monologue and held auditions for students of color, immigrant students and transgender students," she explained. "It seemed like everyone was interested in writing their own work because the work that they found was insufficient and stereotypical." "Our whole point was to eradicate stereotypes and show the individual," Clare Driehaus '22 said. Marston-Lari nodded. "The nuances of people who hold these identities in their bodies. The whole show has a lot to do with bodies," she said.
Driehaus, Marston-Lari, Em Friedman '21 and Rayan Hamid '22 conceptualized currently untitled. for an assignment in Performance and Social Change, a class taught by visiting professor Sarah Bellamy last spring. Bellamy is the artistic director of St. Paul's Penumbra Theatre, which aims to "illuminate the human condition through the prism of the African American experience," according to its website. An integral advisor to this ongoing project, Bellamy has reserved time at her theater for currently untitled.
"The department doesn't have chairs for this space yet, and it'll only seat 25 to 30 people," Friedman said. "But Penumbra is huge, so we're going to figure out how to get a lot of people there." The show, featuring nine actors ranging from first-years to seniors, is what Marston-Lari calls a "call to tension."
"With regular theatre and storytelling," Marston-Lari said, "what happens is you get there and there's this nice place where everything begins and everyone's happy. You go through this journey with the characters and you get to a place where shit goes wrong and you think, 'oh no.' But then you arrive at the ending, when everything's okay again. And then you leave and never think about that again."
"Catharsis." Driehaus said.
"Yes!" Marston-Lari said. "We're trying to withhold catharsis and have the audience leave in a place of tension, where they essentially feel responsible for the hardships that we are speaking about in these monologues and cannot escape that responsibility. They'll leave fully knowing about all these stories and having to think about them, being forced to acknowledge their own part in what's going on. Most of the monologues are directed at audience members."
"It all happened on its own," ensemble member Karanja Karabiu '22 said about the creative process. "It was never a forced thing. We were never told 'sit down and think about this.' It was: 'you come in, people give you ideas and you build off of each other.' I'd say forty percent of what I'm doing onstage came from other people. And every time we do somebody's piece, I understand new aspects of it. I've really enjoyed the whole process of making this show."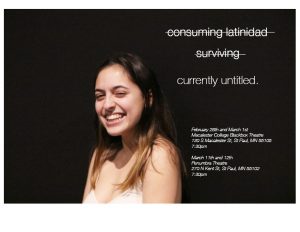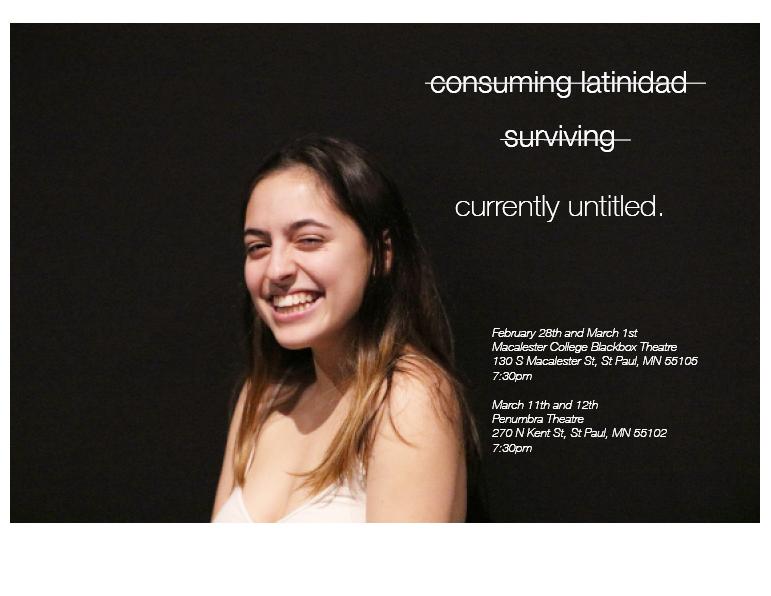 Although the show is only scheduled to run four times this season, Driehaus, Friedman and Marston-Lari have bigger plans for it. "What we're hoping is that this will happen again with different actors, writers and directors. We also want to include students with disabilities and people from off campus next time. We're trying to create a tradition, sort of, in order to welcome new people into the theater department," Marston-Lari said. "The three of us are going to write a handbook for the project."
The show is being produced independently from Macalester's Theater and Dance Department, making it completely student-run. "We wanted students to see that they can go and create their own work," said Friedman.
Although a long time in the making, currently untitled. has the makings to become an important legacy for minority students at Macalester. As summed up by Driehaus, the project features "Mac students holding identities that have to do with their bodies that they can't escape and that affect the ways in which they are perceived and how they live at Macalester and in the world."
Free to students, currently untitled. is a labor of love, frustration and hopes to incite change. It will be performed on Feb. 28 and March 1 in Macalester's black box (in the basement of the new theatre and dance building) and on March 11 and 12 at Penumbra Theatre, which is a short walk from the 21 bus stop.
In short, as Friedman put it, the show is "a call to be uncomfortable, and a call to get to know your fellow Macalester students." It is now up to the Macalester community to show up and support the cast and crew, ready to listen.