Last week, Macalester's author-in-residence and English professor Marlon James published his fourth novel, "Black Leopard, Red Wolf." James read passages from the novel and signed copies at a reception on Tuesday night in Mairs Concert Hall.
The novel – the first of a trilogy – follows the protagonist, Tracker, on his search for a missing child through a vivid fantasy world. While James drew inspiration for the novel from a huge variety of sources, including comic books, African epics and Icelandic sagas, James told the audience at his reading that the book started as a fight.
James recounted an argument with a friend following the casting of "The Hobbit: An Unexpected Journey." James was annoyed at the lack of minority representation in the movie, but when his friend argued that it was because the story was set in a world based on Europe, James gave in.
"Keep your damn hobbit," he said to his friend.
Instead of arguing, he decided, he would look into African folktales. Realizing that most of his knowledge of African history and folk tales started with slavery, James started looking into older stories. His research would eventually become "Black Leopard, Red Wolf."
"It set me on a mission of reading," he said.
Reading African oral epics opened James up to a new, fascinating and terrifying landscape.
"Western vampires are total wusses," he joked at his reading. "They shrink back in a ray of sunlight. A lot of African monsters have no problem killing you in broad daylight."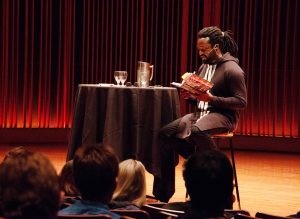 Researching historical and mythological background for his fantasy world made up a heavy part of James' work for this novel.
"I researched for two years," James said in an interview with The Mac Weekly. "I research until I get to the point where I feel confident just moving through a book." Once James had his world created, he sat down to write. This was James' first shot at writing a novel completely immersed in a fantasy world.
"It was scary as hell," James said. "If I'm writing a novel about New York, even if I don't live there, New York is there. There's an already existing world which I can just move my characters through… for this one, I had to create a whole world and then not make it seem as if I'm creating it."
Although fantasy worldbuilding presented a challenge, James enjoyed the effort.
"It was the most fun I've ever had writing a book," James said. "I never understood why I had to give up make-believe just because I'm grown up."
"That's why I use a lot of things like magic realism… You can be very adult and talk about very adult things, but in your imagination, at least, you never grow up." As well as being the first fantasy novel he's ever written, "Black Leopard, Red Wolf" kicks off James' first trilogy – all his previous novels stand alone. The series will tell the same story from three different witnesses, which James hinted will all give very different accounts of the events.
"You may form some emotional connection to the characters in this book… that's gonna be a mistake," he warned the audience at his reading. "Those characters might be totally different in book two."
James was inspired to use multiple perspectives by old African stories where the narrator was a trickster and often unreliable.
"The idea that truth becomes something you have to decide is something that really resonates with me… the reader is going to have to choose which of these three books they believe."
"Black Leopard, Red Wolf" follows the 2014 release of "A Brief History of Seven Killings," the fictionalized story of the attempted murder of Bob Marley. This novel won the 2014 Man Booker Prize and is being adapted into a TV series by Amazon. James wasn't daunted by the success of his last book, though.
"Some writers respond [to a successful book] by going overboard, [with] sort of a bigger, harder, faster kind of book, and some people retreat, and that's when they write a quiet, private, small book, and I knew I didn't want to do either of those," James said.
"I'm usually writing the next book even when I'm in the midst of promoting the present book… so I never think about pressure," he continued.
This novel has certainly gained a lot of attention so far, earning widespread praise from reviewers for James' voice and creativity, as well its adaptation of folktales, history and superhero comic books. Reviewers have compared it to classic Western fantasy series like "Game of Thrones" and "Lord of the Rings."
So far, the success of "Black Leopard, Red Wolf" has taken James slightly by surprise.
"When I was writing this book, some publishers had their doubts," James said. "They're like, it's too literary for sci-fi and too sci-fi for literary, neither audience is going to read it, which is weird because now both audiences are reading it."
The good news for these enthusiastic audiences is that two more tales from James' intricately constructed fantasy world are on their way.
"I'm already onto the next one," James said.