On Tuesday Dec. 4, the student organization Voices on Mental Health, colloquially known as Voices, hosted a student athlete mental health panel. It was the first of its kind at Macalester.
Seven Macalester athletes participated: football players Kiante Miles '20, Carrigan Miller '19, and Cody Petrich '19, cross country athlete Hallie Kircher-Henning '19, volleyball player Zarra Marlowe '21, water polo player Naomi Strait '21, and softball player Sophie Migacz '19.
Alex Young-Williams '21 introduced the panel, after which each student gave a short speech about their own mental health struggles. A fifteen minute question-and-answer followed.
Young-Williams came up with the idea for Tuesday's event after planning another Voices panel earlier this year.
Given that he is one of few athletes in Voices, Young-Williams realized he was well positioned to coordinate a discussion centered around the experiences of student athletes.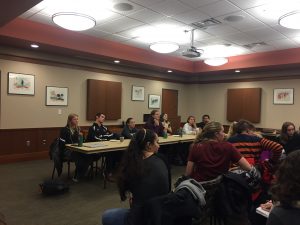 "It's been a slow process," Young-Williams said. "We're bringing together two groups, Voices and athletes, that haven't worked together in the past.
"My involvement started the way it does most of the time, which is [with] students who have great ideas," said Steve Murray, Interim Athletic Director. "It started with Alex coming to me with the success they had with the first mental health panel and with feedback he had gotten. He felt there would be a need for it."
Kat Lewis '21, co-chair of Voices credited Young-Williams for his work in assembling the panel.
"It's really just been student-led," Lewis said. "The athletic department… [has] been looped in for every part of the planning, but it hasn't necessarily been facilitated by them."
Because Voices received just $120 of the $330 they requested from MCSG to fund their programming this year, the group has had to be selective about how it has allocated its resources.
With the help of the Athletics Department, however, Voices was able to host the Student Athlete Mental Health panel.
"We just had to look at our budget and say, 'Alright, we budget for lunch panels anyway, we want to save some money for next semester, but we spent this amount and we may as well split it in half and go for it,'" Lewis said. "It only is really possible because the athletic department offered to help and pay for it."
According to Young-Williams, a mental health event for student athletes can be particularly meaningful.
"I feel like the conversation [about mental health] hasn't gone much further among student athletes. I think student athletes – they have all these extra commitments and priorities like practicing, lifts, competitions. That can be up to 30 extra hours a week of commitment," Young-Williams said.
Marlowe is a middle hitter on the volleyball team. Marlowe participated in both the more general fall panel and the student athlete panel.
"I was really nervous before this one," Marlowe said. "The [fall panel] was particularly people in the Voices on Mental Health and Mac community. It was a community of people who generally have mental illness and talk about it very openly.
"I feel like student athlete culture isn't geared toward that, especially not at Mac. I was very nervous that it wouldn't be received well.
"With athletics in general there is just an identity of toughness, of invulnerability that has to go with it. You also don't want to be the person on the team to complicate everything, you want to be the one whose helping everybody else out, who's going with the flow, who's supporting your teammates."
Murray says that the athletic department has made changes to reduce the shame regarding mental health especially prevalent in sports.
"In athletics, you always hear 'mental toughness' and 'mentally tough.' That right there can create a problem. It's more about talking about 'mental agility,'" Murray said. "If you feel that you're struggling in a certain area, or you are dealing with depression or anxiety, that doesn't mean that you're not a strong person."
"We have a sports psychologist that, last year, came in one day a week and worked with individuals and also worked with teams. With how much demand there was, we've now gone up to two days a week."
Throughout the panel, students emphasized the importance of the relationships between teammates, coaches and athletic support staff.
"Our coaches here are very aware of the academic rigor that our student athletes go through, and the extra that coaches in our programs ask of those student athletes. They've always been really cognizant of those two things. More and more now, they're recognizing the time that athletes need for themselves," said Director of Sports Medicine Paula Natvig.
Opening a dialogue about mental health and mental illness on sports teams may be uniquely important.
A University of Michigan School of Public Health survey found that 30 percent of college students who struggle with symptoms of mental illness seek help, whereas only ten percent of student athletes with mental health conditions do.
"There's this idea that we're all put together, and we manage our time really well," Young-Williams said. "There is also the stigma, maybe even more so than [in] the student body, of being honest about your own mental health."
Marlowe hopes that stigma can be combated through education and conversation.
"People with mental health [challenges] exist within the athletic community," Marlowe said. "While it does mean that our capacities are different, it doesn't mean that were any less of an athlete, any less of a teammate. It's not, 'Oh, she's bipolar, but she's a really good athlete.' It's, 'She's bipolar and she's a really good athlete.'"