Sociable Cider Werks is a common brand name spoken among Macalester students, and rightfully so. For those of you who haven't heard of Sociable Cider Werks, you're in for a treat, literally. Based in Northeast Minneapolis, the heart of the emerging Twin Cities microbrewery scene, Sociable Cider Werks makes unique alcoholic drinks that get mistaken for beer or sours.
Sociable Cider Werks is quite innovative and has become successful largely for its idiosyncratic approaches to the cider-making business. This week I sat down with Jim Watkins, one of the co-owners of the brewery. When I first met this six-foot-four blond man, I thought I was being greeted by a literal viking. Within a few minutes of talking to Jim, I already knew why Sociable was so popular. Jim is a confident guy who doesn't care what others think and is only passionate about making good drinks. Today, a lot of breweries flock to Northeast Minneapolis because of its pre-established reputation, but Sociable Cider Werks is one of the institutions that helped forge that status.
So what makes the brewery special? Even though Jim went to Carleton, I decided to give him a chance. Sociable combines the best elements of beer and ciders to make distinct combinations that I have yet to experience anywhere else. While most ciders use sweet apples, Sociable Cider Werks produces ciders with all different types of apples, including sweet, bitter and sour.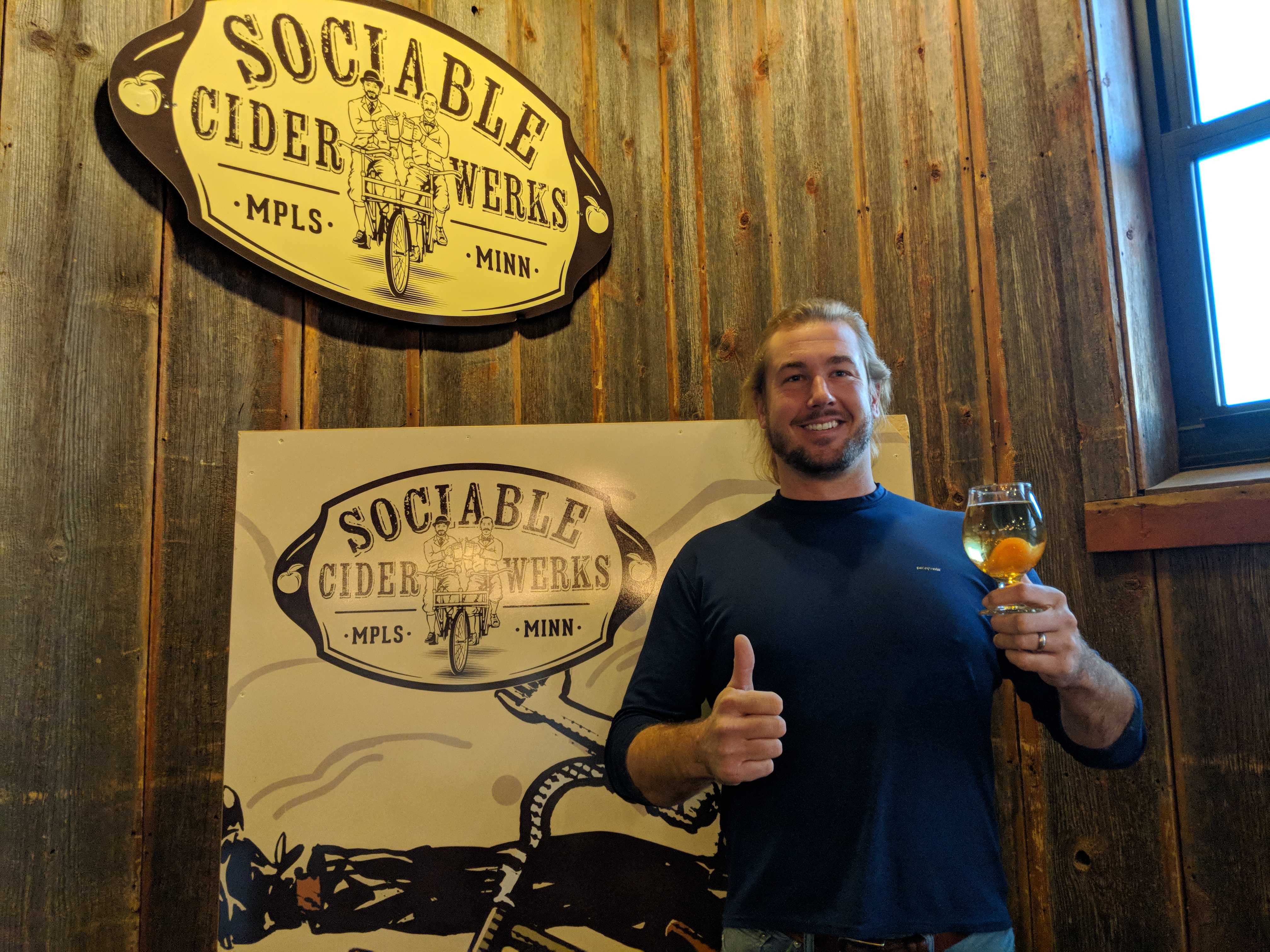 So what are some of the ciders offered? The best-selling drink is the "Freewheeler," a dry apple cider made with local, freshly pressed apples and a touch of lightly hopped sorghum. While the "Freewheeler" is definitely a good cider, I personally found the "Hop a Wheelie" a much better standard "apple" cider. This one was much drier and had a perfect hint of grapefruit, orange peel and lemongrass that left me craving more. The cider is definitely fun, but if you're at the taproom, there are so many better options that you have to try. Especially at the liquor stores near Macalester, you would be lucky if there are four different ciders by Sociable Cider Werks. If you go to the brewery, I recommend getting some of the more idiosyncratic tasting beverages. Almost every cider I tried tasted like a liquid dessert, and it is a fun experience exploring the different options. One of my favorites was the "Candy Apple Freewheeler," a delicious apple cider mixed with caramel. This concoction was divine. Never before have I tasted the caramel in an alcoholic drink, and, when mixed with the apple cider, it tasted like I was eating a caramel-dipped apple. Along those lines, another favorite of mine was the "Spoke Wrench," a cider with flavors of toffee, toasted caramel and coffee. When sipping the cider, it first tastes like a creamed-iced coffee, then magically produces toffee and caramel flavors. If you're not so keen on trying dessert flavors, I was pleasantly surprised with the "Burn Out," a cider dominated by a crisp cucumber flavor that ends with a subtle habañero kick. I also appreciated the "Rusty Chain," a cider that focuses on more berry and tart flavors.
If you're wondering about the bicycle-themed names, there's a great story behind that. Jim and his co-owner, Wade, are avid cyclists. It turns out that the name "sociable" encourages a collective atmosphere, but it's also a pun! The word "sociable" alludes to a type of bicycle that supports two riders who sit side by side. As a matter of fact, the logo of the brewery has the two caricature-versions of the owners riding a sociable bike!
Last fun fact about Sociable Cider Werks. Jim bought some pews from a church on Craigslist, and when asked if these were for a church, Jim merely responded, "Well, we're open on Sundays!" Whether you're a beer fan or not, Sociable Cider Werks is a great place to try. All the drinks are unique giving you a pleasant surprise with every sip.
Sociable Cider Werks is located at 1500 Fillmore St. NE, Minneapolis, MN 55413.