Since high school and throughout her time at Macalester, Jinci Lu '20 has dedicated a lot of time and thought to studying mental health.
"I was drawn to mental health because of personal experience with a family member who suffered from depression," Lu said.
She was interested in how different cultures handle mental health – Lu and her family immigrated to the United States when she was ten years old, moving from Kaiping, Guangdong, China, to Saint Paul.
Lu's plans for how to approach that issue have shifted a few times since she's been at Macalester. Mental health has always been her focus, but her interests within that field are wide. She started out as a planned Psychology major but quickly took interest in medicine.
"I realized that I like the combination of both the behavioral aspect of how humans react to things… but I also need the biological aspect," Lu said. "I switched my major to neuroscience, specifically for clinical psychiatry."
Lu has explored a few different career options. She's spent her summers and free time shadowing doctors and working at the Family Tree clinic in Saint Paul. Last summer, Lu started working on research at the University of Minnesota's Adolescent Depression Lab.
"Some of the work that we do is finding alternative methods to treat depression in adolescents that did not respond to traditional medication," Lu explained, along with several other studies she helps with.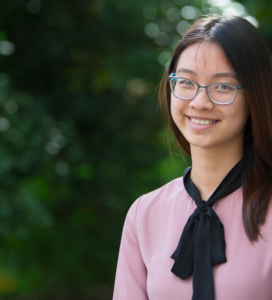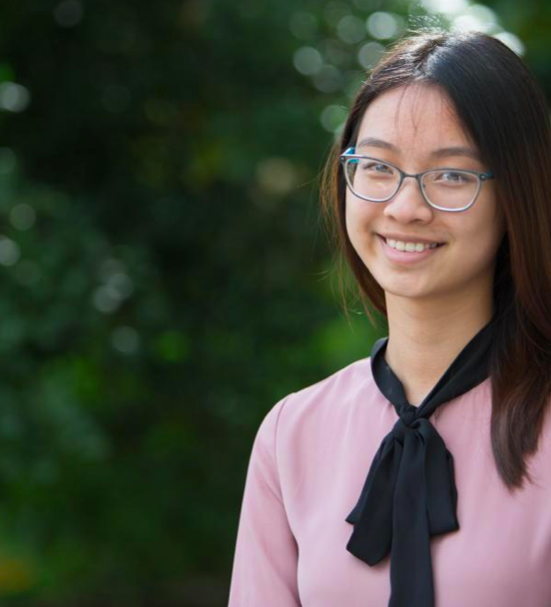 Lu's hard work hasn't gone unnoticed. Last year, she earned a scholarship from the United Health Foundation's Diverse Scholars Initiative, a program that awards scholarships to students studying health with the intent of diversifying health care industries.
"That has definitely helped me a lot with being able to attend college financially," Lu said of the scholarship. "I don't think I would be able to even think about going to medical school right now if I wasn't even in college, so that scholarship relieves a lot of financial burden."
The scholarship offers more than funding, though – as a recipient, Lu was able to attend the Diverse Scholars Initiative Forum in Washington, D.C. last summer. For Lu, getting to hear from diverse doctors and participate in conversations on health care was an eye-opening experience. Lu got to contribute her experience with mental health research to the forum.
"I just felt great that this was a part of our discussion… it was great that I felt like I was part of the conversation," she said.
She appreciated the diversity of the doctors at the forum, too, many of whom came from underrepresented minority groups. "That was great because their backgrounds were really similar to mine, so I was able to see someone that resembles me."
Lu's background as an immigrant has always influenced how she thinks about mental health. Here in the U.S., mental health is still stigmatized, but the conversation has started expanding. This isn't the case in Lu's experience in China.
"In Chinese culture, our emotions are not something that we normally discuss," Lu explained. "I grew up half of my life in China and the other half in the U.S., and experiencing both cultures will allow me in the future understand, why my patients coming from Asian cultures will be less inclined to share their emotions, I think that would help a lot… to increase my cultural competency as a healthcare provider."
But while she sees the U.S. as having a healthier culture surrounding mental health, it definitely isn't perfect.
"There's still a lot of work that needs to be done because there's still a lot of stigma around mental health," Lu said.
Lu speaks passionately about a wide range of improvements she hopes to see in the future in health care and mental health. She's not only interested in the science of it – she tells me about the problems she sees with how the U.S. diagnoses mental health in relation to gender.
"Anxiety is more likely to be diagnosed in women," Lu said. "There are stereotypes that women are more expressive, more emotional, so they tend to get a diagnosis, and I think that's an issue because that's just institutionalized sexism."
"It's my hope to see more women represented in the APA board that figures out what criteria qualify for these disorders so that different perspectives are being brought to the table and conversation," Lu said.
Lu also sees race as a factor that needs to be addressed further in health care and the conversation around mental health. Both in her own research and in other research in the psychology and psychiatry fields, she worries that too much focus is put on white men.
"I don't think that's a good representation in the U.S… focusing on one population is not really representative to everyone," Lu said. "I want to look more into a diverse group of participants, but not only based on race, but also how socioeconomic backgrounds affect [mental health], how the environment they grew up in affects that."
Lu's interest in the societal aspect of mental health developed in her time at Macalester.
"I suppose you could say I was sort of ignorant while I was in high school," Lu said with a laugh. "I was super focused on learning the biology behind it… but even in my chemistry class, even though we're talking about this, we can also relate that to how it affects people in society."
Lu has been paying attention to Macalester's changes in how it handles mental health. A walk through Macalester's halls will take you past a variety of posters and flyers advertising mental health resources available to students on campus. Here, the stigma around seeking help for mental health is gradually lessening.
"I think this year is actually a lot better than last year," Lu said. "A lot of things that we've started to do are more positive in terms of opening up conversation, having more support groups, and now I think we also have a lot of trainings, like training teachers or faculty members or students on how to handle situations like that, so I think that's great."
Still, though, Macalester's handling of mental health isn't perfect. Lu cites long waiting lists for counseling and the high stress environment as things that still need improvement.
"I think the best way to readjust this is to start having more conversations about it and normalizing it instead of stigmatizing it," Lu said.
Lu is hopeful for the future, though. She tells me about her plans to study for the MCAT and head to medical school after graduating from Macalester. She's excited to get into the psychiatric field.
"It's an important field and it needs more attention than it has," Lu said.