In the wake of Matias Sosa-Wheelock's '20 death by suicide last spring, The Mac Weekly came out with a special issue centered around mental health at Macalester. The issue discussed the changes the Laurie Hamre Center for Health and Wellness planned to make in order to better serve the increasing number of Macalester students seeking their services.
In an interview with Steph Walters, MD, MPH (Medical Director of the Laurie Hamre Center for Health and Wellness) and Liz Schneider-Bateman, LICSW (Associate Director of Counseling, currently serving as Acting Director of Counseling), the two discussed how these proposed changes are actually working within the Health and Wellness Center.
The most obvious change is the physical layout of the Health and Wellness Center. The layout changes allow for more offices for newly hired part-time counselors, while also accommodating the existing staff. Several part-time counselors have been added in order to meet the high demand for counseling. "[Adding several part-time counselors has] also given us an opportunity to do extended counseling hours. That's the specific request that we've gotten from students – is that we'd like counseling specifically to be in the evening – so having that extra space has allowed us to do that," Schneider-Bateman said.
This leads to the second major change – more counseling hours. The Health and Wellness Center has added drop-in counseling hours every Tuesday through Thursday from 5-7 p.m. to allow more students to receive counseling services without needing to make an appointment. In response to student feedback and the large class of 2022, the new counseling hours allow the Health and Wellness Center to "be creative about how we serve so many students at different times of days," Schneider-Bateman said.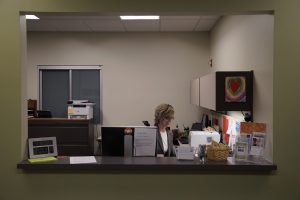 "Those [extended hours have] been well utilized," she said, "[but] it's a little bit hard to say are they well utilized just because they are in the evening or are they well utilized because they are additional appointments that are available to students." Nevertheless, the new hours have allowed the Health and Wellness Center to reach more students.
There has been an increase in one-on-one counseling appointments and students in the Health and Wellness Center within the past two years. In 2016, from the beginning of the fall semester to Nov. 5, the Health and Wellness Center had 624 appointments for 202 individual students. From the beginning of this semester to Nov. 5, they had 893 appointments for 304 individual students. Also, these statistics only show the large increase in the one-on-one counseling appointments and do not account for the increase in medical and other appointments at the Health and Wellness Center.
The third change comes in the restructuring of the leadership positions. Before, there was only one director of counseling. Now there is an added associate director, Liz Schneider-Bateman and an assistant director, Julia Hutchison, who is also the care coordinator. These two new leadership roles "support the big picture, complex programming work that we've been moving towards for several years," Schneider-Bateman said.
"The associate director role specifically has a focus on outreach education and programming. Then the assistant director and care coordinator focuses more on managing students of concern and student crisis, and also the flow of traffic in our clinic, so making sure that we get students where they need to be and figuring out who can see which providers."
Another important change is the addition of Question, Persuade, Refer (QPR). In the words of Schneider-Bateman, QPR is: "[A] suicide prevention model with the focus of training essentially people, human beings, who are not mental health providers but who have regular access with students, community members and human beings who might be experiencing a suicide crisis." The program began September of 2018, and the Health and Wellness Center has since offered six trainings – three for students and three for faculty and staff.
"The idea of it being that we all have the opportunity to intervene with someone who is in a suicide crisis – you don't have to be a mental health professional to do that," Schneider-Bateman said. They plan on offering more trainings in the spring semester.
The Health and Wellness Center is excited to have this program as a resource on campus because it reaches more students outside of the doors of the Health and Wellness Center.
Walters sought to emphasize that while the counseling department of Health and Wellness is important in facilitating Macalester students with their mental health care, the medical side of the center plays a critical role that may not get the recognition it deserves. "I just really want this follow-up to make sure people understand that medical has always been doing mental health and they have been doing more and more and more every year," Schneider-Bateman said.
The medical department of Health and Wellness continues to be actively involved in students' path to mental health,"many folks come to medical first for mental health demands and then our job is to connect them with the people who they need," Walters explained. The medical department acts as one of many ways for students to find the necessary mental health services best suited for them.
The students' understanding of the Health and Wellness Center's flexibility is a critical part of these resources. "There's not just one path to getting the help you need," Walters said. She emphasized the importance of, "Just recognizing that path, that a lot of folks are already taking it. Those who aren't should see it as a path they can get to help."
Yet Schneider-Bateman also highlighted how she believes it is necessary to take a big-picture perspective of mental health at Macalester. "It's not a controlled environment," Schneider-Bateman said. "There are a lot of variables shifting all the time, things like the large incoming class size, things like a constantly increasing demand for mental health services." While individualized care is a critical part of Health and Wellness' work, it cannot be the only solution. "If we focus solely on increasing one to one services we are not going to adequately address the changes in terms of the mental health landscape for college students," she said.
For this reason, other resources on campus joining the mental health efforts outside of the Health and Wellness Center are especially valuable. Professor Ron Barrett led his spring 2018 class, Anthropology of Death and Dying, in writing reports about what they view as the most important steps for the Health and Wellness Center at Macalester to take towards suicide prevention. "A lot of those things aligned with things we were already talking about and thinking about as a team here, so that was very fortuitous and also really helpful to say that 'look, our students also want this,'" Schneider-Bateman said.
In addition, the creation of a mental health "task force," chaired by Walters and Barrett, brings together members of the Health and Wellness Center as well as students, professors and student affairs staff to address mental health on campus from a community-wide point of view. As Schneider-Bateman explained, their goal is "to look at what is already happening and to make more comprehensive suggestions about what we would like to see differently as a community."
"There're so many experts and so many angles to do this," Walters said, "but one of the goals of the task force will be to catalog it, so that everyone who is a player in this knows what Mac is doing about mental health." Each of these steps taken across campus reflect the importance of approaching mental health from a truly holistic and integrated perspective. While things such as one-on-one counseling services play an important role, it is equally important for the entire Macalester community to contribute their voices and their efforts towards promoting mental health on campus. This involves such things as campus-wide, anti-stigma movements and awareness efforts as well as individual care.
"What we are really talking about is big-picture mental health for students," Schneider-Bateman said. "If we wait and develop all of our solutions to be focused on the most extreme situation, which is suicide, we miss the opportunity to do that prevention work, that community work, that is all about creating a more mentally healthy environment for our students."