Easy Lemon Chicken
College students are often intimidated by making "fancy" dinners, conflating "good" with "expensive." This couldn't be farther from the truth. One of my favorite cheap recipes to make during the school year only takes a couple of inexpensive ingredients, most of which are already found in your pantry.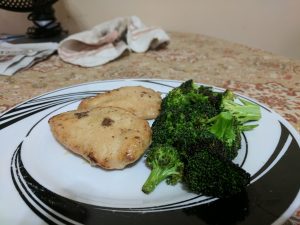 Ingredients: 1 lb chicken 1 tbsp butter 1 tbsp olive oil 1 cup flour ¼ cup chicken broth 1 cup heavy cream 1 lemon
To begin making the lemon chicken, cut the chicken in half through the breast, also known as a butterfly-cut. This will make each chicken fillet thinner, which allows for faster cooking. Next, put one tablespoon of butter and one tablespoon of olive oil in a pan that can withstand high heat, preferably a cast iron skillet. As the butter is melting, dip both sides of the chicken breasts in the flour, and gently lay into the pan. Fry until fully cooked, around five minutes each side. Take the chicken out of the pan, turn the stove to the lowest setting, and put a splash of chicken broth into the pan. This will immediately make a lot of smoke, but don't worry; it's the fastest and safest option to clean the pan. Once the smoke is cleared, add the chicken broth and cream into the pan and mix. While cream will definitely give a fuller taste, I often only have milk in the house. Milk still works great, but if you have the opportunity, I definitely recommend the cream.
Finally, put the chicken back into the cream mixture, to allow the chicken to soak in all the flavor. The last ingredient necessary for this recipe is the lemon. There are many ways to give the dish a lemon flavor. If you want more of a lemony taste, I recommend using more of the lemon zest rather than the juice. Personally, the zest's flavor sticks out more and makes the dish. If you want a more subtle flavor, just use the juice of a lemon. People prefer different amounts of lemon flavor, so I'd recommend adding the zest and juice slowly and trying it before adding more. Likewise, I don't put much salt in the dish because I personally find that the broth offers enough sodium. However, if the broth isn't enough, feel free to add more salt and pepper, or any spice.