The failure of multiple departments on campus to screen students for Title IX complaints prior to hiring them into leadership positions has left the college scrambling to draft a new comprehensive policy for vetting student employees and leaders.
Currently, there exists no college-wide policy requiring student employees to be screened through the Title IX office, meaning that it is up to individual departments to decide whether to request a check of a student's file before hiring them.
The vast majority of student hiring authorities have not been making that request – meaning that students in positions of relative power, like Residential Assistants (RAs), Macward Bound trip leaders and class preceptors, may have complaints in their file at the time of their hiring.
Now, the college is trying to change that. Associate Dean of Students Andrew Wells has been tasked with drafting a policy that will make uniform the process by which student employees and leaders are vetted by the college before assuming their positions.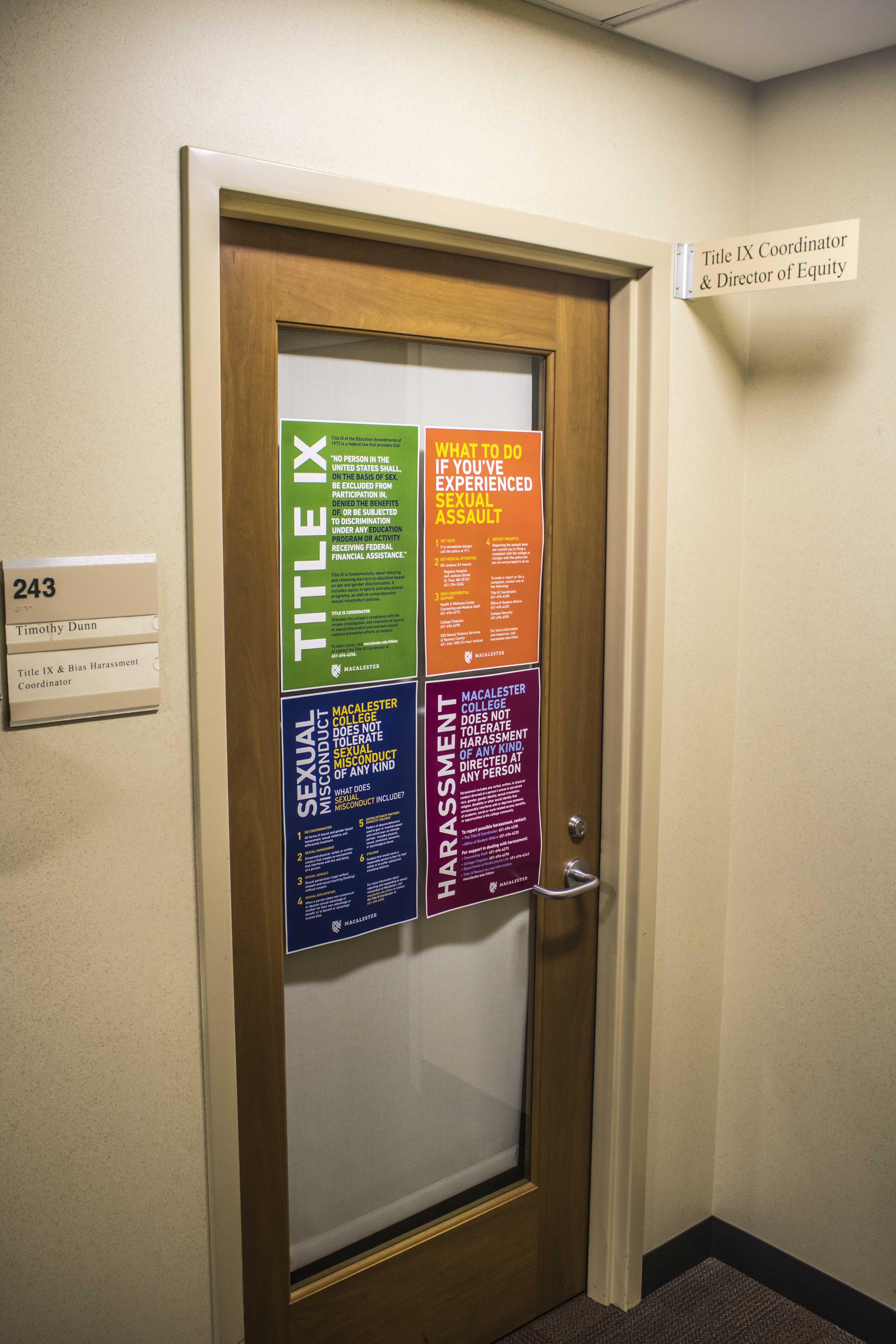 Per the college's Title IX & Bias Harassment Coordinator Timothy Dunn, the policy will ideally be finalized sometime in January.
But key elements of what the policy will entail remain unclear, such as whether it will now be mandatory for departments to run lists of their potential student hires through conduct and Title IX checks or whether those checks will continue to happen only on a voluntary basis.
What is certain is that the lack of clarity regarding the Title IX screening process has led to a situation where student employees and leaders are not screened systematically for complaints.
That caused a significant breach in the spring, when Campus Activities & Operations (CAO) hired at least one Orientation Leader (OL) with a complaint in their Title IX file.
It was only after two students with knowledge of the Title IX-offending conduct reported the error to Director of Student Leadership & Engagement Laurie Adamson that she asked Dunn to screen all of the OLs hired to work at orientation this year.
After Dunn performed a check, the prospective OL lost their position just before the end of the spring semester.
Applicants to be OLs in the spring were not explicitly made aware that their Title IX complaint history would be considered in the hiring process, though they were informed that they needed to have a minimum 2.5 GPA and to be in "good standing" with the college in order to be hired.
Adamson said that while it is her understanding that OLs are typically screened for complaints before being offered positions, due to staff turnover and the lack of a clear written policy regarding the hiring process, they were not this past spring.
Over the summer, Adamson, in consultation with Coordinator of Student Organizations and Leadership Liza Pierre, wrote a formal procedure for the hiring of OLs that should ensure the completion of Title IX screenings each year.
But though all of this year's OLs were eventually screened before this year started, most other student employees and leaders were not.
SAFEwalk volunteers, for example, who are available to walk students to their cars or residences on weekend nights, were not screened prior to starting work this year.
"After you interviewed [Associate Director of Security Bill Collumbien], I believe, he sent me his list of SAFEwalk people and asked me to go and vet them," Dunn said. "They're all clean as whistles… You can't have somebody with a Title IX violation walk folks home at night."
Another group of student employees not systematically vetted through Title IX are RAs. Like Collumbien and Adamson, Assistant Dean for Residential Life Coco Du is working on a policy that would rectify that.
"We're already following all student employment regulations," Du said. "I think Residential Life just holds ourselves to a higher standard. We recognize that the student leadership positions in Residential Life play a really critical community role.
"Moving forward, we have developed a comprehensive pre-screening check process with the Title IX office," she continued. "The Title IX office will provide pre-screening for [RA] applicants as well as finalists, so we're going to check two times."
As it stands now, Residential Life would only be made aware of complaints against its RAs if those complaints were filed during an RA's active tenure or if a resident had a no-contact order against an RA applicant.
Dunn said that the impetus for drafting a college-wide policy around Title IX checks was "glitches where we got phone calls that people who had cases were hired for leadership positions, and of course, we had to course-correct. Now, it's becoming practice."
Wells sounded a similar note, referencing "questions that students like you have raised about who gets to be in a leadership role."
"I think, more broadly, this is not really a reaction to a problem, it's more about aligning our values as a college… to reflect the importance of the role student leadership has," he said. "My hope is that students in leadership positions will be reflective of the best of the college."
But while changes in OL and RA hiring policy are already being implemented, the presence of a campus-wide policy may significantly impact the processes of certain other departments.
"If a student-athlete was named in a Title IX complaint, then we would be notified," Interim Director of Athletics Steve Murray said. "It's not so much needing to screen through Title IX, it'd be more that a coach and myself would be aware if there was that [a complaint] and we'd also be aware if they [the student] were found responsible."
This appears to be a common approach. Collumbien, in an email to The Mac Weekly, wrote only that "the Security office and the Title IX office share information on an ongoing basis as necessary."
However, since Dunn might not be aware of a student's leadership position on campus, there is no guarantee that a Title IX complaint would be reported to a student's supervisor.
"I would only know that information if it was supplied to me and I would only know if it was an athlete if it was shared [with] me," Dunn said.
Under the new policy, conduct and Title IX vetting will likely only be available to groups overseen by faculty or administrators. For student-run orgs, privacy issues will likely prevent any sort of similar vetting process from taking place.
"For example, I would not be comfortable disclosing to the Chess Club that a student was not in good standing," Wells said. "In doing so, I might be revealing student records."
There appears to be, at this point, a fair amount of confusion over who the new policy will cover and whether it will make vetting mandatory or not.
Dunn said that the new process will happen "automatically" for student employees and remain voluntary for student leaders, while Wells said that the process will likely be applied both to student employees and student leaders, but that it might or might not be mandatory.
"Once I have a chance to finalize the language and share it with senior staff," Wells said, "then I'll have a clear understanding of whether it will be mandatory."
Vice President for Student Affairs Donna Lee and Provost Karine Moe will have final approval over the policy, which Dunn believes should be shared broadly with the campus community when completed.
"I think it's going to need to be a public document," he said. "I don't like when students think we're hiding things."
It is unclear at this point how Employment Services, the department that oversees all student employment at the college, is factoring into these discussions.
Director of Employment Services Bob Graf declined to comment.
The Mac Weekly will continue to report on this story as it develops.