Reflections on running, injuries, and life in the Mac Pack
As an athlete who can never seem to find my way out of a training room or a hospital, I'm frequently asked: "Why do you go through this? Haven't you had enough?"
And my answer will always be no.
No amount of broken bones, drawn blood, hospital beds, cardiovascular tests or damaged muscles will keep me from lacing up my shoes.
Running in college has helped keep me grounded and focused in all areas of my life. Competing at the Division-III level provides athletes many unique opportunities for personal growth. The lack of scholarship incentives means that every athlete participates for a love of the sport and nothing else. Because our tuition is not contingent on us performing at a high level, our coaches allow us to participate in various other organizations and clubs on campus. I have thrived as much from my running this year as I have from writing for The Mac Weekly, working at the Macalester Fund and the Running Room and organizing a weekly radio show on WMCN. It is the engagement in a wide array of disciplines and activities that makes the Division-III and liberal arts experience worthwhile.
Stepping back from running at the end of a grueling five-month season is always an eye-opening experience. There's a lot to look back on and be proud of this year, both from an individual and team standpoint.
A severe injury in my right forefoot derailed my 2018 outdoor track season and forced me to begin summer training with caution. I entered preseason with aggressive and optimistic goals for the year, even though I ran reduced mileage on a modified training schedule.
The men's cross country team is known colloquially among the athletics department as the Mac Pack– a testament to our close team connection and our tendency to race with each other in tight packs. If nothing else, we lived up to that name this year, consistently placing our top five runners between 30 and 60 seconds of each other during races.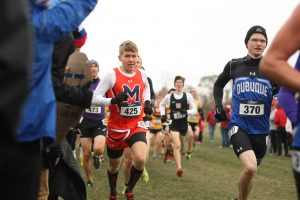 This year, our coach emphasized the importance of believing in ourselves and believing in each other. He believed that teaching us to trust ourselves and each other would help lay the foundations for a successful season. We made a team cheer for the season that emphasized this, having one person shout "Believe in me! Believe in we! MAC PACK on 3!" after every practice as a way to bring us together and build team spirit.
It's impossible to dictate what combination of athletes and coaches will lead to a string of successful performances and bring out the best in each runner. Returning the top seven athletes from 2017 and adding four talented first-year teammates gave us a lot of potential, and we set ambitious goals for ourselves because of this.
In the days immediately following last year's regional championships, the idea of a top four MIAC finish was palpable. We dared to expect a lot from ourselves and our teammates, and the first days of preseason training showed strong indications that our goals were within reach. Throughout the season, this was the most competitive, deep and hard-working team I'd ever been a part of.
These promising practice results did not materialize as fully as we would have liked in races. We competed in a slow selection of races this year, which resulted in many of our guys not running times they had hoped for. I know personally that I would have benefitted from racing a flat, faster course in the middle of the year to give myself a sense of how fast I can be, and many of my teammates agreed.
We finished eighth in the MIAC this year, down one place from 2017. Our top seven followed that race up with an 18th place finish at the NCAA Central Region Championships this past Saturday, retaining the same position we held last year. This finish was not indicative of the potential we believed we had this season, but we'll learn from it and will come back more motivated than ever in 2019.
Our team performances this year were far from ideal. Numerous runners were hampered by injuries and sickness, particularly during the championship season of MIAC and NCAA Regionals. That's the hard part about sports in general. Nobody pays attention to the struggles that go on behind the scenes– it's only about how you perform on race day. The two-and-a-half months of practice and five months of training you go through only serve to minimize the chances of something going wrong when it counts.
Running is reflective of life: sometimes you invest so much into something but still get it wrong. That just makes your successes that much sweeter.