Voter turnout up at Macalester
Almost two years to the day after Donald Trump was elected President of the United States, Americans took to the polls in one of the most critical elections in recent times.
The results they delivered on the federal level were mixed: Democrats won the popular vote by a substantial margin and easily reclaimed control of the House of Representatives, but lost ground in the Senate – where Republicans have gained at least two, possibly three seats.
The Democratic victory in the House ends the unified Republican control of Congress that imperiled the Affordable Care Act and passed a sweeping tax law during the first two years of Mr. Trump's administration.
The Democrats also captured the governorships of seven states, including Wisconsin, where Superintendent of Public Instruction Tony Evers narrowly defeated incumbent Scott Walker, while picking up hundreds of seats in state legislatures across the country.
But Republicans had a better night in a number of marquee races, comfortably beating incumbent Democratic senators in Missouri, Indiana and North Dakota, and holding off spirited progressive challenges in races in Texas, Florida and Georgia.
Locally, the Democratic-Farmer-Labor Party (DFL) continued its dominance in statewide elections over the last decade – sweeping races for the senate, governor, attorney general, secretary of state and state auditor. The DFL also reclaimed control of the Minnesota House, meaning that, with the Minnesota Senate remaining in Republican hands, this is now the only state with a split legislature in the country.
Election day was the culmination of a months-long effort led by the Civic Engagement Center (CEC) to rally Macalester students to participate in the election.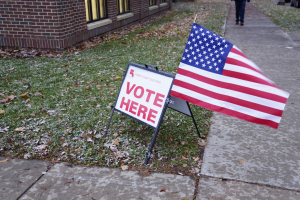 The CEC sponsored three separate parades to the voting location at Macalester United Plymouth Church, as well as an all-day event with food and activities on the upper level of the Campus Center.
It also held a watch party on Tuesday evening in the Idea Lab, as well as events – including one sharing the experiences of undocumented students as they relate to American elections – throughout the last several weeks. Paul Schadewald, the associate director of the CEC, said that there was "definitely more conversation [and] more energy," around this election than past midterms – for reasons that Schadewald attributed to Mr. Trump and the events of the past two years.
"It's hard to say, but I think some of it, again, is probably some people's experiences with the 2016 election," he said. "I think that people are seeing the effects of public policy on their own lives and members of their own communities."
Indeed, turnout in Minnesota was strong – the highest for a midterm in the state since 2002 – and even stronger across the country, which saw its highest midterm turnout since 1966.
Schadewald said that the CEC never discussed a turnout target for Macalester students, but the DFL estimated that roughly 1,300 voted either in the state or absentee in other states. If that estimate is correct, the turnout rate was similar to what it was at the college in the 2016 presidential election. In the contentious race for the state's attorney general position, high voter turnout might have played in the DFL's favor.
Democratic candidate Rep. Keith Ellison, who has served Minnesota's fifth congressional district in the U.S. House since 2006, was dogged by allegations of domestic violence and abuse made by his ex-girlfriend just before the August primary.
The Detroit native denied the allegations, and a DFL investigation conducted after the primary found no evidence to corroborate them.
Ellison's opponent, Republican Doug Wardlow, had to deal with a major scandal of his own. Last month, a high school classmate alleged that Wardlow mercilessly bullied him because of his sexual orientation and told him that "people like you should be shot."
Before beginning his campaign, Wardlow represented the anti-gay, far-right Christian legal organization Alliance Defending Freedom.
Polls predicted a close race throughout the fall. In the end, though, a vast majority of Democratic voters stuck with Ellison despite the allegations – and their greater numbers were enough to push him to a four-point victory. One such voter was Henry Beimers '20, who cast an absentee ballot while studying abroad in Amsterdam.
Beimers voted against Ellison in the DFL primary, but for him on Tuesday – telling The Mac Weekly that he "liked his progressive stances on issues like dealing with corporations and civil rights," and crediting him as having been "fairly honest throughout the investigation this fall."
All DFLers on the ballot, including Ellison, won landslide victories at the Macalester Plymouth United Church precinct – with each DFL statewide candidate racking up between 84 and 90 percent of the vote.
It was also a big precinct for incumbent Ramsey County sheriff Jack Serier, who won 65 percent of votes cast there to 34 percent for his challenger, Vadnais Heights mayor and former Ramsey County sheriff Bob Fletcher.
Serier ascended to the position last year after his predecessor Matt Bostrom resigned, and his approach to policing and criminal justice attracted the attention of Ted Chisholm '20.
Chisholm had worked on a sheriff's race in his hometown of Milwaukee over the summer, and, when he returned to St. Paul for the beginning of the fall semester, he got in touch with Serier's campaign.
"The sheriff oversees the adult detention center, the jail and then the county correctional facility, as well as provides police services to a bunch of suburbs north of St. Paul, including Falcon Heights – which had the death of Philando Castile, which really showed the problems with police and community relations here in the Twin Cities," Chisholm said.
"So I really felt that it's important that we have a sheriff who is progressive and working on criminal justice reform."
Ultimately, though, Serier fell short – losing his bid for a full term by six percentage points.
"I was optimistic, heading into the election, but you can never be certain," Chisholm said. "In local politics, anything can happen."
There was better news for progressives in the highly competitive Hennepin County sheriff's race, where DFL-backed challenger Dave Hutch defeated the conservative incumbent Rich Stanek by a razor-thin margin of just more than 2,000 votes. There was also good news for progressives in U.S. House races in the Twin Cities suburbs. Incumbent Reps. Jason Lewis (R-MN) and Erik Paulson (R-MN) both lost, Lewis in a rematch of his 2016 race against Angie Craig, Paulson by a large margin to Dean Phillips.
Republicans made up for their losses in those races, though, winning the seat in Southern Minnesota being vacated by governor-elect Tim Walz, and beating Joe Radinovich '07 in the Northern Minnesota seat being vacated by the retiring Rep. Rick Nolan (D-MN). The party made just one other pickup in the House.
With this election over except in a handful of races that are headed to recounts, attention will quickly turn to the big race two years away. "The goal of our office is to help students be more engaged with public life – and in that sense, I come away very [happy]," Schadewald said. "We'll be looking at connections and programming from this year's election as we think about two years from now, trying to do a good job of supporting students… in 2020."
About the Writer
Abe Asher, Former Editor in Chief
Abe Asher (he/him/his) is a senior political science and religious studies major from Portland, Oregon. He is a 2020 graduate of Macalester, and has in...