More Than a Word: how an NFL team name is deragatory
"Boozhoo niijiiwag. Niminwendam eyaawan omaa noongom. Hello, my friends. I am glad to be here today. Ginoozhe Ogimaakwe nindizhinakaaz Anishinaabemong idash Katrina Phillips nindizhinakaaz zhanganaashiimong. Tallchief Woman is what I am known as in Ojibwe and Katrina Phillips is my English name."
This is how History Professor Katrina Phillips introduced the screening of John and Kenn Little's 2017 documentary More Than A Word, in her native language of Ojibwe.
On Nov. 1, in honor of the beginning of Native American Heritage month, Proud Indigenous People for Education (PIPE), hosted a screening of the documentary, preceded by a reception with co-director, John Little, and followed by a Q & A.
Following her warm welcome, Phillips acknowledged the fact that Macalester stands on stolen native land.
More Than A Word explores the historical and current ramifications of the derogatory term "r_dskin." Three minutes in, the documentary asks, in all caps, "WHAT'S IN A WORD?" No harm in a word, says one side of the argument. The film uses the Washington R_dskins, the NFL football team of Washington, D.C., as a case study of a popular and controversial use of the derogatory term. In several news media sound bites and direct interviews with fans tailgating in the parking lot outside a R_dskins game, they claim that no one is getting hurt by the term, which is not meant to hurt anyone in the first place. In fact, they claim that Native Americans should be honored to have an aspect of their representation linked to the NFL football team.
More Than a Word argues that these claims are false. As several Native activists in the film articulate: you cannot force honor upon someone. The false gratitude that Washington fans push on Native Americans is wrapped up in their association of pride with the mascot, the team and the name. The film argues that Washington R_dskins diehards participate in the erasure of an entire history of the term "r_dskin" while simultaneously reinforcing stereotypical racist caricatures of real, complex people and their culture.
More Than A Word also asserts that this sort of linguistic discourse causes serious detriment to indigenous people. There is trauma associated with the history of the derogatory identifier "r_dskin." Stereotypes and the normalization of racist signifiers freeze representation in the past, significantly inhibiting any means of progression.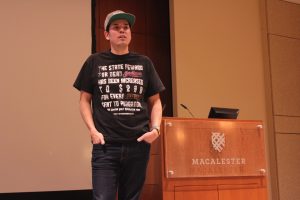 During the reception before the screening, I was able to sit down with co-director John Little to talk with him about the cultural power of documentary filmmaking as a medium. Little, an enrolled Standing Rock tribe member with a PhD in History, understands the weight of representation on personal and academic levels. The documentary allowed him to create a platform for a diverse set of activists to voice their opinions.
Written academic histories and statistics can lack the immediacy of film when conveying the weight of emotional impact: in this case, the pain and trauma caused by the casual use of a derogatory name. Documentary film can put the viewer in direct conversation with those most directly affected by the issues. Through the use of the one-on-one interview, documentary creates a powerful sense of intimacy with an issue that makes it "easier for a lot of people who are unfamiliar with this issue to digest," Little said.
One of the biggest issues that Little and his brother wanted to tackle in More Than A Word was taking back Native identity. "I think the thing with native storytelling," Little said, "[is that] there are so many times that those stories are told by non-Native people."
Just look at how Hollywood has established the popular representations of Native Americans in our collective imagination. In John Wayne Westerns and dramas like Dancing with Wolves, you see a story told where the extent of Native representation is through a white person interacting with Natives, never from the Native American's perspective.
"The most important part is getting our stories out there," Little said. "I don't think that non-Native people can't write those stories, but I think we really need to empower ourselves by telling our own stories."
We talked briefly about Little's Native contemporaries, from filmmakers like Razelle Benally of the Oglala Lakota and Inuit director, Alethea Arnaquq-Baril to musicians like Frank Waln, who narrates this film.
Little dedicates a significant portion of the film to current Native artists who are bringing positive forms of Native representation into the present and projecting them into the future. These artists are doing powerful work to chip away at an otherwise homogenous white media landscape and to take Native representation back from the antiquated and racist popular discourse that institutions like the Washington R_dskins football team perpetuate.
Other social movements like Black Lives Matter and #MeToo are constantly confronted with the question: why now? In the movement for the reclamation of Native representation in the media by Native people themselves, More Than A Word exemplifies a powerful response to this question. Why now? Because this is just the beginning of a breakthrough of Native visibility that activists have been fighting for for years. Because the answer to 'what's in a word?' lies deeper than pride in a sports team. Because the narrative is more complex than the way we've been taught to talk about it.
"Miigwech bizindawiyeg noongom," Professor Phillips said, ending her introduction. "Thank you for listening to me today."
November is Native Heritage Month. Screen More Than A Word on your personal device, or hold a screening of your own. You can stream More Than A Word for free on Kanopy.com, an online streaming service provided by Macalester.