Abuzz with news of Tuesday's monumentally important midterm elections, many at Macalester are preparing to inspire students to go to the polls en masse on Nov. 6.
The Civic Engagement Center (CEC) is in the process of hosting a full week of election events culminating in an all-day party on Tuesday to be held on the second floor of the Campus Center (CC).
On Friday, Nov. 2, the CEC is co-sponsoring a "Mac the Vote" rally in the Janet Wallace Fine Arts Center along with Macalester's Student Choices – Student Voices task force and the college's chapter of Pi Sigma Alpha. The rally will feature speeches from representatives of a number of nonprofit advocacy groups – including the American Civil Liberties Union, Planned Parenthood Action,and Sunrise Movement – as well as Macalester students. Local band Psychic Stare is also set to perform.
On election day, the CEC will also sponsor several parades from the CC to the polling place at Macalester Plymouth United Church with a marching band and several "Macalester celebrities." The processions will leave at 11:15 a.m., 3 p.m., and 4:35 p.m.
All fall, the CEC has aimed to make their events as accessible and non-partisan as possible.
"We want to make sure that with the focus on voting visibility, and supporting people to vote, that we also help all students feel empowered," Associate Director of the CEC Paul Schadewald said.
"That would include students who can't vote for various reasons – either because they're an international student or they're a resident of the United States but don't have voting status."
The effort to increase student participation in the midterm is an uphill battle. Turnout among Macalester's student body has historically been low, especially in midterm elections.
In 2014, only 28.1 percent of Macalester students voted, despite the college's reputation for political activism and civic engagement.
This paradox could have a number of explanations.
"Many students want to vote back home, but then you have to get the absentee ballot and you have to figure out how to make that happen," political science professor Julie Dolan said.
"Some states are making it easier to do that, other states are making it more difficult," Dolan continued.
"In one of my classes, we were talking about voting. Somebody submitted an application for an absentee ballot weeks before he got it… this was in Wisconsin."
While accessibility is certainly an issue, it's not the only reason students don't turn out to vote.
"I think people at Macalester tend to get very focused on one issue – environmental justice or criminal justice or reproductive rights," Macalester Democrats Co-Chair Sophia Hays '20 said. "Politics is an intersection of all those things. You need to go out and vote for people who will implement policies that translate into what you're fighting for."
Along with Hays, the CEC staff urged the importance of every individual's vote, especially in these midterm elections.
"This is no time for apathy," CEC Department Coordinator Rachel Weeks said. That message is especially powerful given not only the political climate, but also the numerous recent acts of white supremacist and other political violence across the country – including the deadliest anti-semitic act in American history last Saturday at the Tree of Life Synagogue in Pittsburgh and the racist murder of two black people at a grocery store just days before in Kentucky. Macalester Democrats co-chair Lily Alexandroff '21 recalled the words of several of the speakers at Monday's vigil at Mount Zion Temple for the victims of the anti-semitic mass-shooting at the Tree of Life Synagogue in Pittsburgh. "A lot of the speeches ended with: 'No more thoughts and prayers. Vote,'" she said. "I think that's been a message across the whole country. I definitely agree there's been a rise in energy, not just in this community. "This election is a referendum on sexual violence, on mass shooters, on immigration," Alexandroff continued. "It truly is a decision now that you have to make about what American values are and where we stand as a country and as people."
Indeed, the energy around Tuesday's elections should extend statewide. The 2018 election in Minnesota could prove to be one of the most consequential in recent memory, with two U.S. Senate elections, a gubernatorial election, four competitive races for the House of Representatives and a myriad of other state and local races.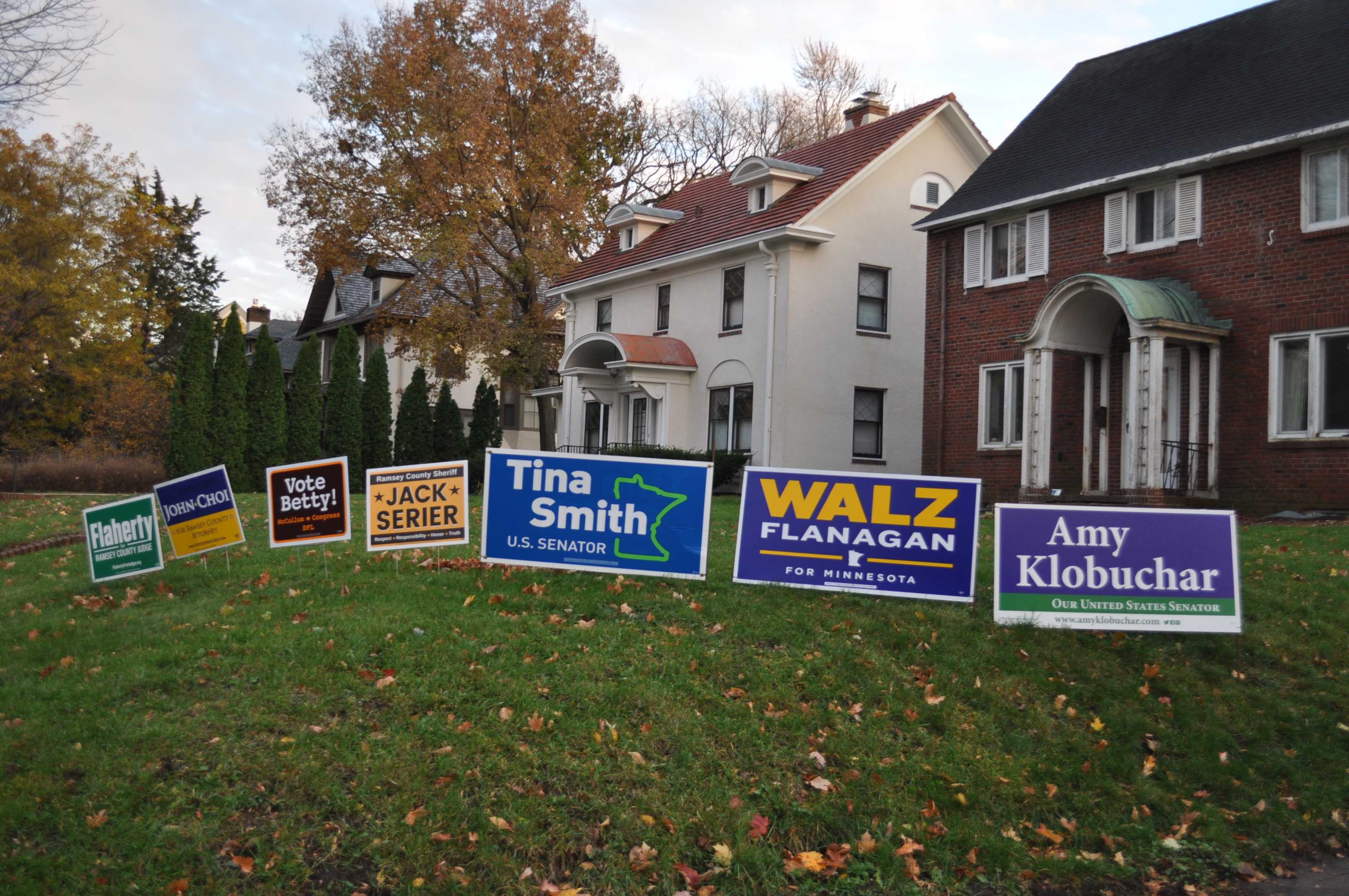 All of this could mean good things for turnout across the state. "Minnesota typically has the highest turnout in the country, [and] I think we're going to have even higher turnout," Dolan said. "Typically, when there are more competitive races on the ballot, people are more inclined to turn out." Not only that, but midterm elections are often seen as a direct response to the first half of a president's term.
"Since the president is not actually on the ballot," Dolan said, "People who are dismayed or frustrated or alienated or angry have this as an opportunity to vote in people of the opposing party so as to act as a check on the president."
That opportunity to respond to the actions of President Donald Trump is a driving force for both Democrats and Republicans on campus.
"I think a lot of our meetings tend to be quite depressing – we tend to focus so much on 'This awful thing happened', 'Look what Trump said', 'Can you believe this is still our reality?' – and we finally have a chance to change something and I think that's been energizing people," Alexandroff said.
On the Republican side, even with the party controlling all three branches of government, there remains tension in the buildup to election day.
"Young republicans [sic.] are less aligned with the party than its values and if a candidate can no longer be counted on to support ideas important to a younger generation than [sic.] it may be preferable to flip the seat," Mac GOP Chair Jed Bucholz '19 wrote in an email to The Mac Weekly.
"If you care at all about what happens in the next two years, the next four years, the next eight years," Hays said, "Get out and vote."