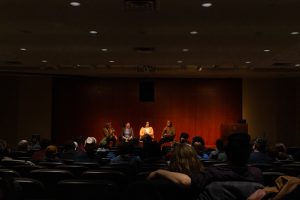 Macalester hosted a panel on transgender representation in the media in John B. Davis Lecture Hall on Tuesday, Oct. 30. The event was part of the Department of Multicultural Life's SPEAK! Series, which aims to bring influential speakers to Macalester for discussions about transnational social issues.
The event was co-sponsored by Macalester and Hamline University.
Author and performance artist Kate Bornstein, Twin Cities radio personality Quinn "Shimmer" Villagomez and young-adult author Rachel Gold '93 were featured on the panel. All three panelists identify as non-binary or transgender.
Earlier on Tuesday, Bornstein led a workshop in Kagin Commons about understanding the complexities of the non-binary gender identity.
Local author Andrea Jenkins moderated the discussion. Last year, Jenkins was elected to the Minneapolis City Council, becoming the first black, transgender woman elected to public office in the U.S.
Jenkins opened the conversation by asking each panelist to elaborate on their own personal understanding of transgender representation.
"As a non-binary person, transgender representation means being able to see myself and that my friends can see themselves," Gold said. "When I go to play a game or read a book, I want characters that I can see myself in or aspire to.
"It doesn't always have to be someone that looks exactly like me," they continued. "I want to see a lot of diverse representations. There's so many ways to do and be trans and non-binary that I'm never offended when I see someone who is non-binary differently. Everybody's perspective is valid."
Villagomez concurred, highlighting the common negative stereotypes associated with transgender characters, particularly transgender characters of color.
"Most of the time we're categorized as sex workers or from the streets or from broken homes," she said. "Whenever I see a film or a documentary with a trans person of color involved, it's never in a good light. We never get a lot of positive recognition in media."
"Historically, if there's a trans character in the narrative, they have to be the problem," Gold added. "The readership is out there for books that are intersectional and rich and have trans characters that are the hero."
The group named TV shows like Orange is the New Black and POSE, as well as the off-Broadway musical Charm as positive, uplifting representations of trans culture – shows where trans characters are not narrative burdens, but the heroes.
"I'm of the opinion that trans is anyone who is messing with gender, who is breaking up popular conceptions of gender," Bornstein said.
Bornstein was quick to point out that there are far more expressions of trans culture in contemporary media than many realize.
"I am Cait was amazing, because it was reality television in service to activism," Bornstein said. "Have you seen RuPaul out of drag? Tall, skinny, lanky. That's brave to not be a manly man in today's society. The Doctor from Doctor Who is non-binary, they're just an alien that reincarnates on Earth. All of that is trans."
Trans representation, Villagomez pointed out, must be reflected in casting too.
"I get really tired of us hiring actors and actresses to play our experiences," Villagomez said. "We're paying people thousands and millions of dollars to tell our stories when we could be sharing our own experiences. Stop giving us this title of second-best and give us this platform to show we're strong, we exist and we deserve it."
The panel also emphasized the difficulty of quantifying the transgender experience, particularly in the case of non-binary individuals like Bornstein who do not conform to a specific gender. Often times the representation of non-binary individuals is contingent on them first coming out to their peers.
"Non-binary is an impossibility to many people," Bornstein said. "Non-binary people often don't look anything other than cis-appearing, so they're not called anything but that. There's an invisibility built into the identity."
The panelists highlighted that while the culture of these identities is improving, there still remains a lack of diversity and representation of non-binary identities in media.
"I don't know what non-binary looks like because I'm not seeing it," Gold said. "We have this notion that gender is fixed across time– if you see someone and they look like a woman at some point then they're a woman all the time. It's really hard to show genders that blend and mix and change and are fluid, particularly in visual media."
After a lengthy discussion about media representation, the conversation turned to the future of transgender folks in the workforce, and the steps that can be taken to ensure their economic success.
"You don't see a lot of people, especially trans people of color, in leadership roles," Villagomez said. "My hope is that, as a trans person working in business and media, any LGBT person can see me and say 'Wow, I can look up to her.'"
Jenkins agreed, pointing to technology as a medium for future innovation and awareness.
"Now that the technology is available, we can start to create our own shows," Jenkins said. "That is going to be the next step. There's many opportunities and we need to be in those spaces creating our own media."