A tale of two artists: the works of Caroline Kent and Lela Pierce '08
The Twin Cities accomplishes what few other mid-sized metro areas in the country do: maintain and support a thriving art culture. The Twin Cities produces (and manages to keep and groom) its own artists and major art spaces for significant periods of time, maintaining national notoriety and regional significance. The major institutions in the Twin Cities actually compete and hold meaningful relationships in tandem with major institutions in Chicago. An integral part of this successful symbiotic relationship is the ready access to residencies and fellowships in the area.
On the other side of the Twin Cities is the Jerome Fellowship Exhibition, which is showcasing work by Lela Pierce '08 and other fellows. The MCAD-Jerome Fellowship was established in 1981 "to contribute to a dynamic and evolving culture by supporting the creation, development, and production of new works by early career/emerging artist."
Every year, the Minneapolis College of Art and Design Gallery showcases work from the Jerome fellows, a selected group of artists who are provided $12,000 awards to produce their new work for an exhibition. This year, the Jerome fellows include an exciting artist: Macalester alumnus Pierce.
Similarly, St. Catherine University chooses a fellow every year to be their Amy Marie Sears Visiting Artist. That fellow has their work exhibited in the Catherine G. Murphy Gallery at the university. This year, Caroline Kent is the university's Visiting Artist, and had her exhibition Beyond the Kármán Line on display in the gallery.
I went to see work by these two artists, Pierce and Kent. Their bodies of work are highly contrasting, but there are surprising similarities between them.
Kármán Line is a reference to the Hungarian-born American engineer Theodore von Kármán's namesake line that represents the separation between our atmosphere and the beyond: outer space.
I am partial to Kent's work because it is marvellous, and because I am familiar with a part of the artist's body of work that I am often referencing. I also find greater depths to her work whenever I revisit it, which is evidence of her high quality as an artist. I began following Kent's art two years ago when I first saw her collection titled "St. Wilma," work that made me truly appreciate abstract paintings for the first time. Her paintings were the first I encountered that represented nothing outside of themselves, being fully coherent on their own. They exist within logic that does not translate directly beyond the forms in which they repeat: the paintings, always an assortment of shapes super-imposed against a pitch black background.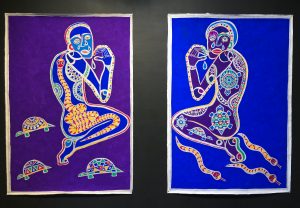 Kent's work is similar to that of Hilma Af Klint (one of the artists whose work she admires), except it goes beyond representation in abstraction. That is, Klint paints abstract shapes in her piece, "Geometrical Visual Language" that may seem random to the casual observer, but that have distinct meanings. The shapes that Kent paints are more clearly rooted in specific meanings, but those meanings are still somewhat obscured by the artist. The paintings exist within themselves. A Rosetta Stone is not provided. It may be that, like Af Klint, Kent keeps journals detailing the thought process behind the works. If so, these are not public. This is a good thing for those who like to think.
This requires the viewer to engage with the art object according to the individual's own capacity. If you are interested in the inner logic of languages and like getting lost in ideas until you lose yourself, Kent's work is for you. Her abstract works are as dazzling an introduction as you can get into the wonders paintings.
Though all of the work at the Jerome Fellowship Exhibition deserves its own article and heaps of praise, I wish to focus specifically on one of the works by one of the artists: Lela Pierce's Invasive Species III.
Since graduating from Macalester, Pierce has developed a promising career with a developing art practice in the Twin Cities. Her work often ties back to her personal and lived experiences. What is fascinating about Invasive Species III is the impact that it has upon the viewer. Unlike with Kent, I was not familiar with Pierce's body of work.
Like Kent's paintings, "Invasive Species III" is a massive, immersive piece. It is an art object that expands itself continuously through the greater part of three walls, a corridor and two floors. It was made of Buckthorn roots, wire, turmeric powder, ribbon, seeds, water and soil from central Minnesota. One is forced to consider the title and its implications, a task which I leave to the reader. This to say that it makes one feel the effects that an invasive species has on a given environment. A buckthorn root is an invasive species to the state of Minnesota, originating from Europe and brought to the United States in the late 1800s. The exhibition does not hold your hand through this.
Both Pierce and Kent's work relate to each other, though not in any apparent way. There is more on the surface that is different than is same. They do not speak the same language. Much as in the way of Kent's work, your understanding of their connection has to be subtle. Both artists have talked about the physicality of their specific art practices and the clear physical effort required to make such labor-intensive works effective. Both of these sets of work require, even demand, your attention upon first viewing (which is actually not a precondition of art, and a remarkable ability on the part of those artists who can execute it.)
The relationship, then, is one of spirit. Both articles engage in a practice of studied, contemplative repetition of shape and color. They engage in a thoughtful expansion of conventional abstract artforms.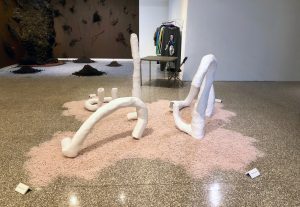 I had the pleasure to experience Kent's work by myself in the Murphy Gallery a couple of hours before her lecture on her artistic practice began. I also had the pleasure of being in the MCAD gallery with a white, suburban family of four: husband, wife and two kids, boy and girl. The boy looked over at his father and asked about Kent's work in the way a five year old would: "What is it, daddy?"The father responded: "You can come to galleries to see art because you get to feel feelings you usually wouldn't feel."
Hearing this made me feel anchored in the exhibition. I like to feel new things. Both of these artists make me feel new, indescribable feelings. I can try to explain why, but I can't explain what the feelings are. I find this intensity to be incredibly engaging, and to be able to elicit these complicated reactions the mark of good craftsmen and talented artists like Kent and Pierce.