In March of 2017, MCSG unanimously passed a resolution asking Macalester to adopt a test-optional admissions policy that would no longer require applicants to the college to submit a standardized test score.
At the time, the expectation was that President Brian Rosenberg would make a decision on the proposal by the end of that year's spring semester.
That didn't happen. Instead of making the call himself, Rosenberg asked the college's admissions department to make a recommendation to him on whether it thought that a test-optional policy would be prudent and effective in advancing its enrollment goals.
More than a year-and-a-half later, the admissions office, led by Vice President for Admissions and Financial Aid Jeff Allen, has yet to make a recommendation one way or another.
"We are taking our time," Allen said. "We are studying this, and taking our time."
The argument for test-optional admissions policies is twofold.
First and most importantly, there is ample evidence to suggest that standardized tests like the SAT and ACT – conceived of as a great equalizer amongst college applicants – are biased against low-income and minority populations.
That's because those populations disproportionately consist of people who do not have the resources to invest in test preparation or take tests multiple times. Applicants who live in rural locations miles away from testing centers or have limited access to transportation are disadvantaged further.
As a result, standardized test scores are heavily correlated to family income. A study of 2014 SAT data cited in the MCSG resolution found that the mean test score increased by 97 points for every additional $50,000 a student's family earned.
Family earnings in this country are, of course, already heavily correlated with race and parental education.
The hope is that, by not requiring test scores as part of the admissions process, more students of color and students from lower-income backgrounds would be encouraged to apply – aligning the admissions process with Macalester's stated goal of "increas[ing] the diversity within our student body."
The second argument is that standardized test scores, in a vacuum, have proven to be poor predictors of how students will perform over the life of their college or university careers.
A four-year study completed by former Bates College director of admissions Dr. William Hiss surveyed 120,000 students across 33 schools found just a 0.6 percent difference in graduation rates and a 0.05 percent difference in average GPA between students who submitted a standardized test score and students who did not.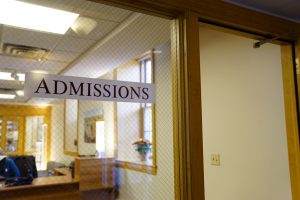 Bates is just one of a number of Macalester's peer institutions that have adopted some form of a test-optional admissions policy. Bowdoin College, Pitzer College, Smith College and Wesleyan University are all test-optional schools.
In June, the University of Chicago joined them – becoming the first elite American research university to adopt a test-optional admissions policy with an eye towards "increas[ing] accessibility for first-generation, low-income students."
"There are two questions that are essential to this from my perspective," Allen said. "One is this notion of, would a test-optional admissions strategy help us enroll students from underrepresented groups? Secondly, can the admissions department, can we make good admission decisions without test scores?
In December of last year, Allen met with the admissions staff to discuss the proposal and a potential test-optional policy at Macalester, and, shortly thereafter, began to dig into the latter question: whether standardized test scores are necessary for the office's work.
"We asked our research associate Katie Reed to explore the predictive power of the holistic assessment process," Allen said, "and then we compared that to just looking at standardized test scores alone and their predictive power in terms of success at Macalester.
"Unsurprisingly, [we] discovered that the predictive power of an assessment that incorporates test scores into the review process is higher than looking at standardized test scores alone and their predictive power."
From there, the next question was intuitive: do standardized test scores add anything at all? Allen is now in the process of trying to figure that out. In August, he had his staff reread a number of incoming student files without test scores and asked people to predict how well students would do in their first year at the college.
"We're trying to understand how predictive that holistic assessment [will be] in the Macalester context," Allen said. "We won't know until, minimally, this group finishes their first year here – and results at that point could still be inconclusive, which might prompt further conversation, further dialogue, further study, [we're] not quite sure."
Ideally, the admissions office would be able look at the current junior or senior class, or a recently-graduated class, and weigh whether standardized test scores were predictive of success at Macalester.
Unfortunately, for confidentiality reasons, the admissions office destroys much of each successful application it receives, including teacher and counselor recommendations, before students matriculate – rendering a holistic review impossible once a student arrives at the college.
The plan is to watch what happens with the Class of 2022 this year, and go from there – with the caveat that standardized test scores are most predictive in a student's first semester of college.
In the meantime, the admissions office has made several changes to its policy around standardized testing. The policy now emphasizes that the tests are used to "contextualize" high school academic performance and are "never used as a sole criterion for admission."
Macalester has also begun to allow students to self-report their test scores instead of submitting official results directly from a standardized testing agency during the application process. It still, however, requires an official score report if a student decides to attend the college.
Allen said that he is "sensitive" to the national landscape around test-optional and decisions like the University of Chicago's, but said that he does not want outside influences to "dictate what we do at Macalester."
One concern Allen voiced is that, while a test-optional program might help generate applications from students with underrepresented identities, it might not ultimately help with enrollment. There are, clearly, a number of angles to consider.
"I don't think it'll play out indefinitely, but it probably is a conversation, a dialogue, that will continue after this year," Allen said. "I think regardless of where we go, at some point I do think it would be helpful, instructive, and great for the entire campus community to have a much more public conversation about this."