Nina's Coffee: A historic experience
If you're like me, then you love a coffee shop with a sordid past. That's just one of the many draws of Nina's Café, which in its previous life was a well attended brothel right here in Saint Paul! Though the kinds of kicks one gets at Nina's today are different than they were back then, the Café has kept the namesake of the "madame of the place," Nina, who ran the show back in the early 1920s. Essentially, after becoming a widow she moved from Detroit to Saint Paul, and opened the brothel that was of the highest standing in its day-reserved for the wealthy and the well known within the Saint Paul community. There are even some legends surrounding the existence of a tunnel from the basement of Nina's to either the courthouse or City Hall which supposedly existed to protect the privacy of some of Nina's most high-profile clients. While it is impossible to know what is fact and what is fiction, what we do know for certain is that Nina left her mark, and her heir of mystery is part of the appeal of the current Nina's Café.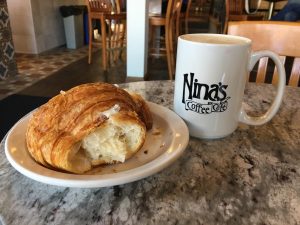 The café as it stands today is an escape to another time, something like a reimagined history where you can almost picture people waltzing into the space in their finest heels and pearls, bringing with them the glamor and wealth we often associate with societies past. The heir of 1920s wealth and class seems to ooze from the high ceilings, arches and beautiful bounties of natural light pouring in. The café is marked by different nooks and crannies, a staircase and an overall great architectural build which makes it a favorite for people who come to socialize and people who come to get work done alike. As for the coffee I wish I could give a more glowing report. I ordered to "F. Scott," a coldbrew with flavor choice and milk choice- a choose your own caffeine adventure if you will. Although it was good, I expected more from my decadent choice of half and half with caramel and was left underwhelmed. I also sampled a plain croissant, which was flaky and joyful, though not out of the ordinary. While my coffee experience was not stand out- after researching Nina more closely I see that people clearly come here for the location and for the connection to a fantasy version of the past. In this regard, Nina's is a stellar café which emanates female power and whispers stories of a more controversial Saint Paul.
Nina's Coffee Cafe is located at 165 Western Ave N, St Paul, MN 55102