Suicide Survivors' Club offers new perspectives on grief
Content warning: mentions of suicide
On the evening of Wednesday, Oct '16, students, faculty and staff gathered in the Weyerhaeuser Chapel for a panel featuring the authors of "Suicide Survivors' Club," a five-book series written by Rebecca "Becky" Anderson and her three children after Becky's husband, Don, died by suicide in 2002. The student organization Voices on Mental Health, or Voices, sponsored the panel in observation of Mental Health Awareness Month.
The panel consisted of Anderson and her two sons, Aidan and Will, and series illustrator Laurie Phillips. The five-book series is comprised of picture books created by Becky, her two sons, and her daughter, Pattie. Each child and Becky authored their own story book, and each picture book showcases their individual journey working through their feelings of grief after Don passed. The series culminates with a memoir by Becky titled "Parenting the Suicide Survivors' Club." Pattie, Aidan and Will were only nineteen, seven, and five when their father died.
"The recovery process was very up and down, and when the first part of project first got going in 2007, we had never imagined that it would evolve into something like this," Anderson said. "But I will say, on the behalf of my family, that it has been a very cathartic experience. It has just blossomed into something that we never dreamed would be possible."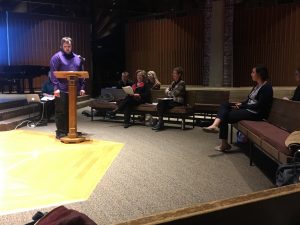 All of the books are filled with colorful, whimsical illustrations meant to showcase how the authors were feeling about their loss at the time. During the panel, Aidan spoke and showed one of the pages from his picture book, which featured an illustration of a Nirvana album cover to depict how listening to music helped him cope with the pain of his father's death. In all of the picture books, Phillips drew small, black dotted lines that move in different directions on each of the pages to portray how the author was feeling at that time. Phillips drew them so that when the author feels their best, the lines move towards the top of the page, and, when the author feels their worst, they sink low.
"We've gotten feedback from lots of different readers, who say that they feel so overwhelmed by suicide, and that they just can't read a book about it," Phillips said. "But reading the information in this form, like a children's book, made it doable for them. The style of the images is just buoyant and fun." Voices co-chairs Kat Lewis '21 and Dylan Larsen '20 coordinated this event as part of their month-long campaign on grief and loss in observation of Mental Health Awareness Month. Throughout the month, Voices sponsored three campus events in collaboration with the Suicide Survivors' Club. The first event was an art workshop on Oct. 9 in the Idea Lab, where Phillips and Anderson led Macalester faculty and students in creating their own "story portraits," or collages made with magazine clippings to showcase a process of working through feelings of grief. The second event was an art showcase on Oct. 12 in the Loch. Larsen and Lewis sponsored this campaign to create more space for conversation about grief on campus.
"Regardless of personal history, I can't imagine that anyone who is living today has not somehow been affected by loss, or suicide," Lewis said. "Whether [you've] experienced suicidal ideation, or lost a friend or a family member. I think that at this college, unfortunately, there's no real space to talk about that subject. And being the first people to create that space, I think has incredible value."
Lewis appreciated the "Suicide Survivors' Club" books because of the way that they link human experience with the tragedy of suicide, which makes them more authentic.
"The books aren't a black and white photo with a suicide prevention hotline next to it. The books depict real, lived experiences by people," Lewis said. "When I'm about to call a suicide prevention hotline, I'm not like, imagining myself as a black and white photo next to a brick wall. I'm in a very different headspace, and I just feel that the books have this incredible story-telling aspect that you don't usually get in the mental health community."
Voices purchased copies of the series to be distributed on campus. Since last week, copies of Suicide Survivor's Club can be found in locations such as the Center for Religious and Spiritual Life (CRSL), the English Department lounge, the Gender & Sexuality Resource Center (GSRC), the Health and Wellness Center and the Religious Studies and Philosophy lounge.
The Suicide Survivors' Club, which consists of Phillips and the Anderson family, regularly sponsors speaking engagements and art workshops in and around the Twin Cities. In the past, they spoke at the Women's Club of Minneapolis, the University of Minnesota Center for Spirituality and Healing and the national conference for the Association for Death Education and Counseling. One of their next goals is to obtain a grant from the Minnesota State Arts Board to sponsor more art and image workshops in outer parts of Minnesota.
"What I've learned through all of this, is that a loss like this doesn't mean that it's the end of your life," Aidan Anderson said. "You can overcome it. Right now, there's nothing but joy in my life."