At around 2:30 a.m. on Oct. 11, a swastika was found drawn on the forehead of a costume mask stored in a storage closet in The Mac Weekly office in the basement of 30 Mac. The marking was reported to campus security later that day.
This is the third incident of hate speech appearing on Macalester's campus this semester. The message "Black Lives Don't Matter" was discovered written on a stall in a men's bathroom in Neill Hall on Sept. 17, before two swastikas were found drawn on a table on the fourth floor of the DeWitt Wallace Library on Oct. 4.
Security officials estimate that the swastika found in The Mac Weekly office was drawn sometime between the final day of September and the day it was discovered and reported – a nearly two-week window.
Campus security's investigation of the incident is ongoing. It has, as in past cases, reported the graffiti to the St. Paul Police Department.
On Monday afternoon, students, faculty and staff gathered in the Weyerhaeuser Boardroom for a conversation about the markings and their impact facilitated by Dean of Multicultural Life Marjorie Trueblood.
This was the second event in the span of two weeks to address the graffiti. On Tuesday, Oct. 9, the Department of Multicultural Life hosted a similar event in the Harmon Room of the library.
Nearly 40 people attended the event, including Macalester President Brian Rosenberg, Vice President for Student Affairs Donna Lee, MCSG President Malik Mays '19 and a handful of faculty members.
Associate Director of Security Bill Collumbien and Assistant Vice President of Facilities Services Nathan Lief were also present and issued a pair of mea culpas at the beginning of the meeting for their department's delayed response to the report of the anti-black message in Neill Hall. That writing, despite being reported on Sept. 17, was not officially documented and removed until Oct. 12 – after the incident was brought up by a student at a community meeting on the night of the Oct. 11.
According to Collumbien, the officer responding to the initial call thought that he was looking for a swastika – and, not finding one, neither followed up with the student who contacted security nor filed an incident report.
"It's definitely part of the expectation that you would follow up on something like this if you go there and don't find what you're there to look for," Lief said. "In this case, the officer did nothing after that. So nobody knew that this call had come in."
"The officer failed, but I also want to acknowledge that I failed as a leader," Collumbien said. "I didn't lead the officers in what they need to do, and, ultimately, I failed the community for what I was brought here for."
Lief, who said that the situation has been addressed with the entire security and facilities staff, sounded a similar note.
"We've had lots of these things happen, and the standard practice has worked," he said. "Why it didn't work in this situation, I don't know. All I can say is, people didn't do their jobs. So it's up to Bill and I to make sure that they understand what the expectation of the job is and then hold them accountable to actually do that."
Collumbien said that he is looking into hate and bias-related training for security staff aimed at ensuring that officers "understand not only the mechanics of the call, but how people are feeling."
The discussion then turned to what comes next.
From a security perspective, Collumbien noted that, over the summer, Macalester added roughly 30 cameras in main entrances around the campus along with card readers in order to "help identify who is in a space when something happens."
But there is a limit to both the utility and the practicality of increasing surveillance on campus.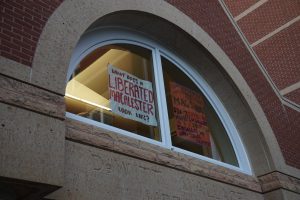 "We don't want to be in a situation where people feel like they're being watched or it's a jail," Lief said. "That's not what this place is about."
In any case, the odds of catching individual perpetrators is low – and the importance of combating anti-semitism and white supremacy at a structural, systematic level, both on Macalester's campus and beyond it, is imperative.
"I don't think it's possible to prevent some idiot from drawing a swastika," Keara Berlin '21 said. "I don't think we can stop that from happening. But I think what we can do is commit as a community to discussing anti-semitism, to discussing white supremacy, to having space for feeling like those issues aren't ignored."
"Even if we can't control the fact that [hate speech] does exist," she continued, "we can control how vocal all of us are being about saying 'that's not okay, and we're all here for each other.'
"It is about the swastikas, but it's not really about that," Berlin said. "If you care about this, then you need to be caring about these other issues that we're seeing on campus."
Along with calls to engage the college more actively in anti-racist work, students also wondered what would happen if a perpetrator were caught. Macalester does not currently have a written policy to dictate how a person guilty of committing a hate crime on campus would be sanctioned.
During the event, Lee said that potential discipline "could range from as high as expulsion to training."
"I would like to say that I would hope that we would be comfortable with a range," she continued. "I would like to think that there might be a range of reasonings behind why somebody might want to hurt somebody else."
This view on discipline proved contentious, with a number of discussion attendees arguing for a stricter approach.
"We don't need to supply traumatic, explanatory backstories for anonymous swastika writers," religious studies professor Erik Davis said. "They can come up and show themselves and give us their real stories. We know who they threaten."
Davis, later on, expressed his disappointment that the vast majority of hate-related incidents have not been officially recorded as hate crimes in the college's annual security report.
Macalester reported just one hate crime on campus last year and none in 2016 or 2015, largely because the federal definition for a hate crime necessitates that the action in question explicitly target an individual person.
The college's newly-formed Bias Response Team, however, is preparing to come up with its own definition of what constitutes a hate crime at the college and establish its own investigative procedures, as well as educational initiatives, in the weeks ahead.
That team is made up of Trueblood, Collumbien, Assistant Vice President and Dean of Students DeMethra Bradley, Title IX and Bias Harassment Coordinator Timothy Dunn and College Chaplain and Associate Dean the Rev. Kelly Stone.
It also aims to put out a year-end report for the campus community summarizing bias and hate-related activity.
"I don't believe in sweeping things under the rug, and I'm hearing, and I've heard, that that's people's fear," Trueblood said. "We need to name things. We become a healthier community when we have people who trust our processes."
Art professor Ruthann Godollei, who attended the Monday discussion, agreed. Reached for comment via email by The Mac Weekly, she provided a quote from a leaflet produced by the German student resistance group the White Rose.
"Many, perhaps most, of the readers of these leaflets do not see clearly how they can practice an effective opposition," it reads. "They do not see any avenues open to them. We want to try to show them that everyone is in a position to contribute to the overthrow of this system."
To read The Mac Weekly's staff editorial on this incident, please click here.