Way Back at Mac: All you knead to know about Macalester and the Breadsmith Dumpster
Cornbread, cinnamon-raisin rolls, baguettes and maybe chocolate babka if you're lucky are all on offer for the small price of stepping a block off campus. The Breadsmith dumpster has fed many a Macalester student on a late night stroll. Breadsmith has only occupied the northeast corner of Grand Ave and Snelling Ave since 1998. However, Macalester students seem to possess the uncanny ability of locating free food, as tips and tricks for striking gold (or perhaps rolls) appeared in The Mac Weekly that same year.
In the 1990s and early 2000s, The Mac Weekly published an annual newsletter in called "Desorientation." Designed to "fill in the cracks left by orientation," the publication included the sage advice of returners ranging from important people to know on campus, Macalester lingo (i.e. the walk of shame, postmodernism, floorcest, problematize), as well as a list of things not to say on campus. The Mac Weekly also recommended a list of ways to get through Macalester cheaply, dumpster diving at Breadsmith and Whole Foods being one of them.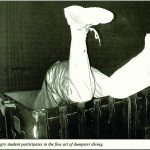 The 1998 edition of "Desorientation" painted the practice as fairly well-known and established, though Breadsmith popped up that very same year. Other articles verify that dumpster diving was a popular late evening activity. An Oct. 1, 1999 article in The Mac Weekly titled "Cheap Romance: Free and nearly free first dates for starving suitors," suggested making an evening out of Breadsmith-ing, after a trip to Cheap-O records and a stop for free coffee in the English Department. One Mac Weekly writer was so partial to Breadsmith that they suggested, "They should take the money spend on sliced, partially-hydrogenated air out by the toaster [in Café Mac] and use the money to hire someone whose sole duty is to get free dumpster bread from Breadsmith." In fact, the practice was so commonplace that The Mac Weekly included it in their horoscope on November 16, 2007, predicting for all the Virgos out there: "When you dumpster dive at Breadsmith tonight, your shirt will mysteriously light on fire. Don't panic! Just stop, drop, and roll."
One of the most notable dumpster divers to attend our institution went by the name of Badger. An Oct. 13, 2006 article of The Mac Weekly noted that, "Badger perfected the art of dumpster diving perhaps because he could eat absolutely anything." Self- identifying as a hunter-gatherer, his other interests and escapades besides dumpster diving included anarchism and the 'infamous Dupre basement deer hide tanning' respectively. Many, though, criticized his status as a hunter-gatherer while attending an elite liberal arts school. Badger dropped out of Macalester and subsequently joined the 'Anarchist Dropouts of Macalester' Facebook page (the page does not seem to exist anymore; I looked). Still, not all Macalester students were diving in, so to speak. Indeed, many students painted the practice as ironic, if not somewhat problematic. In a March 15, 2002 column of The Mac Weekly writer, Eric Steins questioned, "Isn't rejecting privilege simply another privilege (see also: rich white kids that spend a year dumpster diving and squatting)?" A writer wrote on Sept. 26, 2003, "How ridiculous is it that two of the best dumpster diving places in the Twin Cities are located in one of the most affluent parts of the Twin Cities?" Although these two locations, Whole Foods and Breadsmith did and still do donate leftovers to charity, a large portion of it goes to waste indicating "the need for some major organizing around getting the 'unsellable food' to the people that need it."
According to Breadsmith's website, today, the bakery donates over 10,000 loaves a year, so it seems as though donations have increased over the past decade, thereby reducing waste and increasing access. However, these issues of waste and access clearly still exist today as when it is not donation day, there are often bread and other goodies waiting to delight a hungry student with a late night feast.