Midterm elections are fast approaching, as seen on campus with numerous volunteers registering Macalester students to vote on Nov. 6. This midterm is a major focus all over the country and acts as an initiative for getting young people to vote. Young people make up the majority of the electorate this midterm but have historically had lower turnouts in midterm elections. In 2014, while still making up the majority of the voting population, Gen Xers and younger voters cast 21 million fewer votes than older generations. This year, potential voters will grow by 18 million because of 18-21 year olds who are now of voting age or newly naturalized citizens.
For students who plan on voting absentee or haven't registered yet, the process can be confusing. This can be especially true for first-years. For many members of the class of 2022, this will be their first time voting in a major election. Some students who live outside of the Twin Cities may decide to register in the Macalester neighborhood. Others may prefer voting absentee in their home district where they have more knowledge and investment. For Grace Armon '22, from Galesburg, Illinois, her strong opinions of Illinois' politicians made her choose to vote absentee. "The current Illinois governor is terrible, and I would like to help vote him out," Armon said.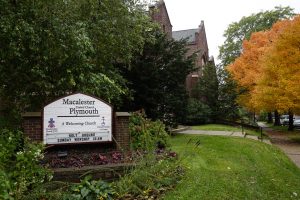 For others, highly contested races back home draw them toward requesting absentee ballots. This is the case for Celia Johnson '22, from Duluth, Minnesota. "The race going on in my hometown's congressional district is very close, so my vote might actually help make a difference in the results," Johnson said. However, for Elizabeth Poor '22 the, "closely contested races in Minnesota, which have important consequences," are making her reconsider her choice to vote absentee at home in Missouri. Instead, she may vote in Minnesota this year.
If students have not registered, they first need to decide if they want to be registered back home or in Saint Paul. In order to register, voters should go to vote.gov and choose which state they wish to vote in; they will then be directed how to register specifically for that state.
In a state like New York, where people can register online, this government sponsored site will lead potential voters to the appropriate registration forms. This site can also help voters check if and where they are registered, along with an official list of voter ID laws and requirements that can help students figure out what to bring to the polls. If students decide to vote in Minnesota, they can register online through vote.gov, or they can visit Macalester's form page.
Students who plan on voting absentee in their home state or district need to request an absentee ballot. Most states have deadlines for when absentee ballot requests and ballots must be mailed. Additionally, students from different districts in Minnesota may want to request absentee ballots from their home district, if they want to vote for local officials like school board members and county officials as well as state and federal representatives.
The final option for students is to register and vote in person in Ramsey County, Minnesota. The Macalester-Plymouth United Church is the closest polling place to Macalester. Minnesota does not require voters to bring an ID to vote. They also offer same day registration, so students who still need to register can bring their Macalester College ID along with a document that shows that Macalester is the their current address. These types of documents would include a student fee statement or a bill, account or start of service statement from the last thirty days.
Voting is the easiest way for people to be civically engaged, and voter turnout in the US is low, and only 56% of eligible voters cast ballots in 2016. Additionaly, the turnout rates for midterms are, on average, even lower. As part of the largest electorate age demographic group, the votes of college age people will make a huge difference in the 2018 midterm. It is important that students know the available resources to guide them through the process of utilizing their right to vote.