Macalester is engaged in a national search for a new athletic director to replace Kim Chandler, who left the post suddenly in June after nine years at the school.
The college has hired an outside firm, Parker Executive Search, to aid in the hiring process alongside a search committee. The committee is comprised of 16 members drawn from the athletic department, faculty, staff and student body.
"I thought [hiring a search firm] was important to have a partner who has the skill set and the expertise in really casting out a net, wide and far, to make sure we are attracting the best qualified candidates," Vice President for Student Affairs Donna Lee said.
Through conversations with the search committee and other campus stakeholders, the college has developed a working list of qualities they want in the new Athletic Director.
The job posting, which went up three weeks ago, specifies that the school wants candidates with a Master's Degree, 10 or more years of "successful athletic administrative experience," and prefers "experience as an administrator, coach, or student-athlete at the Division III level."
Macalester is also searching for someone who will understand the ethos of the campus. The announcement specifies that a candidate should have a "demonstrated commitment and sensitivity to diversity, gender equity, social justice, and equal opportunity."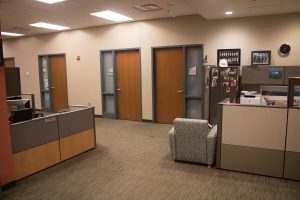 Lee said that the topic of diversity has already come up in the search process.
"What I'm really hoping for is that in casting that net out really far, that it's going to be a very diverse pool of candidates," she said. "It's really critical. We heard that in the listening sessions too; diversity rose to the top in all groups as a key thing to focus on."
Another member of the search committee, Fatiya Kedir '21, is curious to hear what the candidates hope to bring to the campus community outside of athletics.
"I'm not really an athlete and to be honest, don't have the greatest knowledge of how things ran before with the previous director, but as the community engagement officer, and a non-athlete, I'm really curious on the role this director can/will have on Macalester College as a whole," Kedir said in an email to The Mac Weekly. "I know sometimes that it seems like there is a separation in cultures between athletes and nonathletes, and, although that isn't exclusively bad, I'm curious to see how and if this director will address this."
Parker is due to send regular status updates to the college over the next few weeks before the committee plans to conduct a first round of interviews in November. The committee will then bring in several applicants for on-campus interviews and conversations with the campus community. Pending response from applicants, the college hopes to make a hire by the beginning of January.
The circumstances of Chandler's departure, first reported by the Star Tribune, remain unclear. When the news broke, all administration spokeswoman Barbara Laskin told the Star Tribune regarding Chandler was "there is nothing more we can say."
Asked by The Mac Weekly, Interim Athletic Director Steve Murray offered a similar response.
"It hasn't changed from what the college has stated, that she left in June," he said. "There's really no more to add to that than what has already been out there."
The transition at the top of the department is not the only thing changing in athletics. In the last eight months, Macalester saw four head coaching transitions. Abe Woldeslassie replaced Tim Whittle as men's basketball head coach, Kyllian Griffin replaced Beth Whittle as swim and dive head coach, Krystle Seidel replaced Michele Cornish as women's soccer head coach and Pamela Findlay replaced Kelly Roysland as women's basketball head coach.
From the outside, it seems like there's a lot going on inside the department's Leonard Center office. According to Murray, though, this moment of transition is more ordinary than many would think.
"There are some struggles with losing a coach that's been here a long time, but, at the same time, it does create some opportunity," he said. "When you have as large of a staff as we do in athletics, there are going to be periods of time where there's turnover. I can definitely understand from an outside view, you lose your athletic director and then you have several coaches turnover, but, in each of those situations, they were for various reasons."
Roysland returned to her alma mater, the University of Minnesota, to serve as an assistant coach to her former Golden Gopher teammate and Minnesota Lynx great Lindsay Whalen. Cornish left to become athletic director at Shattuck St. Mary's, where she coached previously and where her husband teaches, while the Whittles moved back to Beth's home state of Oregon where she became the head coach at Pacific University.
Bob Dignazio, assistant athletic director for recruiting and an administrator, well known to students for his role in directing club and intramural sports over the last three years, is also leaving the school for similar reasons.
"Bob and his wife are from Philadelphia, and we knew that eventually they'd want to get closer to home," Murray said. "His wife had an amazing work opportunity that they just felt this was the time for them to move back and Bob was able to find a job at the University of Delaware."
After moving, Dignazio will continue to help Macalester with recruiting and work with coaches remotely. The athletic department does not plan to hire his replacement until a new AD is in place.
"With how important that position is and how they work with the Athletic Director, we feel like it wouldn't be fair to try hiring someone without them knowing who that person is that they'll be working so closely with," Murray said.
Murray also explained that Dignazio's departure will create an opportunity for part-time assistant coaches to take on more responsibilities – like helping out with club sports and P.E. classes.
"There are challenges anytime you lose coaches that have been here a long time, and the longer someone is here the more involved they get [and] the bigger part they play in your department," Murray said. "At the same time, with our changes in coaches it's brought in new energy and some new ideas."