Voices preparing awareness events
This October, the student organization Voices on Mental Health is expanding its effort to combat the stigma on campus connected to suicide. As part of its observation of Mental Health Awareness Month, the group, informally known as Voices, is set to sponsor a series of events that all emphasize coping with grief after suicide.
"We want suicide to be talked about in a more intentional way on campus," Voices co-chair Dylan Larsen '20 said. "I hope people are able to process their own grief from suicide in a healthier way and to bring to light that there's more than one grief process after a loss like that."
The events are inspired by a book series titled "Suicide Survivors' Club" from Minneapolis natives Becky Anderson and her three children – who wrote the five-book series after Anderson's husband, Don, died by suicide in 2002.
They include an art workshop led by series illustrator Laurie Phillips on Oct. 9, an art showcase on Oct. 12, and a panel event on Oct. 16 featuring four members of the Anderson family and a representative of the National Association on Mental Illness (NAMI).
Since it was chartered in 2013, Voices has held biannual panels that invite students to talk about their experiences with mental health. This year, group co-chairs Larsen and Kat Lewis '21 are trying something new by hosting additional events that specifically tackle grief and loss from suicide in light of the passing of Matias Sosa-Wheelock in February 2018.
Both Larsen and Lewis acknowledged that discussion about suicide could bring up past trauma for some. Nevertheless, they recognize a need for intentional conversation about feelings of grief after suicide on campus.
"Hosting these events is kind of a subtle way to be like, 'We know a lot of you guys are still hurting, because we're still hurting, but we're still here for you, and we're still thinking about it almost every day,'" Lewis said.
As an institution, there is currently no programming by any entity that specifically addresses grief after suicide. The Health and Wellness Center instead sponsors a general Grief and Loss group, which is open to students who are experiencing grief and loss as a result of suicide.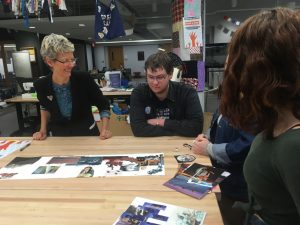 "Health and Wellness tries to put programs and groups together for this specific reason, but [students] have to intentionally go there to participate, and we're bringing the "there" to the students," Larsen said "With these events about grief, we're bringing a healing and coping group to the students instead of the students having to go to the group."
Some members of Voices believe that the college should play a role in sponsoring these events because of their relevance to the wider campus community after the passing of Sosa-Wheelock last semester.
Instead, Voices experienced challenges in obtaining the funds it needed for their programming this month. The three events cost $1,700 in total, with a $1,500 fee for the speakers and $200 for five large posters featuring the book covers of the "Suicide Survivor's Club" book series.
The Financial Affairs Committee (FAC) of MCSG approved $1,500 for the speakers, but just $15 for the posters. According to the Financial Affairs Committee, the financial code states that student organizations are only allowed $15 for poster printing purposes.
Voices on Mental Health made their case to Disability Services for the remaining $200 for large blown up posters of the book covers of the book series. Lewis felt that the posters was essential to the programming.
"I think that it helps a lot to give student context on who [and] what we're bringing to campus," Lewis wrote in a message to The Mac Weekly. "It's confusing to explain on just a flyer what the "Suicide Survivors' Club" is and why Voices wants to have them here."
Voices on Mental Health also experienced difficulty last year in their attempt to have their 2018-2019 yearly budget approved by the MCSG Financial Affairs Committee (FAC): of the $330 Voices requested, they only received $120, approximately 36.6 percent of their request.
The FAC originally allocated Voices $150, but it ultimately had to make a 20 percent budget cut to all student organizations. FAC Chair Taneeya Rele said in an email to The Mac Weekly that they made this cut after allocating slightly money than they had to student organizations for the 2018-2019 academic year and to conserve enough money for additional allocations throughout the year.
Both Voices' leadership and its general membership agree that more topic-specific programming is essential to their mission on campus.
"I would like to do something with the athletic departments, because [mental health] is not something I talk about with my teammates a lot," Voices member Alex Young-Williams '20 said. "[As] athletes we have all of these other commitments besides school as well, and I think it's very important to be mentally healthy as an athlete."
Lewis, however, is not hopeful about future topic-specific programming.
"Members of Voices tell me about events that they want to see in the future, but I just don't have the heart to tell them that we might not have enough money to fund them," Lewis said.
"I think it's important that we have these events where we can say suicide awareness and mental health is really important," Voices treasurer Chuan Ping '21 said. "The school is ignorant of all of this. The administration should be taking the lead on sponsoring these events instead of a small, underfunded club."
For now, Lewis and Larsen hope to continue their normal programming until further notice. Whether or not they have the opportunity to plan more events that focus on specific topics like grief after suicide, both co-chairs are proud of the attendance they have seen for their past events.
"We've had overflow for every event we've ever booked," Lewis said. "Mental health is so important for so many people but I don't think a lot of people know how to get involved."
"For Voices to plan and hold open events," she said, "it's just an amazing way for people to learn how to get involved and talk about mental illness, and say, 'Here is how you can get involved, just show up to this, and I hope that you get something out of it.'"