Macalester has long prided itself on its commitment to sustainability. But a new external review suggests that a number of systemic problems are imperiling the college's ability to accomplish its more ambitious sustainability objectives.
In June of 2014, the Margaret A. Cargill Foundation awarded Macalester the Educating Sustainability Ambassadors (ESA) grant to support its faculty in developing curriculum inclusive of themes of sustainability.
"It was very much focused on curricular innovation around the issue of sustainability," Associate Dean of the Faculty Paul Overvoorde said. "One of the broad-reaching goals of that initial proposal was to increase student's exposure to sustainability in the classroom."
The grant was used to fund new courses, paid summer internships and several faculty development workshops.
Before it expired last spring, the college used the remainder of the grant to hire a trio of outside reviewers to evaluate its progress in the area of sustainability. The reviewers included Middlebury College's Dean of Environmental Affairs Nan Jenks-Jay and author, environmentalist and former President of Unity College Mitchell Thomashow and was chaired by Dickinson College's Center for Sustainability Education Director Neil Leary '80.
Overvoorde called the trio "folks who are leaders in the field at institutions that are well-recognized and respected in the sustainability world." In February, the reviewers visited the campus and spoke with several groups of students, faculty, staff and administrators about their sustainability-related initiatives. Shortly thereafter, they summarized their findings in a report sent to the school in late March.
The report highlighted a number of strengths and accomplishments in the sustainability program, praising the "excellent Sustainability Office," as well as the variety of sustainability-oriented curricula.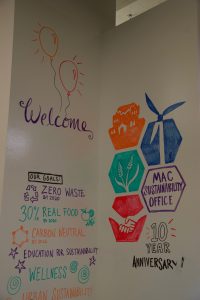 But it also underlined the disorganization plaguing the college's sustainability programs and hampering their ability to make lasting change.
One main issue is that many campus sustainability efforts are decentralized and no clear leadership or chain of command exists to take responsibility for crucial projects.
While the Sustainability Office often acts as the leading voice on these issues, the report highlighted the fact that the Office has little control over faculty projects and administrative policy.
Inversely, while faculty members control curriculum, they are often disconnected from operational activities focused on sustainability.
"We have our curricular side and we have our operations side and we tend not to connect them very much," Sustainability Manager Suzanne Savanick Hansen said. "This is true at most schools."
At the crossroads of these disparate bodies is the Sustainability Advisory Committee (SAC), first convened ten years ago as a consolidation of a number of environmentalist organizations on campus, and comprised of students, faculty, and staff.
But while that group is uniquely suited to facilitate discussion between faculty and sustainability officers, it currently plays only a supporting role at the college.
"It plays a supporting role for Suzanne Savanick Hansen's job and office," SAC member and professor of anthropology Arjun Guneratne said. "It's a clearinghouse about information on campus. It's a way in which information can be collated and funneled to Suzanne."
The reviewers call for an expansion of the SAC's power, recommending that Macalester gives more administrative control to the body.
"While sustainability needs to be widely owned, the SAC could improve sustainability performance by being charged with monitoring and evaluating progress on key metrics… developing recommendations for corrective actions when needed," the reviewers wrote.
This semester, the committee is grappling with defining its purpose on campus. While some feel the SAC would be most effective continuing on its current path, others believe that the report is right to have called for the committee's elevation.
A related concern is who would run the committee should its role be expanded.
"Right now, the SAC is chaired by Suzanne and there's the question whether that could continue, whether that's appropriate," Assistant Vice President of Facilities Nathan Lief said. "Maybe there should be a co-chairship where there's a faculty member that sits there as well.
"Part of the issue is we need to figure out how to get everybody to talk and be on the same page," he continued. "That's going to require somebody on the faculty side, I think."
According to SAC member and Vice President of Administration and Finance David Wheaton, Hansen is currently weighing what the two options – expanding the SAC or leaving it in its current form – would mean for the committee.
The reviewers further critique the current organizational structure of campus sustainability organizations. They allege that there exists systemic "tension and ambivalence" between the Sustainability Office and members of the faculty, and that those strained relationships could immediately threaten the progress of the college's sustainability initiatives.
"While we do not know what is at the heart of this tension, a grey cloud that enshrouded many of our meetings," the reviewers wrote, "it is doubtful that Macalester can advance a bold sustainability agenda or aspire to distinction as long as it exists."
Indeed, there is apprehension among staff to speak about their relationships with faculty and administration. Some were uncomfortable commenting on the subject at all.
Despite the cautions of the reviewers and the unease expressed by several staff members, many don't understand the situation to be quite so dire.
"The idea that there is tension, I think that's rather overblown," Guneratne said. "I think what there is is not enough communication between the faculty and the Sustainability Office and I think somehow we need to get to a point where the importance of sustainability is emphasized in some way by the college's leadership."
To exemplify the tension amongst staff and faculty, the reviewers criticized the specific implementation of the ESA grant and questioned why the Sustainability Office was excluded from its writing and distribution.
"That kind of program is done by many colleges across the country and I've never seen one in which the Sustainability Office was not involved in that effort," Leary said. "That, to us, sort of raised a flag as to what's happening here."
Hansen is not convinced.
"If there's another grant that comes up, it would be better to include all of the departments that work on sustainability. I think that would be a stronger grant," she said. "But from my understanding, they were looking to broaden sustainability beyond the people who are already involved. That's not an uncommon way to look at sustainability education."
The reviewers also took issue with the college's lack of planning with regards to its funding situation after the expiration of the ESA grant.
While the grant bolstered the curricular exploration of sustainability, its expiration has created a gap in funding that may prematurely halt much of the progress initiated over the last four years.
As of now, the college is not actively pursuing a new grant to replace the ESA – and the report supposes that many of the programs supported by the grant will die without the financial support it provided.
"A number of the faculty with whom we met voiced a concern that, with the termination of the Cargill funding, many of the well-received processes, including faculty seminars, summer internships, and other collaborative curricular efforts, will no longer have financial support or faculty champions."
In general, the reviewers pressed for a more purposeful integration of sustainability and environmental justice into the college's curriculum that could cement a more lasting foundation for change – noting a disconnect between the issues the college highlighted as areas of possible improvement and the actual interests of the faculty on campus.
For example, the committee that appointed the reviewers provided them with some guiding questions, including whether there should be a sustainability course included in Macalester's graduation requirements, or if there should be a major, minor or certificate available in sustainability studies.
Leary said that while some faculty expressed interest in these ideas, "nobody seemed to be particularly embracing them."
According to Guneratne, getting faculty to so much as begin integrating sustainability into their curriculum can be a daunting task.
"This is an ongoing issue," he said. "Every academic department decides what it's going to teach and how it's going to teach it. You can't lay down an edict from up high and say 'all of you have to now start teaching this'. That's not going to work.
"Perhaps there needs to be some encouragement or inducement," he continued, "or perhaps a broader conversation among the faculty about the importance of issues like sustainability."
Macalester hopes to define itself as a school on the cutting edge of sustainability education and environmentally-friendly campus practices. Staff, faculty and administration alike see these issues at the heart of the college's institutional mission.
"This is the future, and it seems to me these are issues that bring together two of the college's pillars – internationalism and multiculturalism," Guneratne said. "What could be more international than teaching our students the importance of this issue of climate change and of planetary change? It brings together both issues of civic engagement and global citizenship."