This show contains mentions of domestic violence and abuse.
Nestled in an old fire station where the University of Minnesota meets downtown Minneapolis is one of the Twin Cities' most established inclusive performance spaces: Mixed Blood Theatre. Since 1976, this company has built their repertoire on their mission for pluralism, excellence, egalitarianism, openness and "predictable unpredictability," as outlined by their website.
Performances are meant to be widely accessible. For every show, subtitles are provided in English and other languages upon request. Shows can also be modified for the enjoyment of those with sensory disorders and the theatre is accessible to people in wheelchairs. Unsold tickets also become free two hours before the show in what the company calls an act of "Radical Hospitality." Mixed Blood is designed to allow anyone to experience powerful theatre, and its latest engagement, the "Kill Bill meets Me, Too" play Is God Is, is not to be missed.
The play's director, Nataki Garrett, wrote that "Is God Is explores the taboo of black female anger and the complexity of survival." This intense and riveting narrative explores the contrasts between forgiveness and revenge, hilarity and heartbreak, love and evil.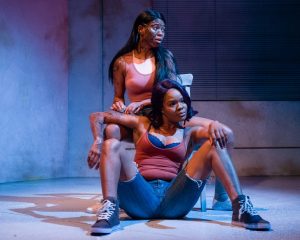 The twin protagonists, Racine and Anaia (played by Dame-Jasmine Hughes and Chaz Hodges, respectively), contrast one another but share similar traumas from their childhoods. Marked by physical scars from being severely burned as children and emotional scars from dreadful experiences in foster care thereafter, the 21-year-old sisters receive word that they're not orphans, after all. Their mother, who they refer to as 'God,' since she created them, is slowly dying in a "home for the weary." When they arrive to visit her, their mysterious past is opened and 'God' sends them on a pilgrimage from what Racine dubs "the Dirty South" to the cookie-cutter neighborhood of Beverly Hills. Is God Is tells the story of the sisters' gruesome and fulfilling journey to help their mother while also discovering more about themselves.
This is only the second production of Is God Is, the first being an off-off Broadway show at the Soho Repertory Theatre this past winter. Besides the script, a common thread between these New York City and Minneapolis performances is the riveting Dame-Jasmine Hughes playing Racine. It's evident that she's gotten to know this role as if Racine is her own twin sister. The moment the lights rise, she makes immediate eye contact with an audience member and holds it, radiating her confidence throughout the theatre.
Racine's mostly-unwritten backstory, one that Hughes must have crafted for herself, is visible to the audience in her eyes, which never glaze over; she is always listening, always in the moment and constantly reacting. Her face is alive, like the flame that burned her character's arms. Because Hughes won an Obie Award for her first performance in this role, all eyes were turned on her when Mixed Blood opened Is God Is and she does not disappoint. It is energizing to watch her move about the stage.
In stark contrast to the power and spunk Hughes employs when playing Racine, Hodges portrays Anaia in a much more subtle way. It is repeated throughout the dialogue that Anaia is "always emotional," but her emotion is presented differently than Racine's, who wears her heart on her sleeve. Though she, too, demonstrates that she knows her character inside and out, Hodges' comparatively quieter performance could at first be mistaken as a lack of commitment to the piece.
This is not the case. Rather than all at once, Hodges discloses Anaia's true character to the audience over time, through an arc. On the surface, she is whiny, but this grows to reveal an internalized fear of the world. As the play progresses, she discovers a motivation to fight back. Through this emotional journey, we see what power Hodges can really pack into a performance, and by the end she is no longer an unconfident actress, but a rightfully diffident Anaia.
The sisters' contrary personas paired with their tight-knit, dependent relationship is a prime example of the script's theme of melding contrasts. The play's two usually-conflicting genres, comedy and drama, are often presented simultaneously, especially in their case.
Racine's dark past is presented in a sassy, jocular tone, but she has a frightened, paranoid persona. However, Anaia and Racine share hilarious sibling moments that come across as very natural. For the short time she is on stage, their mother, played by Joy Dolo, also plays a beautiful depiction of the marriage of opposites. In a monologue during which the audience can only see a fraction of her face, she paints her daughters a horrific picture of her abusive past in the same voice she would have used to tell them a bedtime story if they were eighteen years younger. The almost-motherly presentation of her resulting bloodthirst sets the tone for the rest of the play thereafter. Dolo is limited in that most of her face and body are hidden from anyone outside the fourth wall, but her vocal inflection is all that is needed to commend her performance.
Dolo is the first of several minor characters to appear in the story. Each and every performance comes with its own flair, from drunkards to millenials. Without spoiling the action, each of the eight-person cast is fully committed to each of their shining moments of comedic relief or dramatic disaster. Built on their deep understanding of the script spearheaded by Garrett's direction and Hughes' experience with the material from its early days, Mixed Blood's Is God Is is a dramatic comedy that leaves its audience shaking with both laughter and shock. It is fueled by yearning for power and by the hip-hop that plays in scene transitions. After the play's jarring close, Mixed Blood hosts talk-backs after most shows.
A 90-minute engagement and only a two minute walk from the Green Line, Mixed Blood Theatre's Is God Is cannot be missed; from the synergy of its company to the importance of the content matter, this limited engagement deserves sell-outs every night.
Is God Is will be showing at Mixed Blood theater until Oct. 14.