Does it power Olin Rice? A lightbulb in Olin Rice? Does it power anything? One of the most visible landmarks on campus is shrouded in mystery. I've heard students claim the wind turbine is just for show and others swear it drops our energy bill — big time. I hope to shine some light into the whirlwind of questions surrounding its history.
Whisperings of a potential wind turbine swept onto campus in late 2002. The Minnesota Public Interest Research Group (MPIRG), an environmentally and socially focused, student-run organization, challenged Macalester to begin investing in renewable energy. Urging administrators to swap 10 percent of current energy needs with wind powered energy, the Scots certainly had their work cut out for them, considering no wind-powered, energy-producing device existed at 1600 Grand Avenue in 2002. Additionally, Macalester's energy provider, Xcel energy, invested in energy sources such as nuclear, hydroelectric and coal power plants. However, following a vote in the Minnesota legislature in 2001, Xcel customers could request that a portion of their energy stem from renewable sources.
Such legislation was perhaps the wind Macalester needed in its sails to recommit to environmentally friendly practices. In 2000 the college signed the Tallories Declaration, an international agreement that challenges all signees to "set an example of environmental responsibility by establishing institutional ecology policies and practices of resource conservation, recycling, waste reduction and environmentally sound operations." However, according to Dan Moring in the Oct. 18, 2002 Mac Weekly, Macalester was failing to take true steps toward long-term sustainability.
Along with the legislation and student pressure on the administration for change, Xcel also offered to pay for Macalester's wind turbine. It looks like Macalester got a second wind toward a more sustainable future. With Xcel covering the cost of the turbine, a $30,000 value, Macalester only had to dish out for the $15,000 installation fee.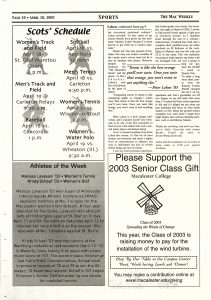 Clearly, $15,000 is still no small sum – especially considering that Macalester's endowment was considerably less robust than it is today. Therefore, the class of 2003 decided to take the task upon themselves, proposing that the installation of the turbine serve as their senior class gift. Class representatives created a list of potential gifts including a bike shelter by Kagin Commons, arcade games for the student lounge and a bench outside the Campus Center. Seniors also had the opportunity to write in their own ideas, resulting in the notable addition of a mud-wrestling pit in front of the president's office. Unfortunately for mud-wrestlers and arcade enthusiasts, 63 percent of the senior class voted for the wind turbine. Moring submitted a letter to the editor in The Mac Weekly in 2002, writing "Although I may never get to see a mud-covered President McPherson slogging it out in Weyerhaeuser, I think [the wind turbine] will do nicely." Thus, the class of 2003 launched a fundraising campaign called "Spreading the Winds of Change" and the turbine was installed in April 2003.
For some students, this installation was merely the beginning of the journey toward a more sustainable Macalester. In the subsequent three years, St. Olaf College and Carleton College installed wind turbines that dwarfed Macalester's in both size and energy output. Macalester's turbine can produce 10 kilowatts of energy which covered about 1 percent of the college's energy needs in 2006. Comparatively, the likes of Carleton and Olaf could produce up to 40 percent of their required energy. When students got wind of this, they began entertaining the idea of installing a second, much larger turbine, like the previous one's older brother. Unfortunately, this idea has yet to come to fruition. Though our current wind turbine continues to produce only about 10 kilowatts of energy (about 100-150 light bulbs) and leaves much to be desired, it is still something to celebrate. Macalester installed one of the first "urban turbines" of its kind on a college campus, and it is an important educational tool for classes and discussions. Perhaps Moring said it best in his letter to the editor: "Like a tasty gyros whose flavor lingers on, this will truly be a gift that keeps on giving."