DeWitt Wallace, Carleton, and Mac's historic fundraising woes
On Oct. 4, Macalester launched the public phase of its $100 million fundraising campaign, The Macalester Moment. It's an important time for the college – in more ways than one.
"At Macalester, fundraising is not easy," President Brian Rosenberg said at a town hall event in Kagin Ballroom on Sept. 20. "We have historically been good at many things, relative to many institutions. It is probably fair to say historically we have not been good at fundraising.
"It is something that, for the long-term health of the college, we really need to change," he continued. "Because as long as other institutions are year in and year out raising more money than us, the gap between what we are able and what they are able to do grows."
What's to blame for Macalester's historic fundraising problems? There are a number of potential explanations.
One looms particularly large. In 1981, a month before his death, longtime benefactor DeWitt Wallace gifted Macalester 10 million shares of Reader's Digest stock. It was a notable gift at the time, but not a transformative one.
Then, in 1990, that changed. Reader's Digest went public, and, in the space of a year, Macalester's endowment nearly quintupled – growing from $60 million in 1989 to $325 million in 1990. By 1992, Macalester had the largest endowment of any liberal arts college in the country.
In many ways, it's still recovering from that good fortune today.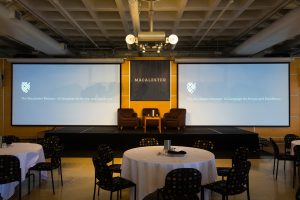 Almost immediately after its peak, the stock – which the college was forbidden from unilaterally selling – began to plummet in value. As a result, while endowments across the country doubled and tripled in value through the 90s, Macalester's flatlined.
The college was finally able to sell the vast majority of the stock in the early 2000s, but it had lost out on a decade of potential endowment growth. The gift had done damage in other ways as well. For instance, after the stock went public and the college's financial success was featured in The New York Times, Macalester all but ceased asking its alumni for money. That decision took a toll.
"Communities get in habits and they get out of habits, just the way people and groups get in habits and get out of habits," Vice President for Advancement Andrew Brown said. "And by not emphasizing fundraising for a period of time, we actually now lag."
For Rosenberg, the decision not to aggressively pursue fundraising after the Reader's Digest gift was a particular lament.
"Harvard doesn't have that problem, Amherst doesn't have that problem, Stanford doesn't have that problem," he said. "People like to invest in excellence. Colleges that have the most money, raise the most money."
The lack of emphasis on fundraising, plus the size of the Reader's Digest gift itself, gave a number of alumni the impression that Macalester simply didn't and doesn't need their support.
"I still talk to people who think that we've got so much more money than our peers," Brown said. "We're in good shape, but we're no longer anywhere close to the wealthiest college in the country. We've long since been lapped.
"You can't stop [fundraising]," he said at the town hall. "Or else you dig a hole for yourself."
In many ways, that's exactly what Macalester has done. Brown pegged the college as "ten to fifteen years behind our peers" in terms of raising money, especially via large capital campaigns like The Macalester Moment, and sees that status reflected through a number of different metrics.
One of those metrics is donations to the Macalester Fund, which last year sat at a modest $4.66 million – well behind Oberlin College's $6.9 million, Carleton College's $8 million, and Williams College's $14.6 million.
Total fundraising has lagged as well. Between 2012 and 2016, Macalester was in the 50th percentile for college fundraising, bringing in, on average, $14 million annually. Colleges in the 90th percentile were netting closer to $25 million.
Aside from the Reader's Digest gift and its ramifications, there are other explanations for why Macalester trails its peers in fundraising. One is that Macalester has traditionally, more so than its peer colleges, produced more graduates who go into nonprofit work, teaching, and less lucrative, more service-oriented careers.
Having fewer large donors to call on during a capital campaign makes, for better or worse, a big difference. In efforts like these, colleges and universities raise roughly 98 percent of their total dollars from just 2 percent of their donors.
"Within the industry, campaigns are driven by large donations – [but] frankly a little bit less at Macalester than other institutions," Brown said. "We're going to do a $100 million campaign, likely, without a gift of $10 million or more."
But Rosenberg, speaking at that town hall, pushed back against the notion that Macalester's alumni base, especially now, is less able to give in large amounts than that of other schools.
Instead, Rosenberg pointed to the fact is that Macalester today is a very different school than what it was 30 or 40 years ago.
Currently, the college's six-year graduation rate is roughly 90 percent. In 1980, however, it hovered around 50 percent – lower than the rates of Hamline University, University of St. Thomas and St. Catherine University.
Thus, the college doesn't have an exceptional base of support among the people who now are in the prime earning years of their lives – both because it produced fewer graduates in the '80s, and because those graduates had a much different experience here than do people graduating today.
Lastly, there is Macalester's attitude towards money: often skeptical, and sometimes disdainful.
"It won't come as a surprise to you when I say that this is a culture where people with wealth are viewed with some suspicion," Rosenberg said. "That's not a great selling point when you're going to people with wealth asking them to give money to the college.
"Some of our most affluent alumni feel as if their financial success is either not valued by or actually viewed with some hostility by their alma mater," he continued. "We deal with that every single day."
With this campaign, as well as their efforts going forward, the college is trying to change its culture around giving – with an eye on one competitor in particular.
"As much as we don't like to admit it, we're always looking at Carleton," Brown said. "They're similarly situated to us, and they significantly, and for many years now, [have] outpaced us in fundraising.
"So we've been looking at them and asking what of their practices should we be adopting? We're not going to become Carleton, we have to do it a Macalester way, but they have some practices that we're looking at."
Over the coming months, the college will emphasize participation on campus as well as around the country and world.
A series of events featuring Macalester professors addressing big questions in their respective fields will take place from November through next April, with dates set in London, Seattle and Washington, D.C. among other cities.
This year's fundraising goal for the Macalester Fund is $5 million, a 7.3 percent increase over last year's total, and the college is soliciting help and donations from faculty and staff – 70 percent of whom gave during the last capital campaign.
The Macalester Moment campaign is slated to end in 2020. But its influence, if all goes well, will extend well into the future.
"This is a long-term effort," Rosenberg said. "You don't change any culture, including a fundraising culture, overnight. So those of us who do this work think about next week and next year, [but] also about 20 years from now, and 25 and 30 years from now. Because very often the work we do now doesn't really have its deep impact at the college for decades."