Mac Grad and Her Choice to Start Urban Tenting
When Miriam Stoner '18 graduated from Macalester last Spring, she didn't know what her next steps would be. Finding a job and a place to live can be overwhelming and stressful. And what happens when you have a gap between leases for an apartment? Stoner had a creative solution: pitch a tent. During the month of September while she waited for her next lease to start, Stoner has been living in a tent in the backyard — she calls it 'urban tenting.' Urban tenting is when someone decides to pitch a tent in an urban area, anywhere from a backyard to a rooftop. It also has to do with, in Stoner's words, "using what you've got in ways that are maybe not conventional.
"I think it has to do with the interaction between living in a tent and living around where other people are living," she said. While this isn't a common path for most Macalester graduates to undertake after graduation, Stoner feels she's living the dream. "I've always kind of wanted to live in a tent somewhere for a long period of time and right now, there's really nothing stopping me."
Obviously, living in a tent is pretty different from living in a house or apartment. While most of Stoner's stuff is packed away, her necessities and cooking supplies remain with her in the tent. "It's been a fun challenge to have to figure out what my day looks like and improvise with the tools that I have," she said. But, she recognizes that it's also been a more difficult challenge to have to plan ahead for weather and meals — something like opening a can without a can opener has been tough. Stoner utilizes Macalester's campus resources such as the Lenard Center for showering and the Campus Center for other basic activities.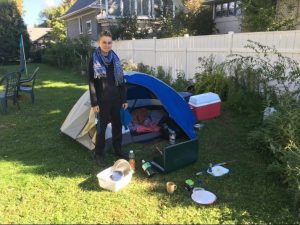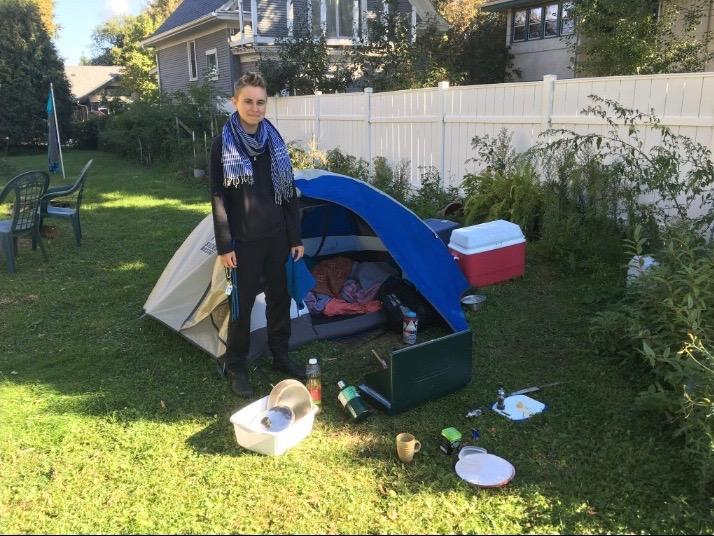 "Having the campus, and having the set up here has been really helpful. It's part of the reason I thought it would be feasible to do this," she said.
When considering how her attitude toward her belongings have changed since living in a tent, she mentioned that her experience has widened her view of conventionality. "I think about it, like, if you don't consider the ground it's hard to find a place to sit down. But if you consider the ground, then everywhere is a chair. How do we think about what's normal and how do we think about what is functional or what is convenient?"
Stoner recognizes that she's pushing her comfort zone. "[I'm] getting used to doing something different and not feeling like it's bad," she said. Some of her favorite parts of the experiment include sleeping in the tent and spending time alone. "It is kind of nice to have this place where you can go and be alone, but then you are so alone that I find myself actually searching out social interaction more," she said.
Stoner acknowledged the difference between her situation and that of being homeless. She's a "tenter by choice," with permission, while many live in tents as a result of unaffordable housing. Those who are forced into alternative tenting practices fall under the category of 'stealth camping,' most likely changing locations often due to lack of permission. Here lies the difference between urban tenting and stealth camping: purposeful tenting with permission is a different, safer, more privileged experience compared to that of homelessness.
So far, there aren't any other Macalester graduates that are known to have 'urban tented' in the past and Stoner doesn't know of any either. In fact, this isn't a common phenomena beyond the Macalester community. Most of the information on the internet either pertains to people who travel to campsites or people who are homeless and live in tent camps in urban areas.
Stoner's perspective going into the experiment consisted of a sense of independence and confidence post-graduation. "There are a lot of different ways to do this, and now it's my own decision. This is my life and if I don't do anything about it and make decisions that are going to make me happy, then no one else will." As the month comes to a close, she predicts her new outlook will teach her the most important lessons once she returns to living in a house as the luxuries that were once taken for granted are now valued.