There is nothing like a flakey, buttery and delicious pastry to put you in a good mood, and that is exactly what Rose Street provided. This week I decided to review Rose Street Patisserie, whose second location recently opened on the corner of Selby Avenue and Snelling Avenue here in Saint Paul. Rose Street is a patisserie and cafe featuring freshly baked goods, savory dishes, an array of cakes, galetes and other sweet confections. In addition to its original location in Minneapolis, Rose Street's owners have another bakery called Patisserie 46 in Minneapolis. After trying Patisserie 46, I knew I had to give Rose Street Patisserie a try.
While the savory foods menu is small at Rose Street, there is still a good range of options from salads to quiches that change with the seasons. I decided to try the seasoned vegetable quiche, made with cauliflower, fresh corn and parmesan cheese. The quiche came warmed up, with a fresh side salad. The crust was flakey and buttery, but held together and didn't separate from the inside of the quiche. The quiche itself was extremely flavorful, with each individual ingredient coming through strong. The fresh corn added a sweet flavor to the savory dish, giving it an extremely fresh taste. The texture was well crafted, perfectly balanced so it was soft and creamy but firm enough to hold it's shape. For the price, the serving was generous and filling, but still left room to enjoy pastries as well.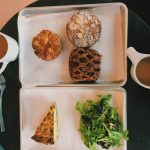 As Rose Street is primarily a patisserie, I felt obligated to sample an array of pastries as well. My friend and I chose the Kouign Amann, the seasonal danish, and a pastry with a layer of almond paste and fresh berries in the middle. All three of these were incredible, with notably different aspects of each. The Kouign Amann, a flaky pastry with caramelized sugar, was sweet without being overwhelming. As all good pastries do, it had plenty of butter, which left the dough incredibly rich, and melting in your mouth. The current seasonal danish being offered is a spiced apple danish with cinnamon, which was wonderful to get you in the fall mood. The freshness of the apple was a good way to cut the sweetness in the pastry itself and left room for the taste of the dough to shine through. The almond and fruit cake was by far my favorite. The use of almond meal gives a rich flavor that combines nicely with the fruit. As someone who does not crave sweets on a regular basis, all three of the pastries were perfect for me in that they were not overbearing, and allowed me to taste the complexity of flavors in each one.
This place is certainly a treat with rich foods, but not the best price range for a college student. However, they do give good portions for the cost, and the pastries are not too expensive. The fresh bread is both delicious and reasonably priced as well. With regards to ambiance, it is a small place, but it has a warm atmosphere and lots of natural light. Overall definitely two thumbs up; I would highly recommend.
Located at 171 Snelling Ave N, St Paul, MN 55104