Z Porter '20 and I take a stroll down St. Clair Avenue on one of the last warm days in St. Paul, MN. We share a mug of tea and a smoke as we lose ourselves further in the quaint neighborhood. The air is warm and the trees are green probably for the last time. I watch smoke pool from Z's lips and mingle with their pink hair and I can't help but revel in the feel of the beginning of Libra season.
If you were to catch the site of Z in this very moment it would be just that: a site, a radiance. The gait of their step, the humming glow of their pink locs and the fervor of their voice would beckon your attention. Z, a junior at Macalester and Minneapolis native, is one of the many iconic staples in this community, known chiefly for their activism and voice in Trans communities and by their looks. As we walk I can't help but notice their pointed shoes punctuate each step on the pavement and so, eager to know, I ask,
IM: What are you wearing today? Z: I got on my spectators. Spectators are a type of shoe with a black and white combo. They almost look like tuxedos for your feet."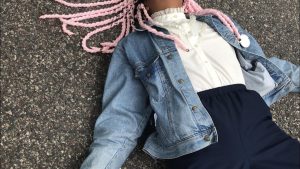 I'm immediately impressed by the smooth reply and delve further into this curious spirit. IM: Where do you get a lot of the articles that you have on? Z: Everything I own is thrifted and I would say it's some bullshit about recycling clothing and helping the earth and not wanting do that, or to give myself a challenge when it comes to fashion. But it's literally because I'm cheap and broke.
Z takes another drag and I sip my tea. I pause before my next question, letting the warm bitter liquid wash over me as the warmth seeps in, their words spill out.
Z: I feel like my style changes on the regular because like, I switch up my hair a lot and I become different people. Like, my whole goal in life is to be a cartoon. I want someone to look at me and be like, 'this is caricature or this is like an exaggerated form of something.' You know what I mean? I want to be exaggerated always. Even if it's exaggerated workflow or if it's an exaggerated black hippie. I like that too or black punk. But a lot of the times because of college and school I go for an exaggerated student working. I want people to be like, 'oh this is someone on their way to their job but this look, can become a night time look with the right switch up of the shoes, the right switch up of accessories, the right makeup.' I like versatile. Exaggerated and versatile.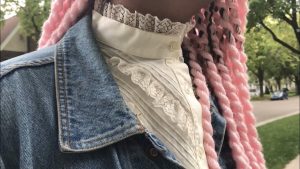 Exaggerated and versatile. I think I'm not sure where to begin. Z lights another cigarette and I can't help but smile when I take a moment to notice the intricacies of their piercings, a medusa and a vertical labret and their subtle finger tattoos. I can't help but wonder are these nuances or random acts of play?
IM: What helps you decide what you're going to wear for the day? Z: So, I have mad dysphoria being trans and being a little on the chubby side. So I look for things that are gonna elongate me and conceal my tummy and chest. That's why I used to wear a lot of vests, that's why my staple is my jean jacket, like you can catch me in it almost 24/7. Which goes against my rules a little bit, like if I had to create a rulebook. Whoa, a rulebook about fashion? By Z? Dope!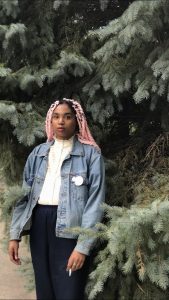 IM: A rulebook for dressing? Z: A rulebook for fashion. In my rulebook there would definitely be a number one repeated outfit, repeated looks mean more than you think. They become symbols. So, like, address it as such and like with this jean jacket. I wonder, is it a queer symbol or is it a midwestern symbol? I don't know.
IM: What else would go in Z's rulebook about fashion? Z: I would say it's not about the fit it's about the story. Whether that means the story about how you get certain pieces, going back to thrifting, or whether that's the story you create of everything together. Sometimes someone will have a good fit but it will have no story. To me, it's just, like, you got this out of a catalogue.
As I let Z's words marinate between us I thought about stories and voices and how for someone like Z with such a prominent voice narratives are so significant. I wanted to know more stories this one held, seemingly invisible but worn on their sleeves. We headed back towards campus limbs light and hearts full.