WMCN implements new structure in effort to strengthen content
WMCN station managers Dan Szetela '19, Phoebe Mol '20 and Matthew Howland '19 have initiated a series of restructuring efforts this semester in a campaign to make the school's radio programs more accessible to all members of the community. The most notable change will be requiring DJs to move from one-hour to two-hour shows.
"The idea of doing two-hour shows goes back four to five years, when it was first floated by our managers," Howland said. "It was during last fall that the idea came about as something that we could actually do."
Management is confident the longer programs will improve the quality and structure of content that hits the airwaves. They also hope to foster a connection to local music.
"The idea of a two-hour show is to incentivize DJs to build a strong outline and structure for their shows instead of using a playlist," Mol said. "We want to reward DJs for producing good content and help them develop their own unique voice."
A number of factors inspired the move to two-hour shows.
"We were looking at past iterations of WMCN that sounded successful and had a distinct perspective," Howland said. "I don't think the decision was based on looking outside our station. It mainly came down to our priorities and assessing what kind of content we should put on air."
Managers reported that more than 90% of applications to DJ on WMCN were accepted despite the longer shows. The fall schedule features more than 60 shows led by 100+ DJs from Mac and the local community.
As part of their schedule of two-hour shows, WMCN is introducing block programming to focus airtime on underrepresented styles and genres of music. Each of these shows will be run by groups of DJs who will attempt to connect to the genre of the block in their own way.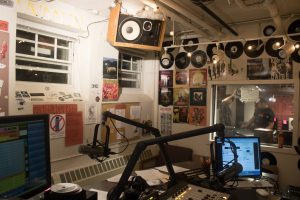 "In the past, there were different directors of programming at WMCN based on genre, which led to a wide variety of music represented on the station," Howland said. "Implementing these block programs seemed like the most immediate way of taking that idea of focused programming and giving it some form of structure."
Programs debuting this semester include blocks of local music, world music, jazz, hip-hop/rap, classical, and songwriter/folk music.
Szetela is particularly excited about his new collaboration. The show, titled "Live From Garth's Living Room," will be hosted by Szetela, Lily Hannaher '19, Jack Lickerman '21 and Mariella Page '22.
Set to air on Saturday afternoons from 2 to 4, it will feature live weekly concerts from local bands. The program is part of a themed Saturday schedule at WMCN that focuses on engaging with the music of the Twin Cities.
"The larger goal underlying 'Live from Garth's Living Room' is to engage with the local music community on a much larger scale," Szetela said. "It's something that we're really excited about, and it will allow us to experience WMCN in another way."
Following "Live from Garth's Living Room" is a four-hour block featuring local music from around the Twin Cities. A combination of five new and experienced DJs will share the slot, with each aiming to interact with the local music culture.
"I've always tried to play and promote local acts on my show, and felt like being a part of the local block would give me the opportunity to collaborate more readily with other DJs who play local music," said Sam Greenstein '19, who has been involved with WMCN since their first year at Macalester. "As a block, it'll be easier to promote our programming together and use our resources and connections to get some cool local guests on the show."
New DJ Devlin Patton '21 agrees. He joined the local music block this year with no prior DJ experience and an interest in exploring the arts culture of St. Paul.
"I appreciate the value contained within local art and its reflection of the cultural roots and societal status of a certain community," he said. "Getting involved with the local music scene will help me learn about the cultural problems, events, and trends of the Twin Cities."
In addition to the changes in programming and the introduction of themed block shows, WMCN hopes to expand its outreach to the Macalester community in other ways. Projects in the works include bi-weekly film screenings in the basement of DeWitt Wallace Library and an initiative to bring more live music events to the Macalester campus.
"We want to try to evolve WMCN from a radio station into a more general cultural organization," Howland said. "A big part of that is increased community engagement on campus, and hosting events that anyone can attend to get a taste of the station."
Fall shows on WMCN started on September 24. Programs can be streamed on the radio at 91.7 FM within a 5-mile radius of campus, or online at WMCN's website. The schedule for this semester is also available on their site.
"What I hope for in the future is continued evolution of radio in the local communities that WMCN is a part of," Szetela said. "And I think that the two-hour slot and the block shows both play a role in that."