Community rallies for Boyd Park build
Over the week of Sept. 24, a number of Macalester students, faculty and administrators joined nearly 1,000 other community members to build a new playground in Boyd Park. The project will culminate with a grand opening on Sunday, Sept. 30.
The playground is the result of over 14 months of fundraising, community engagement and volunteer recruitment by Vivienne's Joy Foundation – a charitable effort founded by Wade and Julia Burgess after their daughter Vivienne died unexpectedly in 2016.
The Foundation's mission is threefold: to raise awareness around Sudden Unexpected Death in Childhood (SUDC), to support other SUDC families and to bring to others the kind of joy with which Vivienne lived her short life.
"She was just such a happy child," Wade Burgess said. "She loved to swing, loved to go down slides, spreading her joy."
For political science professor Lesley Lavery, whose daughter was Vivie's classmate, this project is deeply personal.
"We knew Vivie and her family for three years, and then all of the sudden this happened, and it just shattered the entire daycare community," she said. "We didn't really know what to do, and how to talk to our kids about it, and how to – not get over it, but process it as parents."
The idea to remodel the Boyd Park playground originated when Julia Burgess gazed out Vivie's window to the park across the street. The Burgess family loved trips to the playground with Vivie and recognized the impact that a new play structure could have on the area.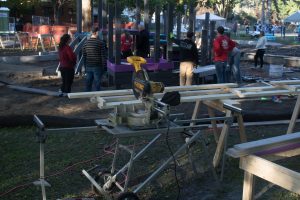 Lavery agreed that a new playground would have a significant impact on the community.
"The park was not scheduled for an update for ten more years," she said. "It's fine, but it's old. There are a lot of kids and families, but there's also drug use in the park at night. Trying to make it even more family-friendly and build up that community was sort of one of the goals."
Vivie died just five days after the 2016 election – a time that Lavery described as particularly somber on Macalester's campus. The compounded events left her looking for ways to make a positive, tangible impact on those struggling around her.
"I think we can make a difference locally, in our communities," Lavery said."This was a sort of personal healing for our families, but also something I could do when I felt like everything else was so out of control."
Eventually, Lavery became the volunteer coordinator for the playground – a sizeable undertaking, made easier only with the support of the tight-knit community that rallied around the project.
"I've lived in this part of St. Paul for 25 years," Wade Burgess said. "I know St. Paul and Minnesotans. Everyone leaves politics and other things behind and comes together."
Support for the playground came from businesses as well as people. Local restaurants W.A. Frost and Mango Thai each donated food to the effort, while U.S. Bank and 3M sent crews of volunteers.
Macalester students have contributed in a significant way as well. Hannah Shumway '19 was one of several political science students who worked at the construction site on the afternoon of Tuesday, Sept. 25.
"It seemed like a good cause and as I learned more about it, I was even happier I'd taken just a couple hours out of my day to come by," Shumway said.
"It'll be a nice new space, so I think it'll add a vibrant place to play in the neighborhood and serve as a memorial to Vivie as well."
Throughout the week, Macalester students arrived on buses provided by the Civic Engagement Center to volunteer. The entire Macalester football team will be at the final build on Sunday, Sept. 30.
"Professor Lesley Lavery asked me if we'd be interested in helping over the summer, most likely knowing we possess a large number of able-bodied individuals that could help," head football coach Tony Jennison wrote in an email to The Mac Weekly. "I reached out to our captains[,] and they indicated that they'd like to take this on."
Lavery has been extremely moved by the magnitude of community support for the project.
"I feel like, in some ways, this is my Macalester moment," she said. "Seeing all [of] these people that don't have the personal connection but that are willing to invest in this idea of community or just support me and Vivie's family, that's just amazing to see."
Opportunities remain for interested students to participate in the volunteer effort on Friday afternoon and evening, as well as all day Saturday and Sunday morning.
The Burgesses look forward to bringing their daughter Elianna to the finished playground to celebrate her younger sister's life and are excited about the joy the playground will spread throughout the neighborhood.
"Life is lived in between tragedies," Wade said. "It's just exciting to see the community coming together."
By Hannah Goldfarb and Rebecca Edwards