On Thursday, Sept. 20, members of the English department and broader community gathered at Common Good Books for the launch of DeWitt Wallace Professor of English Jim Dawes' fourth book.
Titled "The Novel of Human Rights," the book attempts to define the genre of human rights novels – stories that describe war crimes and atrocities and simultaneously contend with themes like justice, crime and empathy.
The launch event began with Dawes discussing the evolution of the novel in the eighteenth century, describing how it has historically relied on empathy – the idea that people can understand and share each other's feelings.
"We like empathy because empathy is a way of connecting to other people," Dawes said. "But the worry is that [our empathy] doesn't actually connect [us] to the other person, it actually makes the other person go away. It covers them up. It displaces the other."
Dawes described this as a structural issue with empathy.
"Empathy requires subjects to be saved," he said. "For empathy to work, the novels… need to have appealing, attractive [and] vulnerable victims… It creates categories of people 'to be saved,' which solidifies fairly devastating cultural stereotypes."
Dawes began writing the book after he realized that his prior research on war crimes intersected with his role as a professor teaching novels. He conducted interviews with perpetrators of war crimes for his last two books and began to realize how the empathy within the novels he taught mirrored that of human rights work.
"For the last couple of books I've written, there were interviews with perpetrators of war crimes, or survivors of atrocity or human rights workers," he said. "But while I [was doing the interviews], I [was] teaching novels, and it was interesting for me to see how the two experiences were kind of speaking to each other.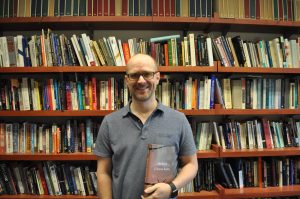 "So at some point it became clear to me," he continued, "that the novel's form was changing to what was happening with human rights as a movement."
Several English department faculty members attended the launch, including assistant professor of English Matthew Burgess – who spoke of his appreciation for Dawes' ability to make complex literary themes accessible to wide audiences and place the victims of conflict in his stories.
"I certainly appreciate the way he writes about ideas but never loses sight of the individuals that contribute and that are behind those ideas," Burgess said. "There's a nice balance of action on the page but very human-driven stories, and narratives, as well."
English department coordinator Jan Beebe helped set up the event, as she did for Dawes' last book launch in 2013. She said that she sees Dawes' personal traits come out in his books.
"He is such a gentle humanitarian, and that is the life he lives," Beebe said. "He doesn't just study it, he lives it."
Beebe appreciates how Dawes wants to make the English department a welcoming place for students. "He [has] supported all efforts to make this [department] a place that students feel like they could have access to the faculty, and for that he was extremely valuable to me and also to the department."
Besides empathy, Dawes' book attempts to shed light on the problems associated with United States exceptionalism and human rights, addressing the way in which the United States political culture tends to be blind to its own human rights violations.
"The [United States] has a narrow conception of human rights that's in conflict with the global conception of human rights," Dawes said. "We don't protect or [take] pride [in] them so therefore they're not rights."
With this book released, Dawes has already begun to think about his next project. He is studying autonomous weapon systems, a project for which militaries around the world are creating independent artificial intelligence.
"I'm working on it through the idea of representations of consciousness and violence and hoping that we can spread awareness of the issue," he said.