When the Macalester Men's Basketball Team takes the court on Thursday, Nov. 8 at North Central University, the team will look as similar as any collegiate basketball program can with all of its typical turnover. The coaching staff, on the other hand, will look quite different, with new head coach Abe Woldeslassie '08 and new assistant Conner Nord taking the helm.
Woldeslassie took a circuitous route to his new role as Macalester Men's Basketball Head Coach. After getting rejected by Macalester, the Minneapolis native started his collegiate career just down Grand Avenue at the University of St. Thomas, attending the university for two years while playing for the junior varsity basketball team. After his sophomore year, Woldeslassie transferred to Macalester, and not only started but starred for the Scots. He led the MIAC in assists win his junior and senior seasons, and earned all-conference honors.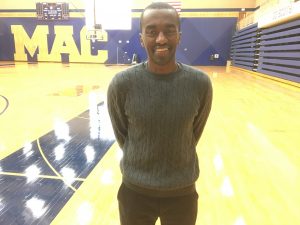 Woldeslassie majored in sociology major at Macalester, and remains fond of his two years on campus. He still remembers living off campus at 1517 Grand Ave and enjoying classes with Khaldoun Samman in the sociology department and Kristina Curry Rodgers in the geology department.
After graduation, he started coaching, something that had been on his mind since he had the realization so many young athletes have: 'I will never be good enough to play professionally.' His mind turned to coaching, the next best thing, because it gave him the chance to have an impact on people.
"Someone once told me that a coach can affect more lives in one year than many people affect in their entire life," Woldeslassie said.
He got his start at Impact Basketball in Las Vegas, working with prep, college and professional basketball players who played around the world. Before long, Woldeslassie found himself back in the world of D-III basketball as an associate head coach at Bowdoin College. Over the next several years, through a myriad of connections made in the small world of basketball coaching, Woldeslassie spent time as director of basketball operations at Dartmouth College, director of basketball operations at Davidson College and as an assistant coach at Siena College.
Macalester hired him last spring to replace former head coach Tim Whittle. Since taking the reins, Woldeslassie, Nord, Head of Sports Performance Scott Hintz and Head Athletic Trainer Paula Natvig have started to put their own stamp on the program. Gradually, the group hopes to change the culture of a team that has not won double digit games in a season since 2006-07, when Woldeslassie played. The players have noticed a shift in the team's culture in the last few months.
"The biggest difference I notice between Abe and Tim is the feeling of the team. There seems to be a new energy in our workouts and pickup games that I think is very important. I think everyone's excited for a new start and has belief," Aidan Toner-Rodgers '21, one of only four Scots to appear in all 25 games last season, said.
Jackson Henningfield '21 also praised the effort of the coaching staff since last spring. "[Abe] is extremely passionate and intense in everything he has done for the program and for Macalester thus far. Ever since he got on campus last May, it seems like he has been working nonstop to prepare for this upcoming season. He's very engaging with everyone he interacts with and it's evident he wants to be a part of the Mac community. I'm really excited [about] what Abe, Conner and the rest of the staff bring to our program," he said.
Woldeslassie has developed his coaching philosophy and persona over his decade coaching. As is the case with anyone, his previous experiences have informed who he is today. When speaking with The Mac Weekly, he pointed to each head coach he worked under, and outlined things he took from each of them. From Joe Abunassar at Impact, he learned work ethic. Tim Gilbride at Bowdoin taught the balance between work and life, while Dartmouth's Paul Cormier illustrated the value of film study and preparation. From Davidson's Bob McKillop, Woldeslassie saw how to lead players and then Siena's Jimmy Patsos modeled how to prepare players for lives after and outside of basketball. Each of those experiences played a part in Woldeslassie's coaching philosophy, and the rulebook the team now follows.
"We have a rulebook with our team, it's only three rules long but it's kind of all-encompassing for both on the court and off the court. Number one is we're going to try to control everything we can control. So that's our sleep, our diet, our exercise, our attitude, our work ethic. Control the controllables. Number two is to have passion. So, if you define passion, it's like uncontrollable emotion. So, having fun, joy, passion, it's all kind of intertwined, anything that we want to accomplish, you have to do it with passion, and people feed off of that. So we want our guys to be energy-givers, not energy-takers. And then number three, the most important, is be a great teammate. So, on the court, be the teammate you want to play with. Off the court, whether that's in the classroom, in the weight room, socially, Friday, Saturday nights when guys are hanging out, be the person that you'd want to play with. It's our job as coaches to prepare them for life after that. They're going to be husbands, fathers, great employees, grandfathers someday, being a great teammate is so important," Woldeslassie explained.
Everyone who spoke with The Mac Weekly made clear that this year is about moving the program forward, and building a stronger foundation for the future. However, basketball is also about competition. Thus, it is only natural that the team wants to take a step forward in the wins column.
"As a team, one of our main goals is to compete for a conference championship this year, so, no question, the MIAC playoffs have to be a goal for us to make that next step as a program. Personally, I want to continue to do whatever is necessary for the team to be successful and win. I came to Macalester to help the program breed a culture of success and winning, and I think we are on the right track to bringing some hardware back to Macalester in the near future," Henningfield said.
They'll get their chance when the season tips off on Nov. 8 against North Central in Minneapolis.