I have often wondered about the origin of the rock that sits on Old Main lawn. There are several campus-wide legends surrounding it, but really, what truly happened to the rock and how did it end up in its current location?
According to "A Century and Beyond," a book of Macalester's history, the rock was originally located at the intersection of Grand Avenue and Cambridge Street until 1908 when part of the senior class dug up the rock and placed it near Old Main, close to where it sits today.
For the next 50 odd years students would roll the 700-pound rock around campus.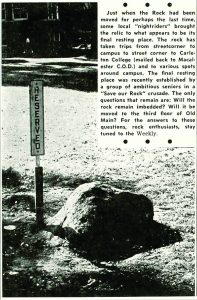 This is where the story gets a little rocky: according to campus lore, in the 1960s a group of Carleton students stole the rock, brought it back to Northfield, MN and then mailed it back to Macalester.
While this does make a good story, the odds that it happened are incredibly slim. The logistics of mailing a several hundred-pound rock 40 miles all for a gag seems too outlandish.
The only concrete evidence can be found in a Mac Weekly article from October of 1965 stated that the rock had been cemented in place because, "The seniors heard some thieves from St. Thomas were plotting to spirit the rock away from Mac to their own campus. A few years ago, the rock found its way to Carleton and was mailed back — collect!"
Lastly, there is no evidence in Carleton's archives indicating this prank nor are there mentions of the ordeal at Carleton reunions. The tale might very well be a Macalester invention.
Regardless of the veracity of their reasoning, the seniors of '65 moved the rock to its current location and cemented it in place over "buried treasure" — that is to say an empty beer can. The seniors stole the "reserved" sign from the president's parking spot and stuck it in the ground next to the rock.
The layers of paint accumulate with little interruption. Last spring there was a change and the rock was dug up and allegedly flipped over by a group of students. "Several Macalester upperclassmen, as finals came to an end, took it upon themselves to manually flip the iconic rock," Morgan Doherty '21 said. This would counter the claim that the rock was sunk into concrete for its own protection, which begs the question: what is the true history of the rock?
In the subsequent 53 years since the rock was moved for the last time, it has become a place for public art and expression. As the seasons and political concerns change for Macalester, the rock continues to be repainted to reflect the changes.